Immigration Law Practitioners Association
The Immigration Law Practitioners' Association (ILPA) is a professional association the majority of whose members are barristers, solicitors and advocates practising in all aspects of immigration, asylum and nationality law. The monthly mailing is an essential tool for serious practitioners and the new website includes a searchable database of all mailings going back many years. Click here for membership information.
Joint Council for the Welfare of Immigrants
JCWI was formed in the 1960s at a time of new Commonwealth immigration to assist families coming to a new country. JCWI provides free advice and assistance for new immigrants and for the settled community wishing to be reunited with their families and also campaigns on immigration issues.
Bail for Immigration Detainees

Bail for Immigration Detainees is a registered charity that works with asylum seekers and migrants to secure their release from detention.  BID was set up in 1998 and has three offices in London, Oxford and Portsmouth.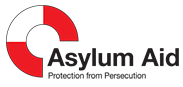 Asylum Aid provides specialist legal representation and advice to people seeking asylum in the UK, and campaigns for a fairer and more efficient asylum system
Anti Trafficking Legal Project
ATLeP is a network of solicitors, barristers and specialist practitioners who advise, represent and support victims of trafficking and other vulnerable people. It is an invaluable source of reference for lawyers dealing with trafficking cases
National Coalition of Anti Deportation Coalition
Founded in 1995, NCADC is a national organisation which supports community-led campaigns for justice in the asylum and immigration system, with a focus on supporting people facing forced removal. There are two Campaigns Coordinators, supported by a small team of volunteers.