As the darkness outside gathered, the candles inside the church seemed to burn more brightly. Hundreds had gathered at St Martins-in-the-Fields in London yesterday to commemorate Helen Bamber OBE and her work. The event was moving and inspiring but was in equal measure disturbing and challenging.
Today is Holocaust Memorial Day and it is 70 years since the liberation of Auschwitz. Emma Thompson and Colin Firth narrated how Helen travelled to another of the camps, Bergen-Belsen, to provide assistance to survivors after the war. Even after their supposed liberation many had slipped away, unable to return to life after what had been done to them. Helen offered to hear them and bear witness for them; it was all she could do. She saw with her own eyes the suffering that we can and do inflict on one another and the terrible, shaming, sometimes irrecoverable loss of self that extreme cruelty causes. In that period after the war she also witnessed the gradual seeping away of the well of collective compassion and the ossifying bureaucracy that replaces it. It was not long before the survivors were labelled merely "displaced people".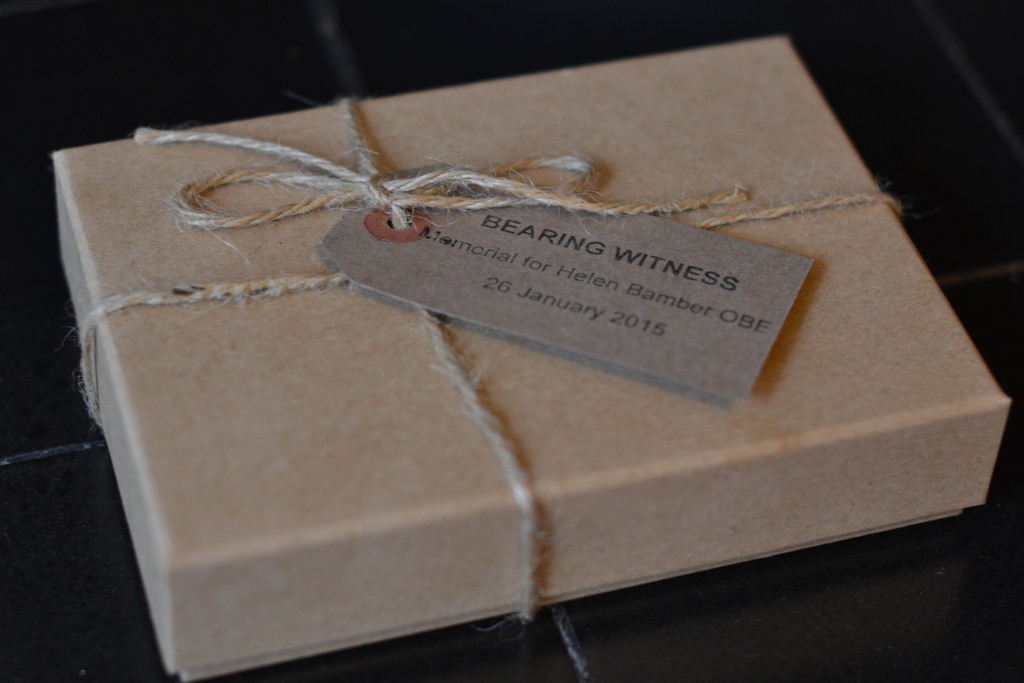 Today, the Helen Bamber Foundation works with the refugees, trafficking victims and others interred in our own compassionless immigration detention camps. Current plans are for a doubling of the "capacity" of our modern camps, which are not just unimaginably bureaucratic but also now privatised and profit making.
On her return to the UK, Helen was charged with caring for a quota of 1,000 orphaned child survivors relocated from the camps. It was a quota that was tragically unfilled by the 722 actual survivors, children who had lost literally everything and been reduced to an animal condition. She listened and did not judge, helping them find their own way.
Today, in the face of an almost incomprehensible humanitarian disaster, the UK has accepted a mere 90 Syrian refugees for resettlement.
As the event moved on we heard from those who Helen had helped, including from Ben Helfgott. I realised with a jolt it was the first time I had been in the same space as a survivor of the Holocaust, the Shoah. There are so few left now who can bear personal witness in the face of the deniers.
Tomorrow, the immediacy of that unimaginable suffering will be absent and, inevitably, a little bit less real, a little bit forgotten.
Others at the event spoke and sang their gratefulness for Helen's life.
Perico Rodriguez, a survivor of the plague of persecution that swept through South America in the 1970s, told us of meeting Helen on his arrival in the UK. He had assumed he was en route to execution. That time was the first since it was adopted that the UN Convention Relating to the Status of Refugees, the Refugee Convention, had been called on to provide safety to significant numbers of people. It has been in constant use since. We heard too from more recent refugees who have had to face their own deniers, the civil servants and judges of the modern asylum "system".
Helen Bamber OBE possessed unconditional compassion for those who have suffered and a unique understanding of what it means to suffer extreme cruelty. None of us can say the same, I fear, but there are those who try to continue her work. Donations can be made to the Helen Bamber Memorial Fund.
As the darkness grows, candles must burn brighter.
When I was in Belsen, the lesson I learned was to bear witness, never to pass by. It is easy to be a bystander and I vowed never to be one.
Helen Bamber OBE