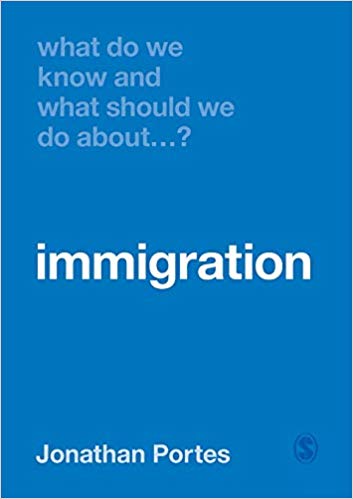 The unrelentingly, unremittingly reasonable advocate of evidence-based policy making Jonathan Portes has written an unrelentingly, unremittingly reasonable book about what the evidence tells us about immigration policy. Called What do we know and what should we do about immigration, it is part of a so-far short series published by SAGE Publications on various contemporary policy issues.
Portes is now Professor of Economics and Public Policy at King's College London and an active member of the UK in a Changing Europe project. He was previously a civil servant, serving as Chief Economist at the Department for Work and Pensions and then the Cabinet Office.
His new book is short, with chapters looking at the history of immigration into and out of the United Kingdom, economic evidence on immigration, the social impact and then turning to policy options. Each section starts by setting out reasonable and commonplace working assumptions and then evaluates the available evidence to see if they hold up under scrutiny. For example, does immigration increase unemployment or drive down wages? What about the local rather than national picture, or the effect on certain specific groups or sectors? How many irregular migrants are thought to live in the UK? Does non-white immigration increase racism? Is our society becoming more segregated?
As an example, it was interesting to read that outcomes for Somali refugees are "considerably better" in the United States and Canada than the United Kingdom. This poses interesting questions about how we treat refugees when they arrive and after they are recognised as refugees. Frustratingly, no reference is provided for further reading on this or on many other issues, though. But that is perhaps not necessarily the purpose of the book; it is intended as a short and accessible read.
Ultimately, the book is a really good primer on the first part of its title "what do we know?". It arguably falls down on the second, "what should we do?". Only five pages at the end explicitly address this question. It is beyond any single person to devise a detailed new immigration system. But the implicit and wider message Portes conveys very successfully is that to decide what to do, we should first understand what we know.