There has now been a fairly substantial series of Court of Appeal judgments on the issue of costs orders in an immigration litigation context. These also have wider significance for other public law cases, but immigration law is currently dominating public law litigation, at least by volume, as this widely circulated chart shows, based on Ministry of Justice statistics: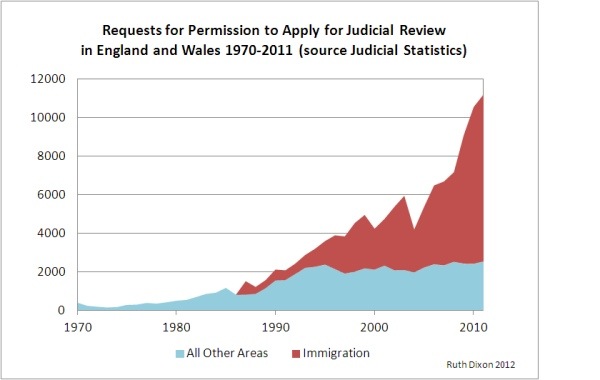 These costs cases have now been joined by a new one.
If this series of costs cases tell us one thing, it is that judges in the High Court have been markedly reluctant to award costs to victorious immigration litigants and their lawyers, to the point that the Court of Appeal has repeatedly had to intervene. One wonders why.
The latest case is HE v Secretary of State for the Home Department [2013] EWCA Civ 1846, a judicial review application of a decision to maintain immigration detention of a claimant. The remedies sought were disclosure of documents, in order to prove the case, and a declaration that the claimant was unlawfully detained.
Both remedies were granted, by a certain CMG Ockelton, sitting as a Deputy High Court Judge. He is better known to immigration lawyers as the long serving Deputy President of the Immigration and Asylum Chamber of the Upper Tribunal and its predecessors. Nevertheless, the judge refused to award the claimant his full costs up to that point on the slightly snide basis that:
The claimant has substantially failed in the claim as it was presented.
This was because only a short period of unlawful detention was found and an indication was given that damages might be nominal.
With Jackson LJ giving the leading judgment, the Court of Appeal overturned that order, noting in so doing that it was a big step to interfere with a costs order. The claimant has gotten what he wanted, which was his freedom, and the judge had very seriously erred in failing to recognise that fundamental fact. Costs were awarded to the point of victory, although the Secretary of State was awarded costs for the additional unsuccessful submissions and time spent on addressing damages.
At the conclusion of his judgment Jackson LJ added:
I have encountered a number of appeals in recent months where the Secretary of State, either having lost in court or having conceded before trial, nevertheless resists an adverse costs order. This may be because I get more than my fair share of costs cases. Cases of this nature really should not be coming to the Court of Appeal. If the Secretary of State were to accept a liability for costs in appropriate cases, much expense would be saved on both sides.
This is too true. I have even seen Treasury Solicitors seek costs against a litigant in person in a proposed consent order granting the claimant the relief sought. I would have thought was a fairly clear breach of professional conduct rules.
Well done to Philip Nathan of Landmark and Ahmed Rahman Carr Solicitors for pursuing this. It is a particularly important case at a time when the president of the Administrative Court is threatening to issue guidance suggesting that costs should not always be awarded in such circumstances.