Advanced: Dublin 3 and third country returns within the EU: 2 CPD
Course Level:

Advanced / OISC L3
About this course
Here we look at developments surrounding third country returns and in particular at the EU legislation known as "Dublin 3". That is the instrument which now generally governs the procedures by which one European Union member state only will be identified as responsible for a particular asylum claim. In practice this tends to be the state where they were first detected as entering the European Union territory subject to having relatives or family members present in other countries, or other special circumstances such as having been granted a visa for another country.
The course is only available to paying members of Free Movement. If you are not already a member, you can join here and access not just this course but all of our courses. Membership starts from £20 per month and you can cancel at any time.
You can check out the course contents below:
Modules within this course
The Dublin 3 Regulation

About the Dublin 3 Regulation.

The hierarchy and discretion

Covering the new hierarchy in Dublin 3 and the possibility of exercise of discretion by member states.

Safeguards, detention, remedies and vulnerable asylum seekers

Covering procedural safeguards in Dublin 3, detention powers and limitations, the need for effective remedies and removal of vulnerable asylum seekers.

Challenges based on reception conditions

The law and practicalities of running a challenge to a third country removal based on reception conditions in the state to which removal is proposed.

Assisting clients to come to the UK

Assisting clients where the UK is the recipient of a Take Charge Request.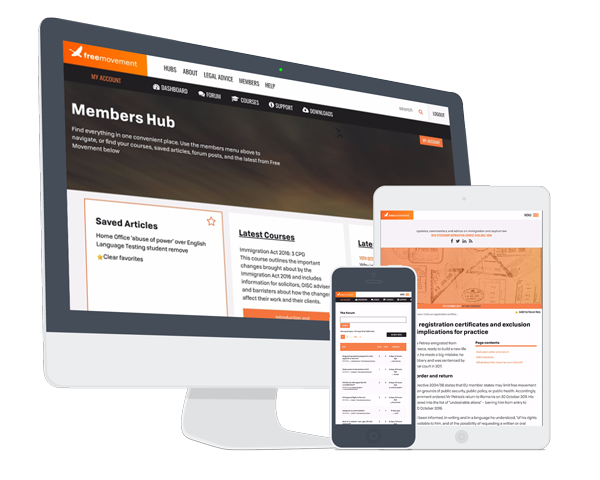 A great deal of time and effort goes into producing the information on Free Movement, become a member of Free Movement to get unlimited access to all articles, and much, much more
Join now and get access to all our training modules for free.
By becoming a member of Free Movement, you not only support the hard-work that goes into maintaining the website, but get access to premium features;
Access to all our online training materials
Downloadable CPD certificates
Single login for personal use
FREE downloads of Free Movement ebooks
Access to all Free Movement blog content
Access to our busy forums
Become a member