Advanced: EU law: Surinder Singh cases: 2 CPD
About this course
This course was last updated in March 2017.
Surinder Singh is the case that established that when a British citizen leaves the UK to live and work in another EU country, on their return they can bring family members with them using EU law, which is far more respectful of family life than UK immigration rules. This course covers what the law is and how to qualify.
this course is only available to paying members of Free Movement. If you are not already a member, you can join here and access not just this course but all of our courses. Membership starts from £20 per month and you can cancel at any time.
You can check out the course contents below:
Modules within this course
Introduction to Surinder Singh

Introducing Surinder Singh and EU law

Family members and their rights

Who is a family member, what are their rights, what is an extended family member, are family permits really necessary?

Surinder Singh in EU law

The case of Surinder Singh, later case law such as O and B v Netherlands, length of residence necessary, what activities will qualify, who can benefit, what might count as abuse?

UK Government approach to Surinder Singh

General approach, UK regulations, policy guidance, centre of life txt and guidance, allegations of abuse of treaty rights

Practical issues and making an application

Securing entry to another EU state, proof of residence, exercising treaty rights, making an application

What to do if you are refused

Giving up, reapplying, reconsideration, appeals and judicial review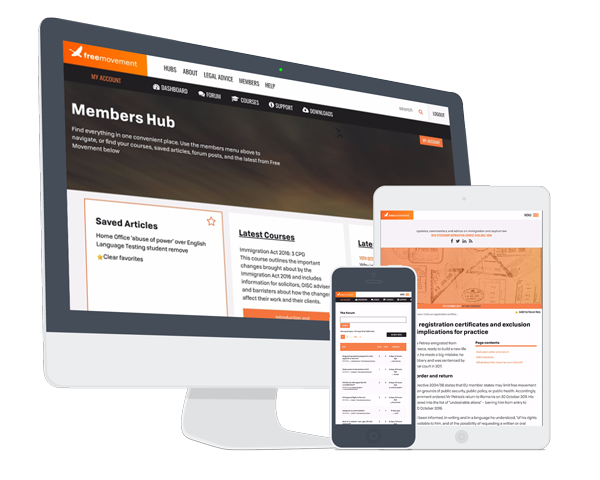 A great deal of time and effort goes into producing the information on Free Movement, become a member of Free Movement to get unlimited access to all articles, and much, much more
Join now and get access to all our training modules for free.
By becoming a member of Free Movement, you not only support the hard-work that goes into maintaining the website, but get access to premium features;
Access to all our online training materials
Downloadable CPD certificates
Single login for personal use
FREE downloads of Free Movement ebooks
Access to all Free Movement blog content
Access to our busy forums
Become a member