Intermediate: Immigration Act 2014: 2 CPD
Course Level:

Intermediate / OISC L2
About this course
This course outlines the important changes brought about by the Immigration Act 2014 and includes information for solicitors, OISC advisers and barristers about how the changes will affect their work and their clients.
Modules within this course
Commencement and transitional provisions

Covering the complex commencement and transitional provisions, particularly on rights of appeal and the new removal power. Includes commencement table.

Removal and Detention

This module looks at some of the new powers and provisions relating to removal and detention of those unlawfully in the UK.

Appeals

This sections deals with appeals...

Access to services, marriages, citizenship and other matters

This module looks at the provisions of the Act on access to services (NHS, banks and building societies, rented accommodation and driving licences), on marriages, civil partnerships and the reporting and investigation of suspected sham marriages, the citizenship provisions and the remainder of the Act.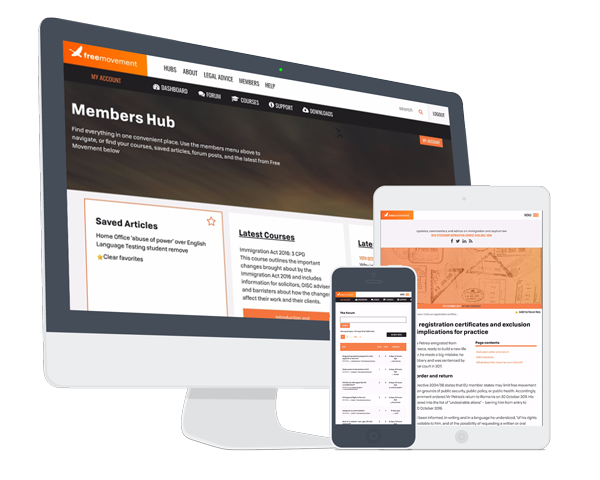 A great deal of time and effort goes into producing the information on Free Movement, become a member of Free Movement to get unlimited access to all articles, and much, much more
Join now and get access to all our training modules for free.
By becoming a member of Free Movement, you not only support the hard-work that goes into maintaining the website, but get access to premium features;
Access to all our online training materials
Downloadable CPD certificates
Single login for personal use
FREE downloads of Free Movement ebooks
Access to all Free Movement blog content
Access to our busy forums
Become a member