Introduction to EU free movement law and applications: 4 CPD
Course Level:

Introductory / OISC L1
About this course
This course examines the principles, sources and basic rights of EU free movement law as understood in the United Kingdom, in particular focussing on the rights of EU citizens and their non EU family members. It also looks at the practicalities of making applications.
The course is only available to paying members of Free Movement. If you are not already a member, you can join here and access not just this course but all of our courses. Membership starts from £20 per month and you can cancel at any time.
You can check out the course contents below:
Modules within this course
Concepts in EU free movement law

The fundamental freedoms, EU, EC, EEC and EEA, Member States, EU citizenship

Rights of EU citizens

Rights of EU and EEA citizens including the right to work, self employment, self sufficiency, study, residence documentation and the right to be accompanied by family members

Rights of family members

Who is a family member, what rights do they have, who is an extended family member and what are their rights and do family members need family permits or residence documents?

Making an application

The practicalities of whether an application needs to be made, whether the Home Office forms need to be used and what evidence needs to be included for different types of application.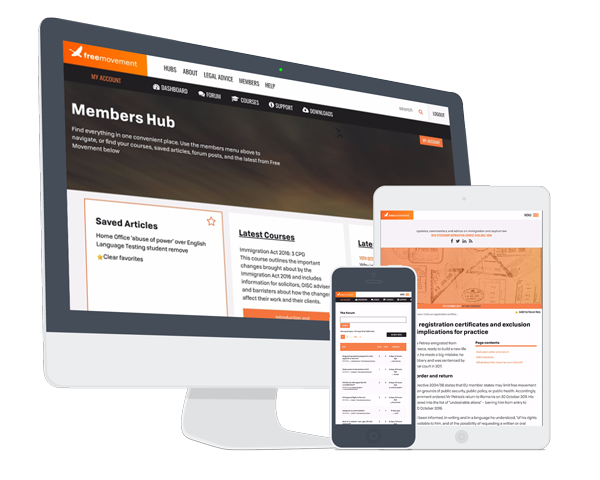 A great deal of time and effort goes into producing the information on Free Movement, become a member of Free Movement to get unlimited access to all articles, and much, much more
Join now and get access to all our training modules for free.
By becoming a member of Free Movement, you not only support the hard-work that goes into maintaining the website, but get access to premium features;
Access to all our online training materials
Downloadable CPD certificates
Single login for personal use
FREE downloads of Free Movement ebooks
Access to all Free Movement blog content
Access to our busy forums
Become a member