Introduction to immigration appeals: 1 CPD
Course Level:

Intermediate / OISC L2
About this course
This course covers lodging then preparing for an appeal, looking at what makes a good witness statement, drafting a skeleton argument and preparing an appeal bundle.
The course is only available to paying members of Free Movement. If you are not already a member, you can join here and access not just this course but all of our courses. Membership starts from £20 per month and you can cancel at any time.
You can check out the course contents below:
Modules within this course
Lodging an appeal

How to lodge an appeal to the immigration tribunal

What makes a good witness statement?

Witness statements are used in almost every single case in court. But what distinguishes a good witness statement from one that is mediocre or even very poor? We look at some hints and tips, including use of language, narrative techniques and detail.

Drafting a good skeleton argument

Good skeleton arguments are a rarity, if you ask the judges. As it is the judges who are the intended audience for such documents, it is important to see things from their perspective. This course looks at the constituent elements to a good skeleton argument and offers some nuts and bolts suggestions.

Preparing an appeal bundle

A good appeal bundle needs to be paginated, have an index and include the relevant documents. It sounds easy, but poor quality appeal bundles are commonplace. This course offers some suggestions on putting together a good bundle, including doing it in electronic form using PDF format.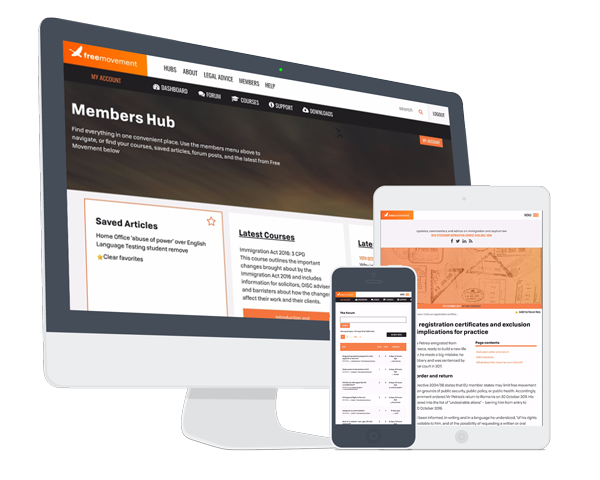 A great deal of time and effort goes into producing the information on Free Movement, become a member of Free Movement to get unlimited access to all articles, and much, much more
Join now and get access to all our training modules for free.
By becoming a member of Free Movement, you not only support the hard-work that goes into maintaining the website, but get access to premium features;
Access to all our online training materials
Downloadable CPD certificates
Single login for personal use
FREE downloads of Free Movement ebooks
Access to all Free Movement blog content
Access to our busy forums
Become a member