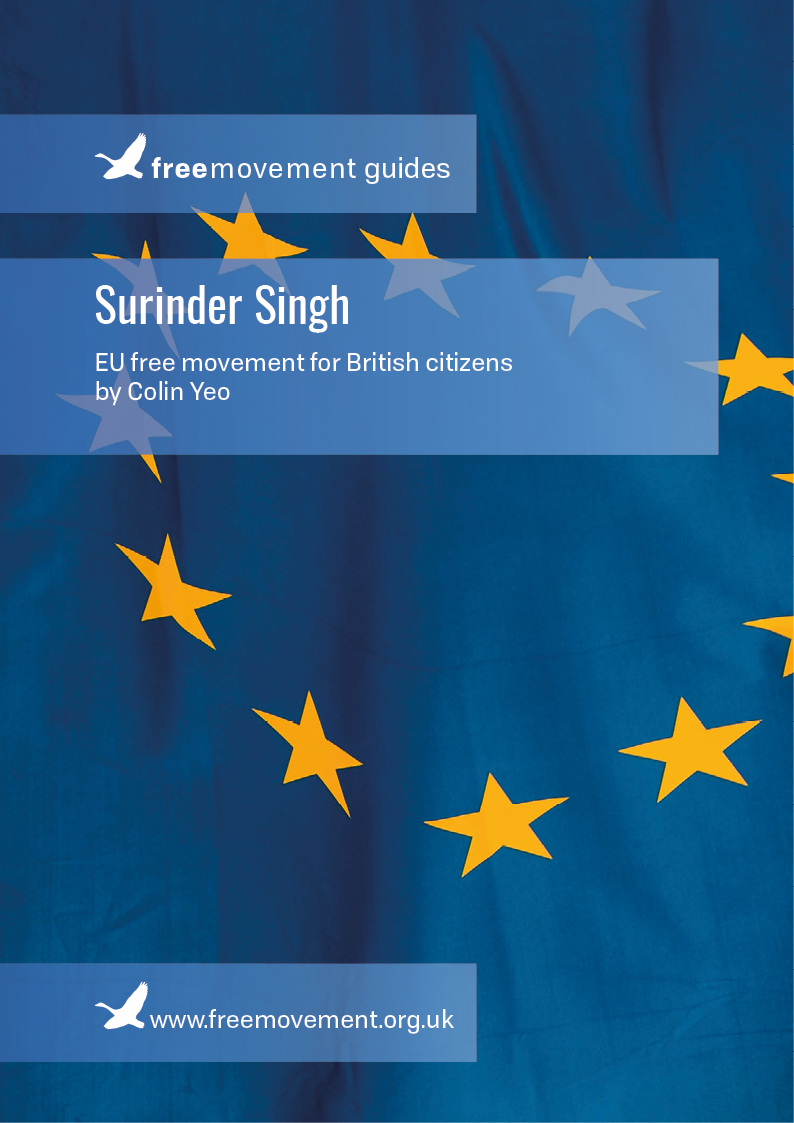 How it works:
Purchase the ebook using Paypal or credit/debit card and you will be sent an automatic email immediately after purchase with a PDF download link. Check your spam folder if it does not arrive after a few minutes. The download link in the email expires after 48 hours so make sure you download straightaway.
Creating a free account when you make your purchase is optional. If you do, you can log in later to download the files again, including any updated versions that have been added.
THIS EBOOK CANNOT BE PRINTED
The ebook on Surinder Singh was an invaluable easy read guide to this complex and (as far as UKBA is concerned) covert area of immigration regulation. I had it by my side as I supported my daughter and her Colombian husband to (successfully) enter the UK with an EEA family permit. Not only does the book cover the facts well, enabling us to navigate the criteria and the process with a more objective understanding, but it also helped us to keep a healthy perspective at a time that was fraught with anxiety. They can now have a family life in the UK. Thank you.
The book is very helpful in understanding the complexities of practicing treaty rights outside of the UK and returning back and making an application for Non-EEA dependant relatives. The e-book is concise and direct to the point. It is also user-friendly as it explain relatively difficult legal jargon into simple English. The book is highly recommended for everyone with an interest in this topic.
I think your website and Surinder Singh ebook is amazing. Anyone exercising rights via Surinder Singh can easily comprehend your writing. Your writing is objective, practically-informative and allows for anyone with a personal life interest in Surinder Singh to avail efficiently of this aspect of EU immigration law.
I found the content very useful, and I thought the writing was clear. I used it as a short cut to get to the cases, and it was certainly worth the price in terms of the time that it saved me doing the research from scratch. I'd buy another one if there was a topic I needed.
I am a trustee of a small voluntary group and we work with solicitors to help migrants resolve their immigration issues. We have bought three e-books recently. I particularly found the surinder singh e book the best as it has a very succinct explanation of the UK's application of the case and is easily translated for our service users. We greatly enjoy your blog as its informative and helps us ensure our solicitors are up to speed when we quote at them.
UPDATED MARCH 2016: new information on allegations of abuse, a detailed analysis of reasons for refusal in real cases, examples of successful covering letters, advice on making an application and whether to use the EEA(FM) form

This ebook on what has become known as the "Surinder Singh route" examines the background on how EU law works, goes over the judgments in Surinder Singh and O v Netherlands, examines the UK's regulations and Home Office policy and closes with a look at some of the practicalities of exercising free movement rights in this way. Hints and tips are offered throughout on how to avoid problems. Sonel Mehta of BritCits writes in her foreword:
By providing an interpretation of the regulations and translating of relevant court judgments in a language which even those not trained in immigration law will be able to comprehend this ebook helps fill the void in legal advice. I believe it will prove to be very useful to families, affording them some comfort that it has been written by a barrister who specialises in EU immigration regulations, and being offered at a nominal price. Colin provides an insight into the legal rights accorded to us by the EU law. Equally valuably, he gives advice on keeping an eye on the big picture to successfully navigate the Surinder Singh route with minimal hassle, by sharing his experience of Home Office behaviour even where it may not be strictly in accordance with the law.
Recommended for members of the public exploring their options and for lawyers practicing in this field.
Reviews
I found the 4th edition very helpful. This latest edition gives more analysis of the abuse of EU rights doctrine. I also found the analysis of Home Office refusal decisions to be useful. It was also helpful to have some sample covering letters and an explanation of why it is not wise to complete the EEA(FM) form.
This ebook has been an incredibly helpful and informative companion for me and my fiancee during our EEA application process. It has saved us from having to hire legal help, which is utterly invaluable. Thank you!
I thought the Surinder Singh ebook was really easy to understand and it helped my family to understand the path that i'm on with my aim to live in the UK with my girlfriend. I had been thinking i might need to get some legal advice and thought that might be quite expensive. After reading this i feel confident that i've got enough information to just go ahead and do it. Obviously i'll continue to inform myself with further research but i feel that this ebook gives me the springboard to go and do that research.
You must log in to submit a review.
Widget not in any sidebars