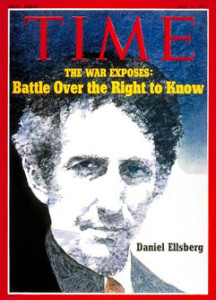 Today the closed material procedure for evidence in civil trials comes into effect. This excludes one of the parties from the proceedings, meaning that they do not get to see the evidence relied on by the other party. It violates one of the basic tenets of fair trial and it breaks down the constitutional barrier between the executive branch and the judicial branch of government, a barrier that is critical to the maintenance of the rule of law.
Unfortunately, the civil courts have now caught up with the immigration courts, where closed procedures and secret evidence have been used for many years. With little or no outcry from some of the campaigners against the same measures being used in civil trials, it has to be said.
This is but one of many examples of government in effect piloting a measure against an unpopular group or community in order to establish a beachhead, then expanding the measure for use against the wider community. First they came for the immigrants. But the great and the good stood by when that happened, and now look what has happened. It is perhaps worth noting that some, though, refused to be a part of the whole corrupted process.
Judges facing secret materials in a closed hearing should take note of the judgment in Bank Mellat v Her Majesty's Treasury (No. 1) [2013] UKSC 38, the Supreme's Court's judgment on whether it could examine secret evidence and then whether it should examine secret evidence. The majority answered 'yes' to both questions but Lord Neuberger, for the majority, commented that it turned out that the secret material was irrelevant in any event:
In my opinion, there was no point in our seeing the closed judgment. There was nothing in it which could have affected our reasoning in relation to the substantive appeal, let alone which could have influenced the outcome of that appeal.
This was an astonishing turn of events. The Government and its lawyers in effect forced the Supreme Court into setting a novel and dangerous precedent simply for the sake of it, thereby establishing the principle for future cases. They are simply not to be trusted, and the majority of the Supreme Court seem to have been left feeling like chumps. As Lord Dyson, dissenting, said,
The present case illustrates the danger of the court acceding too readily to an assertion by a party that a closed session could make a difference to the outcome of an appeal.
As further food for thought for judges facing secret material, I recommend Daniel Ellsberg's warning to Henry Kissinger about the dangers of being overawed by access to top level security clearance material on Vietnam just as Kissinger was entering government for the first time:
"Henry, there's something I would like to tell you, for what it's worth, something I wish I had been told years ago. You've been a consultant for a long time, and you've dealt a great deal with top secret information. But you're about to receive a whole slew of special clearances, maybe fifteen or twenty of them, that are higher than top secret.

"I've had a number of these myself, and I've known other people who have just acquired them, and I have a pretty good sense of what the effects of receiving these clearances are on a person who didn't previously know they even existed. And the effects of reading the information that they will make available to you.

"First, you'll be exhilarated by some of this new information, and by having it all — so much! incredible! — suddenly available to you…

"Over a longer period of time — not too long, but a matter of two or three years — you'll eventually become aware of the limitations of this information. There is a great deal that it doesn't tell you, it's often inaccurate, and it can lead you astray just as much as the New York Times can. But that takes a while to learn.

"In the meantime it will have become very hard for you to learn from anybody who doesn't have these clearances. Because you'll be thinking as you listen to them: 'What would this man be telling me if he knew what I know? Would he be giving me the same advice, or would it totally change his predictions and recommendations?' And that mental exercise is so torturous that after a while you give it up and just stop listening. I've seen this with my superiors, my colleagues….and with myself.

"You will deal with a person who doesn't have those clearances only from the point of view of what you want him to believe and what impression you want him to go away with, since you'll have to lie carefully to him about what you know. In effect, you will have to manipulate him. You'll give up trying to assess what he has to say. The danger is, you'll become something like a moron. You'll become incapable of learning from most people in the world, no matter how much experience they may have in their particular areas that may be much greater than yours."
I've no experience of being granted access to secret material, thankfully. As an advocate I have been on the receiving end of it being used in the Special Immigration Appeals Commission, however. It is impossible adequately to explain how difficult it is to deal with evidence that you have not been permitted to see, how pernicious you suspect the effect is on the judge in creating a shared bond with the other side and how powerless and frustrated it makes the client feel.
It isn't as if the Home Office and security services don't make mistakes, after all.
My thanks to my friend Alec Campbell for relaying the Ellsberg/Kissinger anecdote and providing the link. The full anecdote is worth reading in full, I've missed a chunk out above.