There is so much in the immigration white paper, published just before Christmas, that sounds pretty good for employers. But if the sponsorship system is to cope when extended to cover skilled workers arriving from the EU, a huge amount of work will be needed to simplify it.
The white paper confirms that the government intends to do this work. If this promise is to be delivered in practice, it is important that current sponsor licence holders and also employers who haven't yet had to engage with the system, but who may need to in order to sponsor skilled EU nationals from 2021, engage intensively with the government over the next two years to ensure that the system really is simplified.
In this post I consider the complexities of the current system and take a look at how sponsorship has evolved since it was introduced just over a decade ago, in the hope that some of the problems employers have faced in the past can be avoided in future.
Proposed immigration rules after Brexit
First, I'll quickly recap on what the white paper proposes. I'm sure readers are by now pretty familiar with the highlights but for good measure, here are my top three for businesses.
The end of the visa cap
The removal of the arbitrary cap on the number of skilled migrant workers that can be sponsored by UK businesses is one of the best proposals. I previously wrote about the havoc this quota was creating for my business clients when it was hit during several consecutive months last year.
I've never understood how it could possibly be in the UK's best interests to have any restrictions at all on highly skilled/specialist workers. Never having to try to explain this particular riddle to clients again is something I am looking forward to.
More roles to be eligible for sponsorship
The skills threshold for roles eligible for sponsorship is also going to be lowered, which is another good idea. At the moment, except for a tiny number of exceptions, roles must be at level 6 on the Regulated Qualifications Framework (RQF). These are generally senior and/or skilled roles.
HR directors, for example, are currently suitable for sponsorship. Career advisers are not.
Under the new system, roles at RQF levels 3-5 will become eligible for sponsorship. So the following, for example, would be included:
office manager
health and safety officer
trading standards officer
conference coordinator
yacht skipper
copywriter
immigration officer…
plus hundreds of others.
BUT — only if the employer is willing to pay the minimum salary requirement.
At the moment, this is basically £30,000 per year with some exceptions (my colleague Jessica Walker has recently covered this in some detail).
When the Migration Advisory Committee published its report last year on EU migration policy after Brexit, rumours started to swirl that the minimum salary for sponsored roles would be £50,000. Thankfully these turned out to be false.
The existing £30,000 salary requirement may change under the new system but nothing has been confirmed as yet. The white paper simply states:
before confirming the level of a future salary threshold we will want to engage extensively with businesses and employers, consider wider evidence of the impact on the economy, and take into account current pay levels in the UK economy.
What is going to be critical is that businesses that are reliant on EU and non-EU workers ensure their voices are heard to prevent any increase in the minimum salary threshold for sponsored workers.
The end of the Resident Labour Market Test
Another really good proposal is to bring an end to the Resident Labour Market Test (RLMT). Right now, if a business needs to sponsor a migrant worker it must advertise the position for at least four weeks, in a way that meets the Home Office's requirements, to demonstrate that no settled worker can fill the role. The detailed rules (and exceptions) for this one area of sponsorship alone are set out across seven pages of the sponsor guidance for employers.
Seven pages.
What does the white paper say about sponsoring workers?
It's mainly here in this box (found on page 51):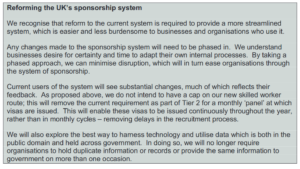 There are also some accompanying proposals to reduce the time organisations need to spend interacting with the system, to ensure that "the burden on businesses is no greater than at present", to speed up the hiring process and to consider sponsorship where appropriate by umbrella organisations.
All this makes sense. But to repeat: it is necessary because the sponsorship system will soon be handling EU workers as well as non-EU workers. In the next section I give some examples of the kind of bureaucracy that firms new to the game may have to grapple with.

What potential sponsors need to know
Businesses need to make long-term recruitment plans.
With the end of EU free movement, thousands of firms — on top of the almost 30,000 current sponsor licence holders — are likely to enter the sponsorship system for the first time in the next couple of years. Whilst knowing that there is no cap or RLMT, that things will be speedier and that the burden of red tape will be no greater than present will be of some comfort, it is going to be equally important for them to know exactly what the rules of play are.
When the Home Office strips a sponsor of its licence to sponsor migrant workers, it alleges that the sponsor has failed to adhere to a combination of its rules and regulations. So sponsors have to be on top of these.
The reasons for and effects of stripping a business of a sponsor licence, for the business and worker, has been covered a number of times on this blog. For example, here, here and here.
So what exactly will businesses (and those they sponsor) be signing up for?
Sponsorship duties
The white paper states that the government "will seek to remove [sponsorship] duties where information is held elsewhere, has already been provided to government or adds little to the integrity of the immigration system".
At the moment, sponsors must comply with numerous duties as a condition of being licensed to hire non-EU workers. I spend the majority of my time translating these compliance requirements so that businesses, universities and schools can apply them, and on defending sponsors when UK Visa and Immigration (UKVI) alleges that they have not complied with the rules.
The main duties are set out across ten pages of the current sponsor guidance. It's worth looking at some examples because, as things stand, these are all duties that firms employing EU workers will have to comply with as well:
Report to UKVI if:
the sponsored worker does no turn up on their first day of work
the sponsored worker is absent from work for more than 10 consecutive days without permission
the employment is terminated
they stop sponsoring the worker (for example, the worker obtains ILR)
the work location of the sponsored worker changes
there are changes to the sponsored worker's salary (other than annual increments / bonuses)
the sponsored worker is promoted
the sponsored worker's duties change
the sponsored worker's job title changes
the sponsored worker goes on maternity, paternity or adoption leave
the size of the sponsor's business change or they change business address or telephone number
there is a change in those who are in charge of the licence?
Stop sponsoring the worker if they take four weeks or more unpaid time away from work in any 12-month period (unless due to a permitted reason such as maternity leave) and sending UKVI
the last recorded residential address and contact telephone number for the migrant, and any personal email addresses you have for them.
"Comply with the law" as currently defined by UKVI in the sponsor guidance. This states, inter alia, that sponsors must:
only employ migrants who are appropriately qualified
keep relevant registration documents
not employ migrants who do not have the experience/permission to do the job
not assign a Certificate of Sponsorship (CoS) where there is no genuine vacancy
only allow migrants to undertake the specific role on their CoS and only assign a CoS if the sponsor believes the migrant will meet the requirements of the tier/category and are likely to comply with their conditions of stay in the UK
disclose if they assign a CoS to a family member of anyone else within the sponsor organisation
comply with UK employment law
hold suitable planning permission
only assign a CoS to a migrant if satisfied they intend and are able to fill the role.
The white paper states that the government "will seek to remove [sponsorship] duties where information is held elsewhere, has already been provided to government or adds little to the integrity of the immigration system".
Supplementary employment rules
Currently sponsored workers can only take on other work beyond that they are sponsored for if it
amounts to no more than 20 hours per week
is in the same profession and at the same professional level as the sponsored work; and
is outside the usual work hours.
These rules can be restrictive. For example, I often have to advise university clients that a person who is sponsored as a researcher cannot carry out teaching activity on a supplementary basis (unless teaching is specifically referenced on their CoS). In my view, that's completely nonsensical. But, in the worst case scenario, the university would risk a UKVI investigation, risk having their sponsor licence revoked (UKVI regards "illegal working" breaches as amongst the most serious) and a civil penalty of up to £20,000.
An employee who works in breach of their conditions of stay risks prosecution, curtailment of leave and the consequential raft of measures under the hostile compliant environment if they do not leave the UK. It galls me to advise that simple activities like this could have such huge consequences but it's just so important that all concerned are aware of the law and, more importantly, the risks.
Information and data sharing provisions
At the moment, organisations applying for a sponsor licence must agree to a 13-point declaration as part of the filing process. The declaration is completed by a senior person in the organisation who is filing the application (I always ensure it's one of the first documents my clients thinking about a sponsor licence are aware of).
Of particular note, sponsors are required to declare that:
I understand that if I do not comply with the rules of the sponsor licensing system I may lose my licence… which would mean that I could no longer sponsor overseas nationals… The leave of any existing non-settled workers or students under Tiers 2 to 5 of the points based system may also be curtailed.

I agree to co-operate with Home Office officials when they are carrying out checks on our compliance with our sponsor duties. I also agree to co-operate with any third party which is collecting information on the Home Office's behalf…

I agree to comply with requests for information from the Home Office in connection with the prevention or detection of crime, the administration of illegal working civil penalties and/or the apprehension or prosecution of immigration offenders.

I understand that if I knowingly make any false representations or submit any false documents, the application will be refused and I may be prosecuted.

The information provided from me to you will be treated in confidence but may be disclosed to other law enforcement agencies, UK government departments, agencies, local authorities, foreign governments and other bodies for immigration or research purposes and to help them to carry out their functions.' [This covers not only information provided by the business about the business, but also information provided about its sponsored workers.]
Paragraph 6.35 of the white paper states
We plan to continue to test most, if not all, of the current requirements which demonstrate a sponsor's direct relationship with a worker, but we intend to explore making more ambitious changes to provide for greater scope for retrospective checking of compliance…
I would therefore expect the sponsor declaration to be a key tool in the new system, allowing the Home Office to carry out an extensive range of checks.
Define "simple"
The white paper makes the following promises about the new system as a whole:
We will put the customer at the heart of our design to ensure user-friendly, simple and transparent processes.
This will be a simple online system which is more light-touch than a visa requirement.
We want to simplify the process further so that all users understand what they need to do and what they are entitled to do in order that they can navigate the system as effectively and efficiently as possible.
When I read these statements, I felt a sense of déjà vu.
When the system of sponsorship was rolled out in 2008, it was meant to be simple.
Those, like me, who were practising at the time, will feel a sense of nostalgia when opening the 2006 document introducing the new system.
A Points Based System: Making Migration Work for Britain heralded what was promised to be a new era of immigration control:
Applicants will find the system simpler to understand and the rules for entry clearer and more consistently applied. It will be quicker and simpler for employers and educational institutions to bring in the migrants they need, and there will be more certainty about whether prospective migrants will be able to come to the UK… It will also be more straightforward for entry clearance officers and caseworkers to administer.
But fast forward a few years and a university was being stripped of its sponsor licence, meaning that it could not sponsor international students at all, due to alleged failings to adhere to the sponsor duties.
Fast forward a few more years and the Supreme Court was ruling on the legality of the sponsor system.
Lawful it might be, but experienced immigration officials, lawyers and judges alike have spent over a decade scratching their heads at a system which has
achieved a degree of complexity which even the Byzantine emperors would have envied.
Darren's post on The spider's web of the Points Based System — which, like the quote above, is a phrase used by the Court of Appeal — gives some examples of this complexity in action. I would also point to the official guidance on sponsoring a worker under Tiers 2 and 5 today. Even a simple page count, such that my patience will allow, of the following documents amounts to well over 1,000 pages:
The current system of sponsorship progressed quickly from being a simple idea on paper to a bureaucratic headache, to put it mildly, for employers that have to comply with it and workers that have to be sponsored under it.
Conclusion
The new 2021 immigration system must be capable of registering many thousands of new sponsoring businesses and processing visa applications from many thousands of new EU workers. The government has two years to design a system that is truly simple and transparent and has promised to ensure extensive engagement with employers.
This must be meaningful and effective engagement.
If a repeat of history is to be avoided, I strongly recommend that all employers — businesses, universities, charities, schools, etc. — that rely on, or may need to rely on, workers from EU and non-EU countries in the future pay very close attention to requests that they engage with the design of the new system. I'll certainly be advising my clients to provide as much feedback as possible and to lobby hard. It is essential that the new system is simple and transparent.