Over 17,000 people applied for asylum in the UK between July and September, the highest quarterly total since 2003, new Home Office figures show. Year on year, there has been an 11% rise in applications to 44,000 in the 12 months to the end of September 2021. This includes dependants in both cases.
The rise has been driven by sharp increases in applications from Eritreans (up 97%), Syrians (74%), Vietnamese (44%), Iranians, Albanians and Afghans (all 39%). Almost 1,100 Afghan nationals applied for asylum in the third quarter of 2021.
Two thirds of people who apply for asylum are now getting it at the first time of asking.
3. A huge 64% of initial asylum decisions are now grants of asylum, an historic high. Remember the total goes up further once appeals are taken into account – 48% of those succeed as well. https://t.co/dHau5dXcir

— Colin Yeo (@ColinYeo1) November 25, 2021
The asylum backlog continues to rise. 56,500 people were waiting more than six months for an initial decision on their case at the end of September. The grand total is 88,000, "a result of both an increase in claims and slow processing of those who have claimed already" (Migration Observatory).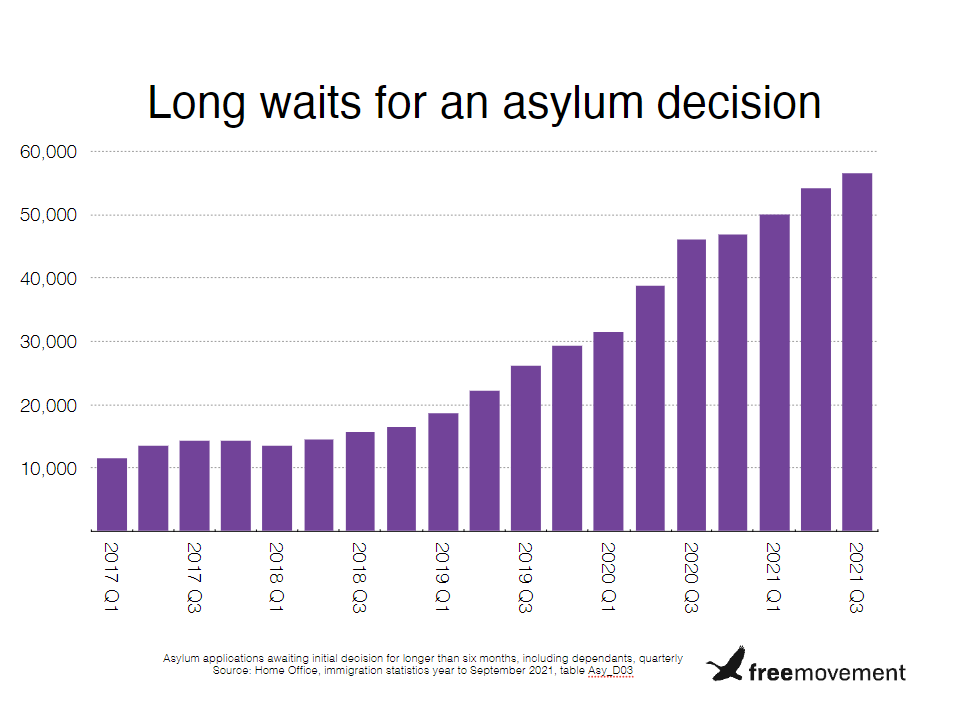 The Home Office cleared only 5,300 cases in Q3 2021, where pre-pandemic it averaged over 9,000 a quarter. The immigration inspector recently reported that adults who received an asylum decision in 2020 had been waiting an average of 449 days (15 months). For unaccompanied children, it was 550 days (18 months).
Immigration minister Kevin Foster told the BBC yesterday: "we accept we need to speed it up. We need to be more efficient in dealing with people's applications".