The Home Office amended its definition of a 'professional sportsperson' back in January 2019. At the time, I set out why I thought the changes were significant: Why coaching your kid's football team could breach your visa conditions.
Since then, a number of universities and other organisations have also expressed concern that the revised rules would stop migrants playing or coaching amateur sport. The Guardian picked up on the issue over the weekend.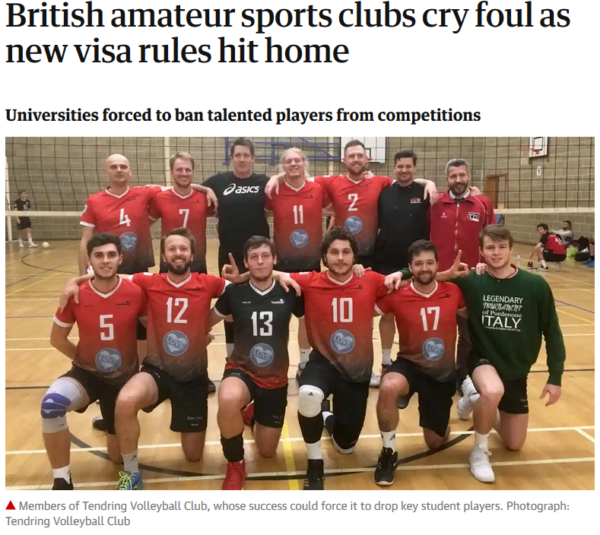 The paper reports that student members of local sports clubs are pulling out of games on advice from their universities. The fear is that players on student visas would be caught by the expansive new definition of a "professional" and be accused of working in breach of their visa conditions.
The definition is about to be changed again
The Home Office has now published a new set of Immigration Rules which are due to be implemented from the end of this month.
The changes include a revised definition of "professional sportsperson" — that is, different again to the January version. I have highlighted how the definition is to be amended below.
A "Professional Sportsperson", is someone, whether paid or unpaid, who:

1. is currently providing services as a sportsperson, playing or coaching in any capacity, at a professional or semi-professional level of sport;

2. is currently receiving payment, including payment in kind, for playing or coaching that is covering all, or the majority of, their costs for travelling to, and living in the UK, or who has done so within the previous four years;

3. is currently registered to a professional or semi-professional sports team, or who has been so registered within the previous four years. This includes all academy and development team age groups;

4. has represented their nation or national team within the previous two years, including all youth and development age groups from under 17's upwards;

5. has represented their state or regional team within the previous two years, including all youth and development age groups from under 17's upwards;

6. has an established international reputation in their chosen field of sport; and/or

7. engages an agent or representative, with the aim of finding opportunities as a sportsperson, and/or developing a current or future career as a sportsperson, or has engaged such an agent in the last 12 months; and/or

8. is providing services as a sportsperson or coach at any level of sport, unless they are doing so as an "Amateur" in a charity event.
The change may not appear to be significant but the following example which I referred to in my previous blog may not now fall foul of the rules: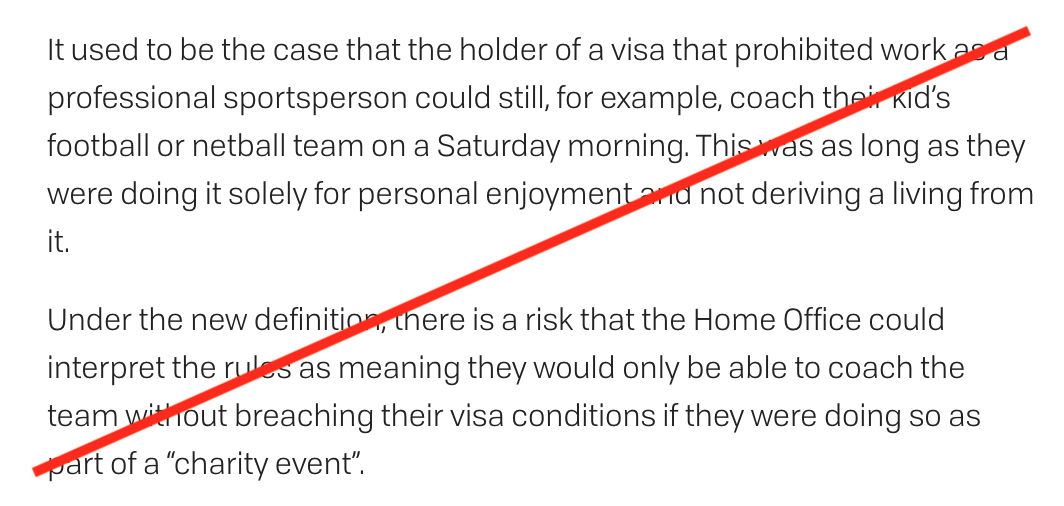 Paid or unpaid – does it make a difference?

Whilst some progress is being made, it's still the case that many individuals who are in the UK with a visa prohibiting employment as a sportsperson remain subject to pretty onerous restrictions on their sporting activities.
One of the key issues causing confusion is exactly what is the status in law of sportspersons (and coaches). Some believe that if the person is not being paid, this means the restriction does not apply to them.
I am not so sure about that. If we look at the restriction that students who hold leave to remain under Tier 4 are subject to, this simply states:
no employment as a professional sportsperson (including a sports coach).
The Immigration Rules define 'employment' as:
"employment" unless the contrary intention appears, includes paid and unpaid employment, paid and unpaid work placements undertaken as part of a course or period of study, self employment and engaging in business or any professional activity.
Therefore, if a person is unpaid, they can still be deemed to be undertaking employment by the Home Office which could see them fall foul of the rules.
Further clarity needed
Another issue concerns the definition of professional/semi-professional vs amateur activity.
Universities have been leading the call for the Home Office to provide further clarity on exactly what their international students are and are not permitted to do.
The University of Essex, for example, has published some information on the progress of discussions so far.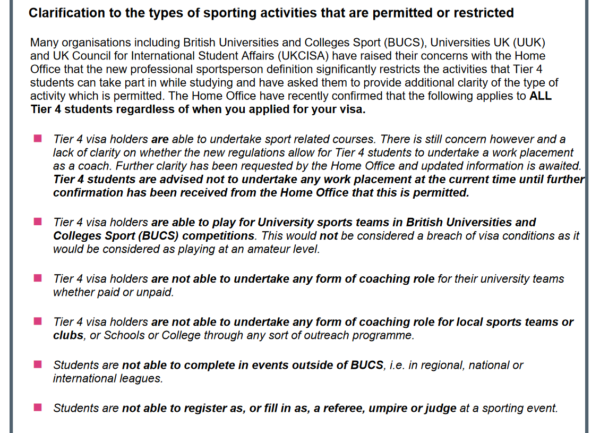 Unintended consequences
It looks like the Home Office's intention is to prevent people who the man on the Clapham omnibus would regard as a professional sportsperson (or coach) from performing in that capacity whilst in the UK on other types of visas. These changes to Points Based System (business and study) visas follow a crackdown on sportspersons entering on visit visas.
If LeBron James or Zinedine Zidane came to the UK on a Points Based System visa that contained the prohibition, it should be relatively clear to them (or their advisors) that they would be regarded as professional sportspersons and would be subject to the restrictions set out in the Immigration Rules.
For others the position is less clear. Have they done something in their past that triggers the restrictions? Is the type of sporting activity they want to do or the level restricted? etc.
Hopefully the Home Office will understand that, even with the revised definition, there remain far too many grey areas and will provide further clarification.