The Home Office is now advising EU nationals to sign up for Government email alerts rather than applying for residence documents as proof of status. The guidance was issued on 7 April 2017 and is a tacit admission that the Home Office is overwhelmed by applications from EU citizens and their families.
The guidance is not mandatory; EU citizens can still apply for residence documents if they want to, and indeed EU citizens have to apply for these documents if they want to apply for naturalisation as British citizens.
The latest quarterly immigration statistics certainly showed a dramatic rise in applications for permanent residence documents: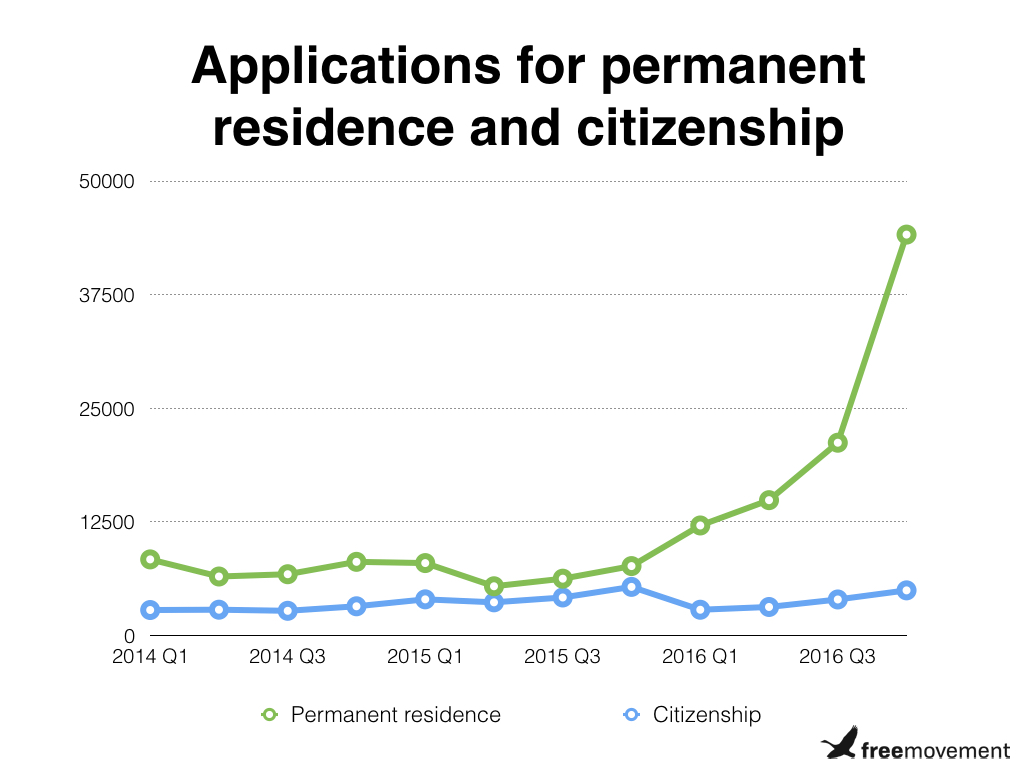 Given that the Government has:
refused to guarantee the rights of residence of EU nationals and their families
told everyone to prepare for a "No Deal" scenario with the UK leaving the EU with no agreement reached
forced EU nationals to use a complex application process requiring the submission of reams of evidence,
changed the law to force EU citizens applying for naturalisation to apply for residence documents
leaked a suggestion of a cut off date for free movement rights
only began recruiting new staff for processing EU applications in March 2017 and
enacted a series of "hostile environment" laws requiring foreign nationals to prove their status to access jobs, housing, bank accounts and healthcare
it is utterly unsurprising if Home Office officials are overwhelmed by applications from concerned EU citizens.
eBook
EU free movement: guide to making an application in the UK
This clear and accessible guide covers the legal requirements for EU residence documents and the practicalities of making an application including advice on documents and forms.
View Now
It is particularly disingenuous for the Home Office to suggest that residence documents are not "needed" when in fact they are needed to apply for naturalisation. If an EU national applies without the required documents he or she will be refused and will lose the application fee of £1,202 per person. Again, the Home Office only recently tightened up its approach to EU citizens who make this mistake; previously the fee would be refunded.
The new guidance reads:
You do not need to do anything as a result of Article 50 being triggered. There will be no change to the rights and status of EU nationals living in the UK while the UK remains in the EU.

Under EU law you don't need a document to confirm your residence status in the UK (see note 2).

If you're planning to apply for a document just to confirm your status, you can sign up for email alerts instead.

These email updates will let you know about developments that might affect you, including the steps that you may need to take to confirm your status in the UK after we leave the EU.
Need affordable legal advice?
Arrange a video chat at a time that suits you.
Use your own smartphone, pc/mac or tablet.
No commitment, no risk.
It is technically true that EU, EEA and Swiss citizens do not need residence documents in order to be lawfully in the UK. After years of UK Government hostility towards EU law, EU free movement and EU citizens, however, it is utterly unrealistic for the UK Government now expect EU citizens to simply sit on their hands and trust the UK Government to do the right thing.
Source: Status of EU nationals in the UK: what you need to know – GOV.UK