The government has collected less than half the fines issued to employers for hiring undocumented migrants over the past five years, according to a Free Movement estimate using data released under the Freedom of Information Act.
The value of illegal working fines handed out to companies, even if reduced by the maximum possible 30% for early repayment, was around £120 million over the past five financial years. The Home Office collected £55 million in cash in the same period. That leaves around £65 million either uncollected or successfully appealed, although a portion may be collected in future years as companies can pay in instalments.
Illegal working fines for employers were introduced under the Immigration, Asylum and Nationality Act 2006. Employers are liable for a financial penalty if they employ an adult who has not been granted leave to enter or remain in the United Kingdom, unless they have carried out right to work checks.
A previous BBC investigation had found that the Home Office issued fines worth £79.3 million between 2008/09 and 2012/13, and collected £25.3 million.
Since then, the value of fines issued has ballooned, helped by the maximum fine per illegal worker rising from £10,000 to £20,000 in May 2014. Over the past five years, the Home Office has issued £170.3 million in civil penalties but collected only £55.5 million.
The Home Office told us that these figures are not comparable. It is true that some difference between the gross value of fines issued and the amount ultimately collected is understandable. Employers who pay their fine within 21 days, rather than the maximum 28 allowed, can also get a 30% discount.
There is evidence that many firms do avail of the discount. The Home Office says that half of all debt recovered since 2015/2016 has been paid in this way.
But even if we assumed that every single company took advantage of the discount, making the collectible total a little under £120 million, the department would still have collected less than half the amount it asked for.
Companies can request an internal review of the penalty issued, or launch a formal appeal. It is not clear from the available data how much of the gap between fines levied and payment received is down to successful challenges, and how much represents evasion or inability to pay on the part of companies.
It is also fair to say that payment by instalment complicates the calculations for any individual year. Fines issued can be paid over two years, and three in exceptional cases, meaning that a portion of the fines issued do not fall due immediately.
But that effect cannot account for the full scale of underpayment. Over the full decade 2008/09 to 2017/18, cash recovered was over £115 million less than the level of fines issued (applying the maximum possible early payment discount).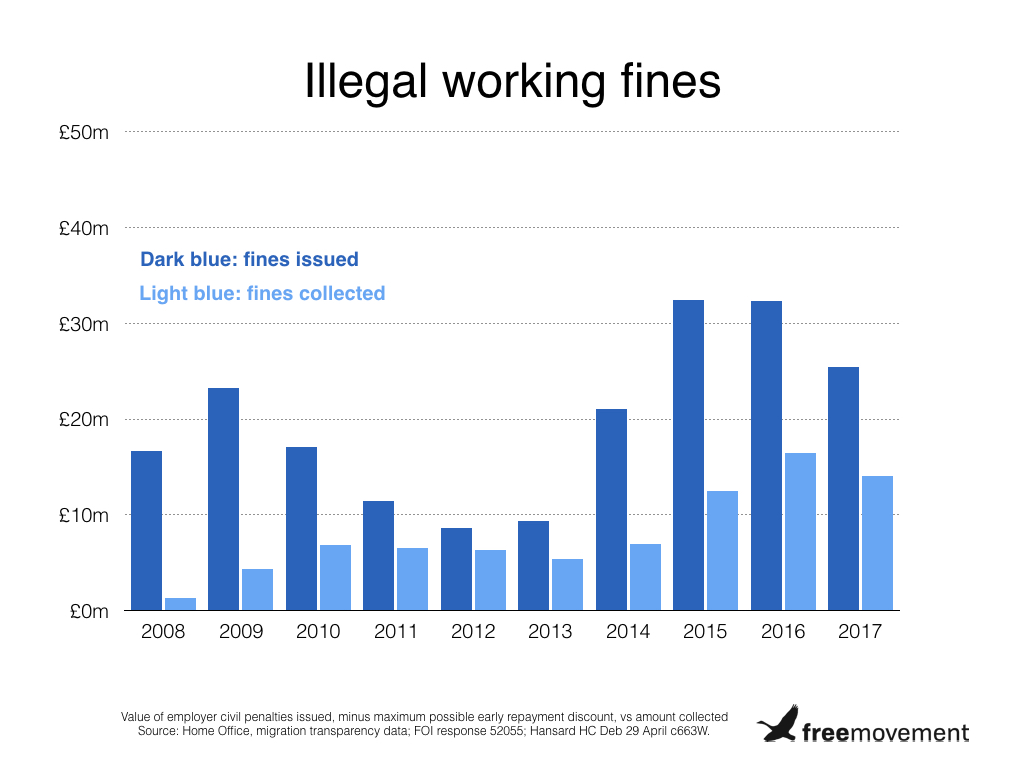 Responding to the figures, a Home Office spokesperson said:
We are committed to a fair and humane immigration policy which welcomes and celebrates people here legally, but which tackles illegal immigration and prevents abuse of benefits and services.

There are a number of reasons why the numerical value of penalties served differs to the value collected in any given month including the Fast Payment Option in the case of a first breach, and instalment payment plans.

We vigorously pursue all fines issued and have collected over £35m in civil penalties since 2016.
Laws targeting employers have been stiffened under the "hostile environment". The Immigration Act 2014 doubled the maximum illegal working fine, while the Immigration Act 2016 increased the maximum sentence for the criminal offence of hiring illegal workers. It also introduced new employer closure notices and orders, enabling immigration officials to shut a business down for a specified period.
But there has been a significant slowdown in enforcement activity as a result of the Windrush scandal, which among other things saw legal Commonwealth migrants with no paperwork lose their jobs. The value of illegal working fines levied in the most recent quarter was £3.6 million, a steep drop from the peak in 2016.