A major government review of legal aid proposes no significant changes in the immigration and asylum field. Despite evidence of the impact of cuts over the past five years, and the role that legal aid would have played in preventing the Windrush scandal, the Ministry of Justice has refused to roll back the Legal Aid, Sentencing and Punishment of Offenders Act 2012 as it relates to immigration work. The sole exception is an amendment granting legal aid to unaccompanied migrant children.
The review, published this morning, shows an 85% reduction in legal help for non-asylum immigration matters since LASPO, and a 62% reduction in full representation.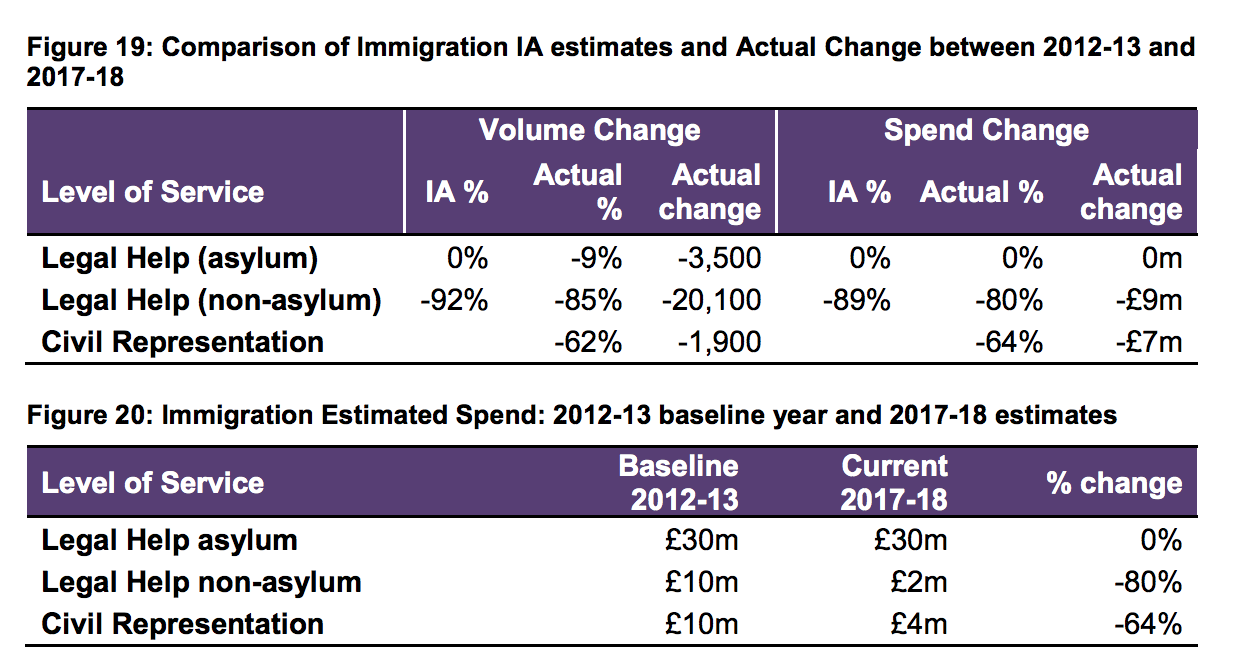 A fee cut for Upper Tribunal appeals, placing the onus on the provider to determine whether an appeal has credible prospects of success, has also been followed by a drop in volumes. The report says that the fee cut may not be responsible for the reduction in appeals, however. It pointed to other factors including separate cuts to tribunal resources, "which have had an impact on many areas including judicial sitting days".
Immigration lawyers and charities submitted evidence on the impact of all this:
There was the sense, from stakeholders, that protected groups, and vulnerable people more generally, had been adversely impacted by the immigration scope changes.
The official response is essentially a shrug: "data limitations prevent us from properly assessing the efficiency and equity effects of these scope changes". There will be no new money, just a vague nod to the white heat of legal tech: "we are keen to explore how provision, particularly to those in rural areas, can be expanded through the use of technology".
The one concrete proposal is to grant legal aid to lone migrant children in the UK. This was announced back in July after campaigning by the Children's Society. An "Action Plan" accompanying the review commits to legislation "by Spring 2019".
In the absence of any more support for migrants struggling with mind-boggling immigration laws, the report does discuss the importance of better initial decision-making:
Despite the clear improvements since 2010, the Home Office recognises that further improvements are needed to the sustainability of decisions and the quality of engagement with applicants. A new central UK Visas and Immigration (UKVI) Chief Caseworker Unit was established at the start of June, led by the newly created post of Chief Caseworker, and supported by a cadre of experienced senior caseworkers recruited from across the Home Office. This new unit will bolster case-working expertise and ensure that caseworkers have a clear escalation route where they have a concern or require specialist guidance. A new post of UKVI Caseworker Training lead has been created and appointed. This will help improve decision-maker training capability, establish career paths for decision makers and help to create a stronger and more customer focused culture. A series of initiatives are in train which test, trial and implement new working processes across UKVI and help reduce the number of refusal decisions overturned at appeal.
A more customer- and outcome-focussed approach by the Home Office is very much to be welcomed but that does not remove the need for independent immigration law advice. There is, for example, no mention of Windrush in the document at all. This is odd given that proper legal aid would have prevented the Windrush scandal by allowing lawyers to assist elderly Caribbean migrants regularise their immigration status.
While there is now a dedicated government scheme for the Windrush generation to get their documents, what about future cohorts of migrants let down by the government? An unknown number of EU citizens will inevitably end up undocumented in2021, when the EU Settlement Scheme closes. Keeping immigration advice from those without the means to pay for it only stores up trouble for the post-Brexit era.