Here's your round-up of the immigration and asylum stories that made national headlines this week.
Orphan slave deported
"Home Office accused of cruelty for ordering cannabis slave back to Vietnam", the Guardian reported last Friday, just as I was writing last week's review.
Amelia Gentleman reports on the case of a Vietnamese orphan trafficked to the UK aged 10 and forced to work in a cannabis factory for years. As he nears 18, the Home Office now wants to deport him, writing that in view of the "considerable personal fortitude [shown] in relocating to the UK and attempting to establish a life here", there was no reason why he "could not demonstrate the same resolve to reestablish [his] life in Vietnam".
MPs' immigration report
Monday saw the launch of a wide-ranging report about immigration policy by MPs on the Home Affairs Select Committee.
The BBC and Financial Times led their coverage on the report's recommendation that the net migration target be scrapped. The Independent and Guardian picked up on the section criticising the "hostile environment" (which cited material on this blog). The Express honed in on mention of ineffective deportation procedures. The Times chose the call for better data.
80p asylum support rise
Monday's Guardian covers the derisory rise in weekly support payments for destitute asylum seekers. See further our guest post about it today.
Data sharing fears
The Independent's May Bulman was at a different parliamentary committee on Tuesday, at which a representative of The Voice of Domestic Workers charity told MPs that "one domestic worker died because she was too afraid to see a doctor out of fear that her immigration status would be shared with the Home Office".
Visa quotas hit NHS
That's right, it's a story all about Tier 2 (General). "Doctors who have been offered jobs by NHS hospitals desperate to fill rota gaps are being blocked from coming to the UK by the Home Office because visa quotas for non-EU immigrants set seven years ago are already full", according to the i.
EU nurses leaving
Analysis by the BBC's excellent health correspondent, Nick Triggle shows that there are now more EU national nurses leaving the English NHS than joining it. Blame the B-word.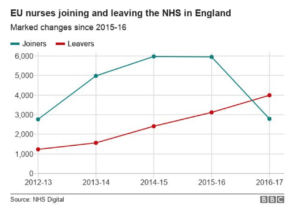 No asylum for humanist
"A Pakistani man who renounced his Muslim faith and became a humanist has had his application for asylum in the UK rejected after failing to correctly answer questions about ancient Greek philosophers", the Guardian said on Wednesday.
Migration Watch report
The Sun reports on a new report by anti-immigration pressure group Migration Watch, which claims that a million EU citizens could come to the UK and qualify for settled status during a transition period designed to soften the economic blow of Brexit.
Immigration obsession
"Is This the End of Britain's Obsession with Immigration?", asks Marie le Conte in Vice. That is superficially the case if you look at the long term "Issues Index" of things that voters care about, compiled by pollsters Ipsos MORI. Immigration has come right down the rankings of issues that trouble the public. My own view is that expressed by Rob Ford in the article: people are still worried about immigration, "but they now call that worry Brexit".
Calais security
When I rang up the Home Office yesterday looking for information on a story for this blog, it told me that's all very nice but we're busy with plugging our story about extra fencing at Calais today. (In fairness they eventually relented and gave me a quote.)
The Mail is unimpressed, saying that the £45 million promised for fencing, CCTV and detection technology at the port is a quid pro quo for the UK getting its hands on the Bayeux Tapestry (itself a tale of marauding French immigrants). The Times reports that Macron wants even more money for Calais.
New UK-France border treaty
Today the May-Macron summit confirmed a new border cooperation treaty. The BBC reports the French president as saying that it will "speed up the processing of migrants in Calais", offer a "more humane approach" and be "more efficient". Colin is even now writing an analysis of its provisions, so we'll see.
Afghan interpreter denied relocation
The Mail appears to have broken this story about "Ricky", who worked with British forces in Afghanistan but has been denied permission to live in the UK (the relevant scheme appears to offer limited leave to enter within the Immigration Rules and a pathway to settlement).
And finally
Let's end on a good news story. A Syrian refugee who arrived in the UK on the back of a lorry aged has won a place at Oxford. This actually seems to be a Mail original as well, although I could be mistaken. See also the local Brighton Argus and ITV News.