The hostile environment should be reformed by selective repeal of key provisions, addressing Home Office culture and improved routes to regularisation, an influential think tank has found. Beyond the hostile environment, a report released yesterday by the Institute for Public Policy Research, follows up on a previous look at the negative impacts of policies designed to make life intolerable for undocumented migrants. The IPPR has now turned to solutions, canvassing a range of options from straight repeal through to ID cards.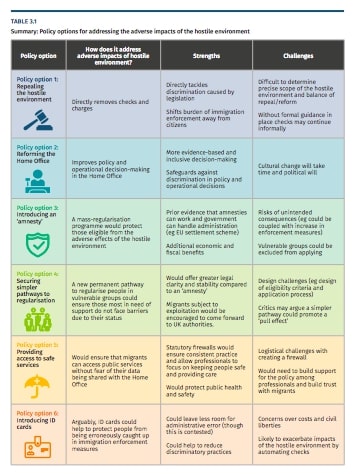 Of the various options summarised in the graphic above, the report recommends three main areas for reform.
1. Changes to checks, charges and data sharing
The first involves repeal of the most egregious measures, such as right to rent checks and banking bans, and important reforms to some of the others, such as right to work checks by employers. Employer checks would become universal and mandatory, carried out through a reformed National Insurance system.
This may seem like a subtle change but it is very important in two ways. Firstly, it removes responsibility from the Home Office and removes the explicit immigration enforcement purpose of the current system. Secondly, it ends the selective and therefore discriminatory nature of the current system of checks currently in place. To my mind, the way that the current hostile environment policies work by encouraging — or at least allowing — race discrimination against Black, Asian and minority ethnic British citizens and other long term residents is unacceptable and indefensible.
Along with that would go a "firewall" to stop Immigration Enforcement accessing data on unauthorised migrants held by other arms of the state, such as the police and NHS.
These are reforms I tentatively put forward in Welcome to Britain, although I had advocated use of ID cards or similar. I much prefer the idea of using National Insurance. The firewall is a good idea, although the fact is that any such legislative protection can easily be overridden in future by a simple Parliamentary majority. It is impossible to properly embed this sort of protection within the UK's constitutional set-up.
2. Home Office culture
A second tranche of reforms would address Home Office culture. The aim is to prevent the rollout of policies without evidence that they will (a) work and (b) not create Windrush-type scandals. Specifically this means more money for the Analysis and Insight directorate, and regular anti-discrimination reviews. There should also be a dedicated migrants' rights watchdog (incidentally this could be modelled on the Independent Monitoring Body for EU citizens' rights if that proves successful).
3. Improved routes to regularisation
A third package of changes would make it easier to legalise one's stay, including granting immediate settlement after 20 years' long residence, although not necessarily a full-on amnesty.
Personally, I think an amnesty is necessary given the potential size of the unauthorised population. But I can see how politically contentious that would be. These more gentle reforms would have a similar effect but over a longer period, would be more durable and would potentially stop the same problem of a large, unauthorised population arising again in future.
It is a thoughtful, realistic but also progressive set of proposals.