The long suffering Migration Advisory Committee, or 'MAC' to its friends, has been commissioned to carry out yet another review. Back in June 2019 the MAC were asked by one Home Secretary to think again about salary thresholds for skilled workers. This time they are being asked by a different Home Secretary to think again about the idea of an Australian style immigration system:
Today, I am asking the MAC, as part of their current work on future potential salary thresholds, to conduct a review of the Australian immigration system and similar systems to advise on what best practice can be used to strengthen the UK labour market and attract the best and brightest from around the world.
There's then some flanneling about the benefits of controlled migration, once in a lifetime opportunities and so forth, before the letter concludes:
This revised commission reflects the Government's vision and overarching principles of thefuture UK immigration system: that it must be fair to those in the UK and those coming here; and allow for full control over our borders and immigration to the UK. Delivering on the promise to introduce an Australian-style points-based system is part of our approach to improving public confidence in our immigration system whilst allowing us to welcome talented and skilled individuals from all over the world.
The report is due by January 2020.
As many of us who actually work in immigration are fed up of saying, we already have a points based system. It is literally called "the points based system" and it appears at Part 6A and numerous appendices of the Immigration Rules.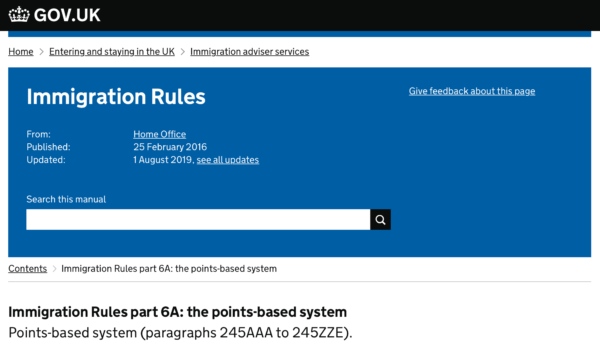 It has not actually operated as a genuine points based system for many years now, it is true. There is only one route to getting each type of visa under the UK system and the UK system includes subjective "genuineness" tests all over the place, whereas under a true points based system there will be multiple routes through acquiring different combinations of points for different objective qualities. The one bit of the UK system that really ran on points, called Tier 1 (General) was scrapped for new entrants back in 2011.
The White Paper on post-Brexit immigration published under Theresa May in 2018 proposed the abolition of special immigration rules for EU citizens along with some minor reforms to the existing system. This would essentially bring EU citizens within a slightly reformed version of the current immigration system. This was followed in March 2019 by the Home Office indicating that it wanted to move away from the now-redundant 'points based system' label. The new innovator and start up visa routes were added to a new non-points-based appendix of the Immigration Rules.
Whether any of this matters to anyone but the poor MAC members who now have to conduct the review is a moot point (although they could probably get away with putting a different front cover on the excellent Migration Observatory briefing on points based systems). The current government may not last long and anyway already has a history of fake immigration news, like the hollow Johnson pledge to properly protect EU citizen rights and the recanted rumours of ending free movement after Brexit.