If you are a deportation lawyer, stop what you are doing and read HA (Iraq) v SSHD [2020] EWCA Civ 1176, handed down by the Court of Appeal on 4 September 2020. It will take you about three hours, but it will be worth it.
The lead judgment of Lord Justice Underhill contains far-reaching and important analysis of key aspects of UK deportation law. In doing so, it reverses decisions made by President Lane in the Upper Tribunal intended to give guidance on the same.
HA (Iraq) is particularly fascinating in its treatment of the "unduly harsh" test as formulated by Lord Carnwath in KO (Nigeria) v SSHD [2018] UKSC 53.
Interpretation of the "unduly harsh" test
There is a lot going on in this judgment, and for anyone involved in deportation law it is really a must-read. Probably the most significant aspect is the Court of Appeal's treatment of the "unduly harsh" test.
Broadly, whilst there is a presumption in favour of deportation for any foreign national sentenced to 12 months' imprisonment or more, section 117C(5) of the Nationality Immigration and Asylum Act 2002 says that deportation will not be in the public interest for those sentenced to 1-4 years where its effect on a deported person's child (or partner) would be "unduly harsh".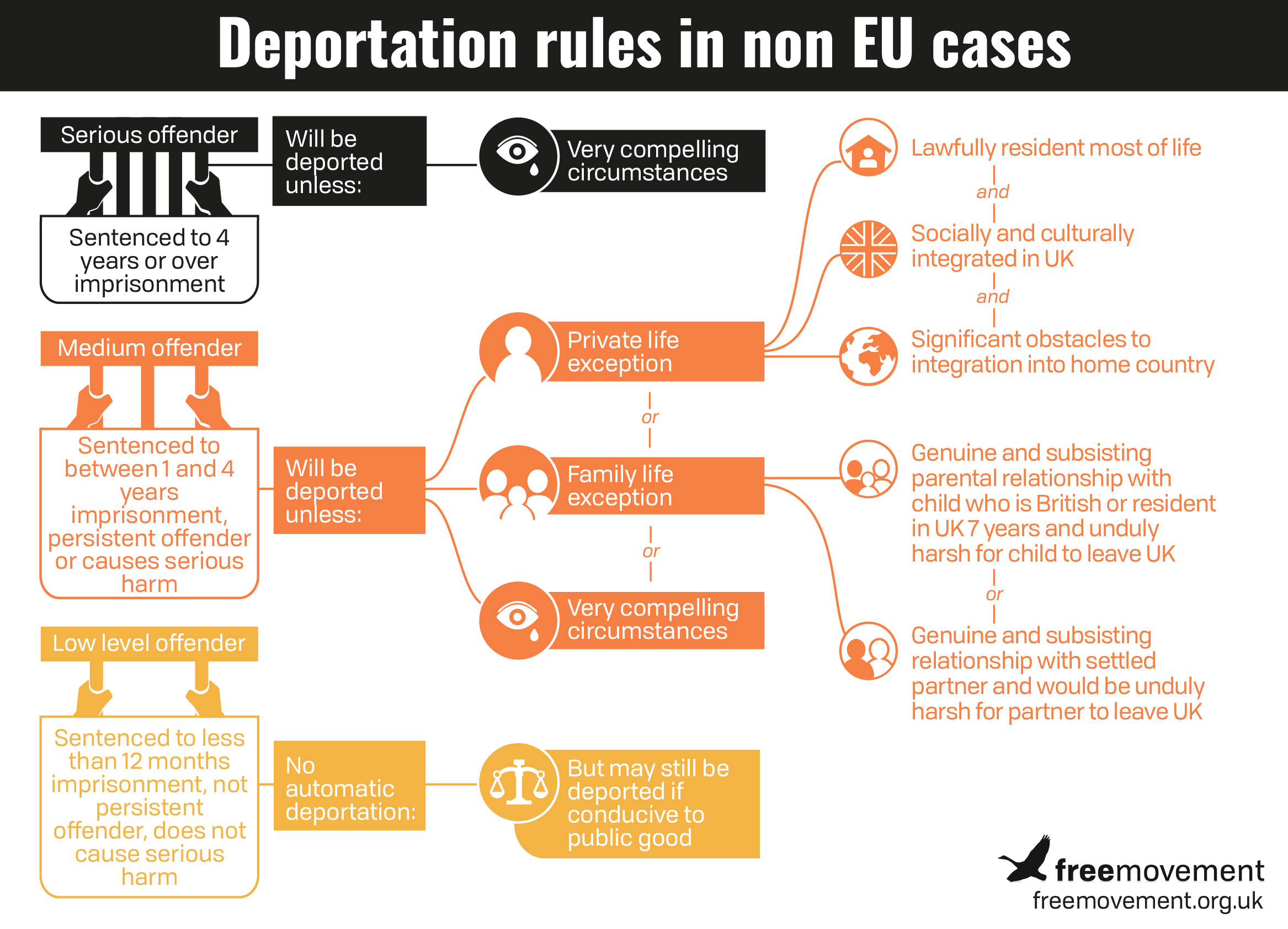 The leading case on the meaning of this phrase is KO (Nigeria). Lord Carnwath at paragraph 23 suggests that, in order to find that deportation would be unduly harsh on a child, decision-makers should be
… looking for a degree of harshness going beyond what would necessarily be involved for any child faced with the deportation of a parent.
This formulation has set the bar incredibly high for foreign criminals seeking to successfully appeal decisions to deport them.
Rowing back on KO (Nigeria)
A significant portion of HA (Iraq) — paragraphs 39-58 — is dedicated to trying to work out what Lord Carnwath meant. Underhill LJ starts by explaining that
Although in the course of his discussion of that issue he does also express a view as to the height of the threshold which the phrase "unduly harsh" connotes, that is not his primary focus.
This seems to be a polite way of saying that he wasn't really paying attention when he formulated this test. But the key passage is in paragraph 44:
Lord Carnwath's focus is not primarily on how to define the "acceptable" level of harshness. It is true that he refers to a degree of harshness "going beyond what would necessarily be involved for any child faced with the deportation of a parent", but that cannot be read entirely literally: it is hard to see how one would define the level of harshness that would "necessarily" be suffered by "any" child (indeed one can imagine unusual cases where the deportation of a parent would not be "harsh" for the child at all, even where there was a genuine and subsisting relationship). The underlying concept is clearly of an enhanced degree of harshness sufficient to outweigh the public interest in the deportation of foreign criminals in the medium offender category.
Free Movement subscribers will have seen this point — that the test is illogical and doesn't make sense — made many times on these pages (see for example our write-up of SSHD v PG (Jamaica) [2019] EWCA Civ 1213.
What is the correct test?
Underhill LJ sets out his own observations on how the test should be interpreted in paragraphs 51-52. They are important, so I have set them out in full:
The essential point is that the criterion of undue harshness sets a bar which is "elevated" and carries a "much stronger emphasis" than mere undesirability: see para. 27 of Lord Carnwath's judgment, approving the UT's self-direction in MK (Sierra Leone), and para. 35. The UT's self-direction uses a battery of synonyms and antonyms: although these should not be allowed to become a substitute for the statutory language, tribunals may find them of some assistance as a reminder of the elevated nature of the test. The reason why some degree of harshness is acceptable is that there is a strong public interest in the deportation of foreign criminals (including medium offenders): see para. 23. The underlying question for tribunals is whether the harshness which the deportation will cause for the partner and/or child is of a sufficiently elevated degree to outweigh that public interest.
But it is important not to forget the staged approach taken in the legislation:
However, while recognising the "elevated" nature of the statutory test, it is important not to lose sight of the fact that the hurdle which it sets is not as high as that set by the test of "very compelling circumstances" in section 117C (6). As Lord Carnwath points out in the second part of para. 23 of his judgment, disapproving IT (Jamaica), if that were so the position of medium offenders and their families would be no better than that of serious offenders. It follows that the observations in the case-law to the effect that it will be rare for the test of "very compelling circumstances" to be satisfied have no application in this context (I have already made this point – see para. 34 above). The statutory intention is evidently that the hurdle representing the unacceptable impact on a partner or child should be set somewhere between the (low) level applying in the case of persons who are liable to ordinary immigration removal (see Lord Carnwath's reference to section 117B (6) at the start of para. 23) and the (very high) level applying to serious offenders.
Note the complete absence in this description of the test of a comparative exercise between the facts in a given case against the level of harshness that would "necessarily" be suffered by "any" child.
This is absolutely not how it has been interpreted in the tribunals or the Court of Appeal since KO (Nigeria) was handed down, which have generally been applying this test entirely literally, as in PG (Jamaica). Another prominent example is the Court of Appeal case of SSHD v KF (Nigeria) [2019] EWCA Civ 2051:
Given the changes to the law introduced by the amendments to [the] 2002 Act, as interpreted by the Supreme Court, it is necessary to look for consequences characterised by a degree of harshness over and beyond what every child would experience in such circumstances.
This is exactly the type of overly-literal interpretation of the Supreme Court's judgment that Underhill LJ has breezily dismissed as wrong.
Need affordable legal advice?
Arrange a video chat at a time that suits you.
Use your own smartphone, pc/mac or tablet.
No commitment, no risk.
See also his warning (paragraph 56) against treating KO (Nigeria) as establishing a touchstone of whether the degree of harshness goes beyond "that which is ordinarily expected by the deportation of a parent".
Underhill LJ expressly addresses the anticipated criticism that this represents a rather different approach than had gone before (see para 61), and a deviation from the test laid down by the Supreme Court. 
But it is really hard to see that this does not represent a significant change in the law.
Other important points
There is so much in this decision that it would be easy to overlook the concurring judgment of Peter Jackson LJ on the best interests of the child in these assessments (paragraphs 151-163), and particularly the law on the treatment of "emotional harm" as equal to physical harm (para 159).
The judgment covers other important points that practitioners will wish to digest. 
Confirms that in the proportionality balance that falls to be struck in a deportation case the seriousness of the relevant offending is established by the level of sentence: see SSHD v Suckoo [2016] EWCA Civ 39 (para 94)
But it is inappropriate for a tribunal not to give credit for a reduced sentence because it was reduced as a result of a guilty plea (paras 146-149)
Reaffirms the importance of British citizenship in the best interests of the child calculation: (paras 113-114)
Mentions the limited utility of factual precedents (paras 127-129)
Confirms that rehabilitation can be relevant in the section 117(6) assessment (paras 132-143)
Enjoy.