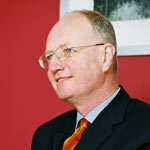 The new president of the Immigration and Asylum Chamber of the new Upper Tribunal has been announced: Mr Justice Nicholas Blake QC. The appointment is effective as of 15 February 2010, when the unlamented Asylum and Immigration Tribunal is merged into the rest of the tribunal system.
The choice of appointment comes as a pleasant surprise to many. Nick Blake, as many in immigration law will continue to think of him, was primarily a claimant Counsel and was based at 2 Garden Court then latterly at Matrix Chambers (see his profile here). He was tirelessly active and very well regarded both as a man and as a brilliant lawyer.
Anyone expecting liberal decisions from him should not hold their breath, though. Andrew Collins was considered a liberal before his appointment as President but immigration lawyers were disappointed by many of his decisions. However, I would hope that this will put an end to some of the more obviously reactionary trends in the modern tribunal. The third party support saga, for example, was an unfortunate and personal legacy from the late Sir Henry Hodge. It seems a fair assumption that Nick Blake would never have gone off in that wrongheaded direction.
We should be grateful that someone of Mr Justice Blake's calibre is willing to serve in this capacity. Most High Court judges find immigration and asylum cases an annoyance and this office is hardly a fast track to judicial advancement.