The Home Office have published a new piece of research they commissioned, entitled Marriage-related migration to the UK, by Katharine Charsley, Nicholas Van Hear, Michaela Benson and Brooke Storer-Church.
It makes very interesting reading for anyone interested in immigration policy and in the history of spousal immigration. There are a number of graphs representing numbers of grants of settlements to spouses of different nationalities, for example, and while there is an overall upward trend the two stand out features are (1) that the increases are way below the general increase in migration to the UK, meaning that spouses now make up 40% of the total compared to 59% in 1995 and (2) that there are peaks and troughs, which can tentatively be correlated with certain changes in immigration rules.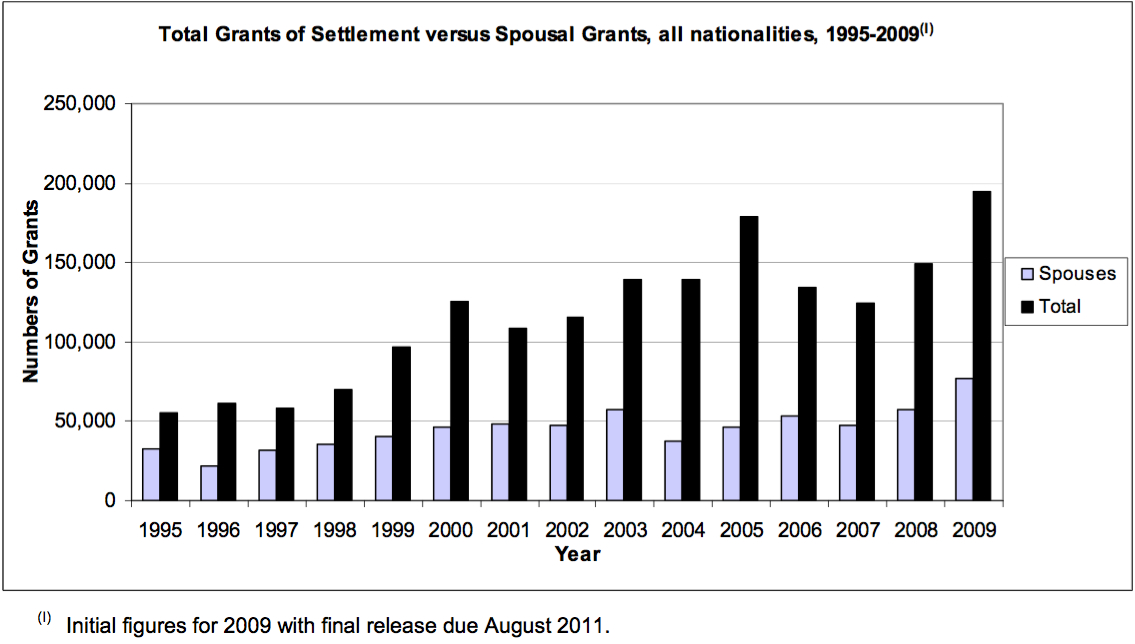 The final paragraphs of the report are thought-provoking and ought to give the Government pause for thought before they rush into making the changes proposed in the current family immigration consultation:
The fact that spousal settlement, although still increasing, has not kept pace with increases in other forms of migrant settlement suggests that successive new restrictions on marriage-related migration may have had some impact – although such effects are hard to disentangle from the effects of EU expansion.

It is also clear, however, that changes in immigration regulations (whether or not directed at family migration) can have unforeseen consequences for marriage-related migration, and sometimes negative impacts on migrants and their families. Qualitative research on the effects of 1962 Commonwealth immigration restrictions documents their part in transforming previously predominantly male, temporary/circular migration from Pakistan into family reunification and settlement, by reducing alternative entry routes, and opportunities for circular migration (e.g. Shaw 2000: 30-7). The recent raising of the minimum age for both migrant and sponsoring spouses to 21 was portrayed as combating coerced marriages of the young, but other research raises the fear that young people may still be forced into marriage, but kept abroad until they reach the age at which they can sponsor their spouse (Hester et al., 2008), whilst young couples whose marriages were demonstrably not contracted under duress complained at enforced separation.20 Recent Danish research has also traced unintended effects of their new restrictions on spousal migration. Increased minimum ages, a 'combined attachment' regulation requiring couples demonstrate greater ties to Denmark than to the country of residence of the other spouse, and other restrictions, may have led some to postpone rather than avoid transnational marriage; to an increase in unregulated religious marriages; and created new communities of cross-border marital commuters in neighbouring Sweden where spousal immigration requirements are more lenient (Schmidt et al., 2009). If the UK follows its European neighbours in tightening controls on marriage-related migration, the lack of a more complete and balanced evidence base on this diverse form of immigration may increase the risk of further unforeseen consequences resulting from new legislation. Substantial new empirical research in this numerically important and dynamic field is thus urgently needed.