The first of no doubt countless statements of changes of 2020 was published yesterday, 30 January 2020.
The main purpose of this set of changes to the Immigration Rules is to introduce the new Global Talent category, announced by the government earlier this week. The changes will take effect on 20 February 2020, and any application made before then will be decided under the Rules in force now.
Have we lost the Tier 1 (Exceptional Talent) category?
Not really. There won't be a Tier 1 (Exceptional Talent) category by that name, but the Global Talent category is, in effect, a rebranding (and extension) of that route.
The rules in relation to this category have migrated from Part 6A (the section covering Points Based System visas) to Appendix W, joining the Start-up and Innovator categories. A tad ironic from a government which seems obsessed with introducing a points based system!
In addition, there no longer will be a cap on how many people can benefit from the route. Mind you, the cap for Tier 1 (Exceptional Talent) has never been reached so that seems to have been done more for show than anything else.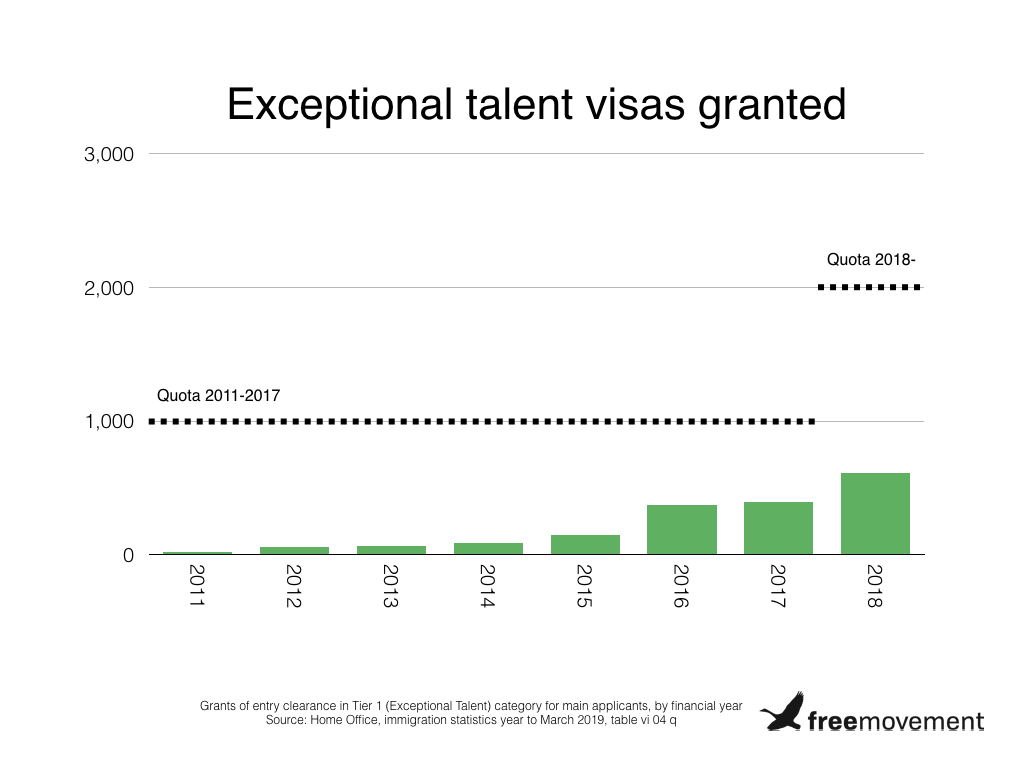 Remind me what Tier 1 (Exceptional Talent) was all about?
By way of very brief background, the Tier 1 (Exceptional Talent) category was designed to attract exceptionally talented individuals in the fields of science and medicine; engineering; humanities; digital technology and arts and culture. It was divided into two further sub-categories: Exceptional Talent, for those who are already leaders in their field, and Exceptional Promise, for those who have the potential to become leaders.
To be granted leave as a Tier 1 (Exceptional Talent) migrant, a person must first be endorsed by an endorsing body with expertise on the particular topic (for example, applicants in the field of engineering must be endorsed by the Royal Academy of Engineering, while applicants in the field of arts and culture are endorsed by Arts Council England). Once they are endorsed, they can go on to apply for leave to enter or remain within three months.
Unlike most other routes, there is no English language or financial requirement. Those who have been endorsed just need to show that they do not fall foul of the general grounds for refusal to be granted leave on this route.
So what are the differences between Exceptional Talent and Global Talent?
As far as I can see (but please get in touch if I am wrong about this), nothing substantially changes for those applying in the fields of digital technology and arts and culture. The only differences I could spot are purely semantic:
The Tech Nation (Tier 1 Exceptional Talent) application form is now called Tech National Global Talent application form.
Designated competent bodies are now called endorsing bodies
Oh, and how could I forget that, when you have to submit a CV, you are now allowed to submit a CV on three sides of A4 (as opposed to the previous two-A4 CV)!
For those applying in the fields of science and medicine, engineering and humanities, the route has been expanded. Under the existing Exceptional Talent system, researchers in academic, industry or government research institutions can apply:
Under the "normal" route, by showing that they met certain criteria such as being active researchers, having a PhD etc. Their respective endorsing bodies would then go on to consider whether to endorse them.
Under the "accelerated" route, meaning they would be automatically endorsed if

They held a specific fellowship award (or held it within the 12 months directly prior to the date of application); or
They were appointed to eligible senior academic or research positions at UK higher education institutions or research institutes.
All of these routes are still available, but the statement of changes has introduced an additional accelerated (sorry, "fast-track") route. This covers academics, researchers, scientists, research engineers or other skilled research technology/methodology specialists who have a grant or award worth £30,000 or more, covering a minimum period of two years.
UK Research and Innovation has a list of approved organisations, set out in Annex 2 of Appendix W, who can act as "endorsed funders" by employing or hosting the applicants. The applicant, in turn, must be directing a "unique research or innovation project" or be making "critical contributions to research". You can read more details on this new route in this post by Graeme Ross.
Some other good news
Quicker route to settlement
All applicants endorsed in the fields of science and medicine, engineering and humanities can apply for settlement after three years, regardless of whether they were granted leave under the Exceptional Promise criteria or the Exceptional Talent criteria.
Digital technology, arts and culture applicants endorsed under the Exceptional Promise criteria still need to wait five years to qualify for settlement. Those endorsed in these fields under the Exceptional Talent criteria can also apply for indefinite leave to remain after three years [corrected 10/02/20 — we originally wrote "five years", apologies].
Absences for research purposes do not break continuity of residence
When applying for indefinite leave to remain, applicants must usually show that they have not broken the continuity of their residence in the UK by being out of the country for more than 180 days in any 12 months. But applicants endorsed in the fields of science and medicine, engineering and humanities (and their partners!) can discount absences "linked to their grant of leave (such as a scientist undertaking research overseas)".
All in all, this is positive news. The Tier 1 (Exceptional Talent) route remains, in all but name, intact, while researchers get more options to move to or stay in the UK. It remains to be seen whether that will be sufficient to attract overseas talent to an otherwise unwelcoming Britain!