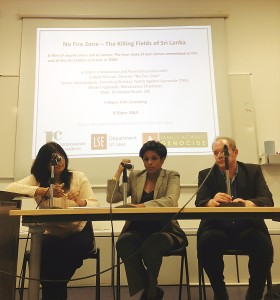 As most of you know, Renaissance Chambers has developed expertise in conducting Tamil asylum claims.  The issues involved in these cases have been previously covered on Free Movement here and these include in particular Chambers' and the NGOs' efforts to combat recent charter flights set by the UK Border Agency to remove en masse failed Tamil asylum seekers to Colombo, Sri Lanka.
Last week, Chambers had the pleasure of co-hosting with Tamils Against Genocide (TAG) and the LSE a screening of the forthcoming documentary 'No Fire Zone – The Killing Fields of Sri Lanka'.  This follows 2 previous and shorter documentaries broadcast by Channel 4 in 2011 and 2012 and all three films have been directed by Callum McCrae.  The screening was preceded by a panel discussion consisting of TAG Director Janani Jananayagam, one of our colleagues Shivani Jegarajah and the film's Director Callum McCrae, chaired by Dr Devika Hovell, Lecturer in Public International Law at the LSE.
The film which lasts approximately 90 min documents the final harrowing months of the conflict, which spanned 26 years in Sri Lanka.  It is a meticulous and chilling exposé of war crimes and crimes against humanity through personal stories of displaced persons and victims as well as video footage.
Callum McCrae reiterated in the panel discussion, as is also done in the film, that all of the footage has been painstakingly verified by independent forensic experts.  This body of evidence is in complete contrast with the Sri Lankan government's bare denials and statements that it is all lies.  The No Fire Zone team offers not just a definitive film of record, but also a film to jolt the international community and audience to call for action.  Without truth, there can be no justice in Sri Lanka and without justice there can be no peace.
Janani Jananayagam of TAG very helpfully set out TAG's approach as an advocacy and lobbying organisation to get these crimes recognised and the perpetrators prosecuted.  In the Q & A session that followed, a discussion developed concerning the rationale behind pursuing an International Criminal Court (ICC) prosecution in light of Sri Lanka not being a signatory.  In the knowledge that countries like Russia and China would almost certainly veto any move in the Security Council of the United Nations to make a referral to the ICC (the only other way to 'engage' the ICC if a country is not a signatory), Janani was asked whether it is worth TAG pursuing this.  Janani was firm in her and TAG's belief that any such international exposure can go a long way towards TAG's objectives.  There is certainly something to be said about letting Russia and China take the blame for vetoing rather than sacrificing the victims' rights to seek truth and justice at the highest level.
Shivani Jegarajah shared with the audience her experience of being one of the leading counsels in the pending Upper Tribunal Country Guidance case on the risk on return for Tamils and in particular the impressive expert evidence that was called.  Shivani has acquired her expertise in the area over a period of 20 years or so and it is expected that the Upper Tribunal will promulgate its determination in the next 2 weeks.
Over the next year or so, the No Fire Zone Team will be organising a world-wide tour of screenings, for which funding is required.  The film was shown in the Palais des Nations in Geneva on 28.02.2013 and with Sri Lanka due to host the Commonwealth's biennial heads of government meeting later this year in November, the pressure is on.  If you would like to support this cause by making a donation, please do so here and if you would like to spread the word, click here for suggestions on how to do so.