One quirk of government statistics is that they no longer record how many deportation orders are successfully appealed. For tedious reasons of appeals law, since 2015/16 the relevant stats have only shown deportation appeals by EU citizens; deportation appeals by non-EU citizens are lumped into a larger category of "human rights". So while we know that from 2010/11 to 2015/16, around two thirds of all deportation orders were upheld by the First-tier Tribunal, we don't really know what has been happening over the past five years.
But here's a straw in the wind. Yesterday's inspection report on the performance of the Home Office officials who argue appeals in court does contain some statistics on deportation appeal outcomes: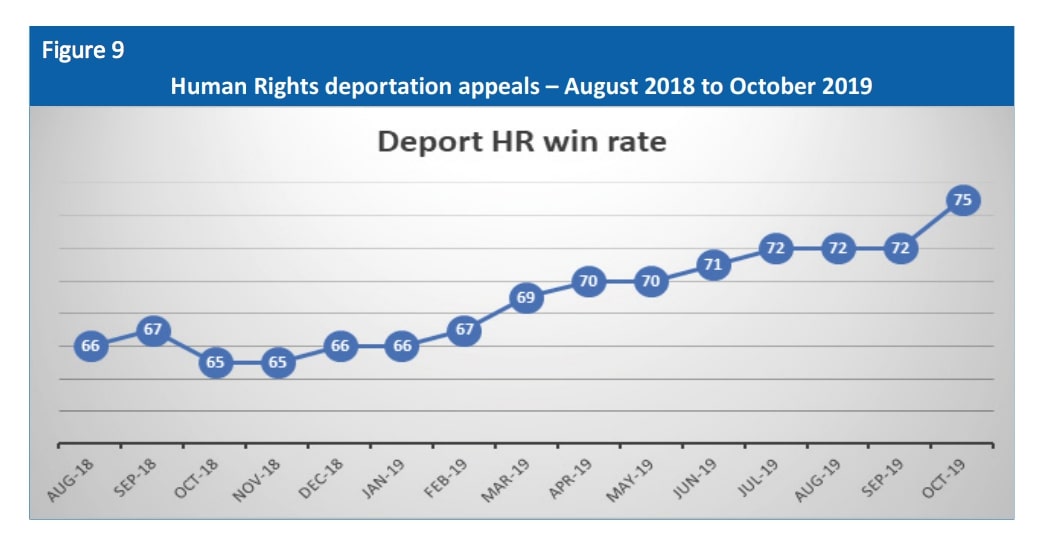 This is internal data collected by the Appeals Operations team, showing what percentage of non-EU deportation appeals are won by the Home Office. Strikingly, it begins in mid-2018 with a win rate of around two thirds — i.e. about the same as the official statistics were showing before they were discontinued in 2015 — but then climbs to three quarters by late 2019.
Appeals Operations put this increase largely down to "changes in caselaw". This suggests that the October 2018 decision in KO (Nigeria), as interpreted by the Court of Appeal in a subsequent line of cases, made a tangible difference to the outcome of deportation appeals in the immigration tribunal.
The good news, from a deportee's perspective, is that the Court of Appeal changed tack late last year. That Home Office "win rate" should now be starting to fall.