Record numbers of people have been getting their hands on a Global Talent visa in recent months. Almost 700 were issued in the third quarter of 2021 alone, excluding dependants — more than the annual total in many previous years.
Brexit can skew such comparisons. Top EU scientists, techies etc who could previously come to the UK as they pleased under free movement laws will now be included in the visa figures instead. But the rise in Global Talent visas is mostly driven by non-EU applicants. The chart below shows the quarterly totals with EU citizens excluded; they would otherwise inflate the 2021 numbers.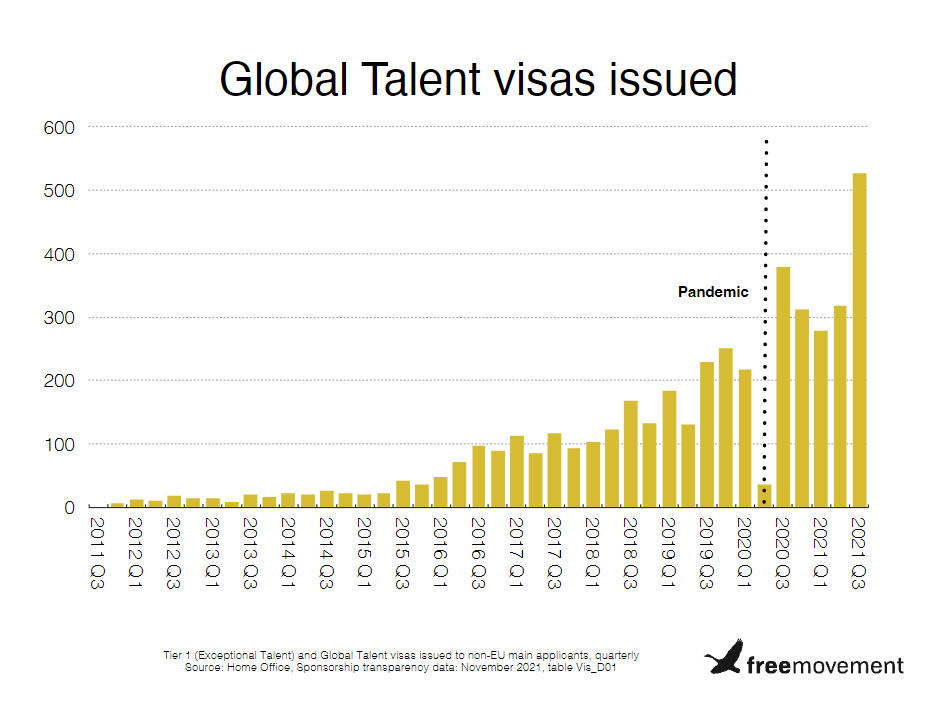 The Global Talent visa was introduced as Tier 1 (Exceptional Talent) in 2011 and relaunched in early 2020. It is open to the proverbial "best and brightest" who show exceptional talent or promise in their field, as vouched for by organisations such as the Arts Council, Royal Society and Tech Nation. Global Talent is more flexible than Exceptional Talent — as is now being reflected in the figures (possibly aided by a post-pandemic rebound effect).
The Home Office recently added an option for people to get one of these visas with no need for an endorsement, if they had won the likes of a Nobel Prize. There has been much chuckling this week at the New Scientist's revelation that nobody has applied under the "prestigious prizes" option so far. But as the Home Office says, this is "just one option under our Global Talent route", which is otherwise doing pretty well.