Businesses across the UK began receiving notification emails last week from the Home Office confirming that their applications for restricted certificates of sponsorship had been approved. This is because they had met an as yet unpublished points threshold. The Home Office has saved the bad news for today.
Yet again there are not enough restricted certificates of sponsorship available to cover all the valid requests that have been filed. In other words, the monthly quota for these skilled non-EU workers has been oversubscribed for the fourth month in a row.
Rejection emails to all those businesses that have complied with the plethora of Home Office rules and requirements but have failed to meet an unknown salary threshold started to go out early this morning and will continue throughout the day. This means that skilled workers who qualify under Tier 2 of the Points Based System cannot get the visas they need to take up their posts.
This may be the first rejection for some companies. But for many, including clients of my firm that have been waiting patiently since December 2017 to fill a crucial role, it is the fourth consecutive negative decision and a serious blow to their faith in the immigration system.
The early indication from my firm's client base is that the minimum salary needed to secure a certificate this month may be around £45,000 but we won't know for sure until all the decision emails have been sent out. The Home Office publishes its data on the March allocation meeting. Usually it does this a week later.
I covered this issue last month and explained what a restricted certificate of sponsorship is — basically permission from the Home Office (granted only when a number of criteria have already been met) to support a non-EU national to come to the UK to take up a skilled role. There is a different process in place for those who are already in the UK. I was hoping not to have to write another update on this sorry saga but given the outcome this month, I'm focusing here on the numbers and on changes that could be made to ease the pressure on the system.
How many certificates are available?
20,700 certificates are available each year to businesses that need to bring a non-EU skilled worker to the UK from abroad under Tier 2 of the Points Based System — the route for skilled workers with a UK sponsor. This limit on numbers was introduced in 2011.
The yearly allocation is broken down into monthly quotas. The amount of certificates available for each month is set out in this table which appears in the sponsor guidance for employers.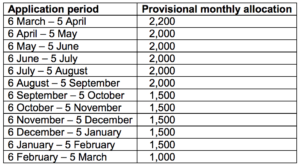 Before December 2017 the monthly quota was only exceeded once, in June 2015. It's now been oversubscribed in December 2017 and January, February and March 2018.
As can be seen from the table, March has the lowest number of certificates with only 1,000 available. 2,200 are available for April (plus any that are returned by 5 April as unused by businesses).
The good news is that for the months of April – September, there are far more certificates available than there have been since October.
Does the Home Office provide any further information?
Yes. Every month the Home Office publishes information on the allocation process for that month. It's fairly limited, but here's February's data: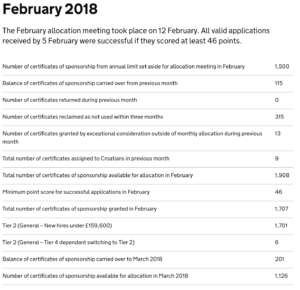 Breaking this down: the chart tells us how many certificates were available for allocation in that month, including any that were carried over from the previous month or put back into the pot because they were not needed by the business. In February 1,908 were available.
The chart also tells us the minimum points that an application needed to score to obtain a certificate (46 in February) and the number of certificates that were actually granted — so 1,707 in February. The balance to be carried over to the next month is also included.
I can hear the confusion — if there were 1,908 certificates available for allocation and only 1,707 were allocated, surely that means that the cap wasn't hit?
Unfortunately, as with many aspects of the UK's immigration system, it's not quite that simple. The Points Based System is always about the points. The Home Office confirmed that to be successful in February a minimum of 46 points was needed.
The points chart is, again, set out in the sponsor guidance. To add another layer of complexity for businesses, it is in fact impossible to secure precisely 46 points. To secure more than 45 points, assuming the job was not one that is attracts the highest points (PhD level roles, for instance) the role would have had to pass the Resident Labour Market Test (20 points) and be at a salary level of more than £49,999.99. The next salary band up is currently £50,000 – £54,999.99 (30 points).
(I say "salary" for the sake of simplicity, but this actually covers the whole guaranteed remuneration package.)
If a large number of valid applications (i.e. ones that are deemed to have passed the Resident Labour Market Test and met other mandatory criteria such as skill level) are filed relating to jobs that gain 20 points for the Resident Labour Market Test and 25 points for the salary in the £45,000 – £49,999.99 bracket, but there are not enough certificates for all of them, the Home Office currently has no fair way of being able to decide which to approve and which not to. Therefore, as seems to have happened in February, all the applications in that band will miss out.
You then end up with a scenario where certificates are carried over despite strong applications, with salaries that are well over the £30,000 minimum for the Tier 2 experienced worker route, being rejected. (The minimum for less experienced workers that the Home Office classes as 'new entrants' (including those aged 26 and under) is £20,800).
What about the excess from last year?
The allocation starts afresh each April. In the period April 2016 – April 2017 the number of certificates that were available exceeded demand. By November 2016, for example, there were 1,411 more certificates available than the prescribed allocation for that month of 1,500.
Many of these were used in the following months but the March 2016 data still shows that, by the end of the year, 288 certificates from that year's allocation were unused. Frustratingly the system is such that these could not be rolled over to the new year allocation starting in April 2017.
It's the same for all the previous years since 2011. The yearly allocation wasn't used but also unused certificates couldn't be rolled across to the next year. Had they been, clients like mine that are still waiting may have been able to fill the vacant post by now.
Surely businesses should be looking to recruit suitable resident workers?
Unless the job is one that the Home Office defines as a shortage role or otherwise meets an exemption, businesses that apply for a restricted certificate of sponsorship — to which the limit applies — must have already performed a Home Office compliant Resident Labour Market Test.
This means advertising the role for at least 28 days on at least two forums. One of those must be Universal Jobmatch. The business must offer the role to any resident worker who is considered to be suitable. The employer is not allowed to offer the role to a non-EU national, even if they are more experienced or skilled, if any suitable resident workers have applied for it.
The only exception to this is if the role requires a PhD. Unlike shortage roles, the Resident Labour Market Test applies to these roles but thankfully our world leading universities are able to select the most suitable academics regardless of whether they are EU or non-EU nationals. They do not have to reject the very best global talent in favour of a suitable resident.
Getting and keeping a sponsor licence to sponsor a non-EU national worker is a pretty burdensome, complex and costly process. Businesses only do it if they have tried to fill the vacancy with a resident worker and have been unable to do so. This system is meant to act as a safety net for businesses that desperately need talented workers but cannot recruit them from the UK or EU. It's letting them down badly at the exact point in time when they need to be able to compete on the international stage.
Are any changes on the horizon?
On the one hand, the government is still sticking to the overall net migration target. Whilst that is in play it is difficult to see the Tier 2 limit being kicked into the long grass. I understand from senior Home Office officials that changes are being considered right now.
More salary bands
Firstly, I would expect them to be looking at changes they can make via amendments to the sponsor guidance instead of those that would need a change in the Immigration Rules. The latter are more difficult to achieve swiftly.
For example, it definitely makes sense to me for them to start with further dividing up the points. You could score points for a salary between, say, £45,000.00 – £46,500.00 and then £46,500.00 – £49,999.00, rather than being stuck with a pretty large range of £45,000.00 – £49,999.99. That would mean, in the case of February's allocation, that roles with a salary of, say, £48,000 may have got through. The points scoring criteria are contained in the sponsor guidance rather than the Immigration Rules.
Removing shortage occupation and PhD level jobs
Removing jobs that fall within the shortage occupation list and PhD level roles would require a change in the Immigration Rules. I expect that the government may have started to consider this. If these modifications to the system are given a green light, we could have a change of Rules fairly soon.
Take students out of the net migration target
The government could give in to pressure to remove international students from the net migration target. A recent House of Commons briefing paper confirms that:
In the year ending September 2017, around 578,000 people immigrated into the UK. Of these, around 163,000 (28%) migrated mainly for study. Students are still a large component of immigration.
If students were removed, the government could increase the restricted certificate of sponsorship allocation to more than the current 20,700.
The Home Office usually aims to update the sponsor guidance in April and October each year so my bet is that we may see some changes to the points scoring criteria and possibly some of the other criteria in the guidance, potentially around exceptional cases, in April.
An unexpected Statement of Changes in Immigration Rules was published last week which could have, but did not, relax some of the Rules in order to ease the immediate pressure. There could be a further Statement in the usual spring window.
On the whole I'm not expecting any other significant changes to the Immigration Rules or wider government policy by then in relation to this area of law. Any major changes to general immigration policy on must be considered in the context of the UK's departure from the EU and the new immigration system that needs to be designed as a result of that.
And in the meantime…..
In the meantime, businesses that have lost out will need to re-evaluate.
Do they have a case to put forward that a certificate should be granted on an exceptional basis? The Home Office won't publish any guidelines for this; it says with some justification that it would be swamped. I advise my clients that whilst it is difficult to achieve, it is always worth considering. We then work through each aspect of the business, role, sector and any other relevant considerations and put together a case.
Otherwise businesses will need to look at whether or not they are willing to increase the remuneration package they will pay to secure a highly skilled non-EU worker. If the new salary was not included in the range originally advertised, a new Resident Labour Market Test will need to be run. That may produce a suitable resident worker. If not, a further application for a restricted certificate will need to be made and hopefully the new salary combined with any changes that the Home Office can make to the criteria will achieve a successful outcome.