The Home Office is planning to outsource asylum interviews to commercial contractors.
A pilot programme designed to address the mounting backlog of asylum claims will see private outsourcing firms conduct interviews with often vulnerable asylum seekers.
Refugee charities are likely to oppose the move, which was unveiled yesterday in a circular from the Home Office team that processes claims for refugee status.
The letter says:
Given the growing number of outstanding asylum cases and the potential for a second COVID-19 wave, Asylum Operations is also considering additional commercial options to specifically support the decision making process. We are currently scoping out and testing the concept of using a third-party supplier to conduct interviews and gather evidence.
It goes on to say that several "strategic suppliers" are keen to get involved. One will be selected for a pilot programme — involving real asylum cases — over six to eight weeks.
The list of strategic suppliers includes companies such as Capita, G4S, Mitie, Serco and Sopra Steria.
While Home Office staff will still make the final call on the asylum claim, contractors will "conduct substantive asylum interviews [and] gather evidence and information that enables a decision to be made", according to a Q&A document circulated alongside the letter. Interview preparation will continue to be done by in-house decision makers.
The letter points to the asylum backlog to justify the move. Face-to-face interviews — a key component of the decision on whether to grant someone refugee status — were cancelled during lockdown and over 40,000 people are now waiting for an initial decision on their claim. Interview capacity is still much reduced on account of social distancing requirements.
eBook
Refugee law in the UK: a practical guide
Accessible guide to the law and practice of refugee status determination in the UK including examples, arguments and common scenarios.
View Now
The plans appear well advanced: Asylum Operations has already "developed a bespoke training course" for external interviewers and has a review process for "where interview quality falls below expected levels".
"Overall", the letter concludes, "the use of third-party support for asylum interviews is to help us in bringing balance back to our systems following the COVID-19 outbreak, increase interview output and ultimately, provide our customers with an improved experience by avoiding lengthy delays to interviews and decisions".
The move looks set to cause consternation among refugee organisations among whom the reputation of outsourcing companies is not high. The notorious abuse of migrants at Brook House immigration removal centre, for example, occurred while the centre was run by G4S.
The Immigration Law Practitioners' Association described the proposals as "extremely concerning", while the charity Freedom from Torture called it an "alarming development". Freedom from Torture chief executive Sonya Sceats told Free Movement:
Outsourcing such a sensitive process to a commercial provider and severing the link between the interview and the decision-maker is a dangerous move that could jeopardise the Home Office's commitment to make the right decision first time and push more people into the appeal system. 
Although the backlog of asylum cases has been rising in recent years — including pre-Covid — the proportion of people granted asylum has improved significantly. Last year 52% of asylum seekers were granted refugee status or another form of legal protection in the UK at the first time of asking, up from 35% in 2018.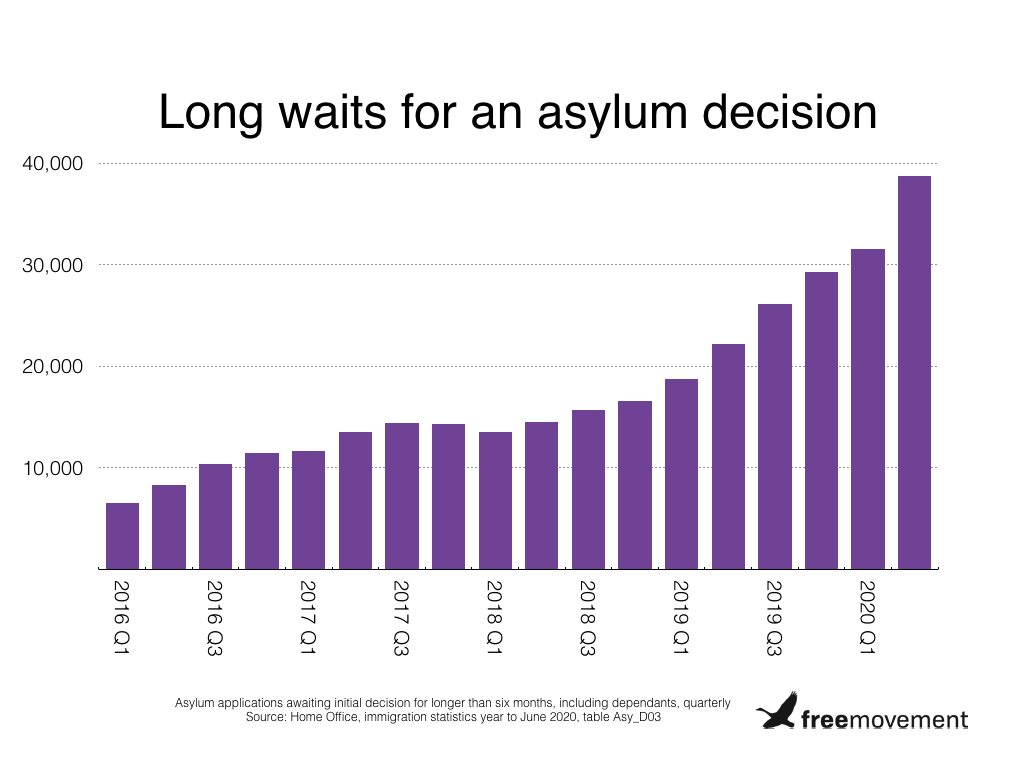 In addition to outsourcing, Asylum Operations is looking to bring in staff from other areas of the Home Office "who have started [ie not completed] their bespoke asylum interview training". It has also been experimenting with remote interviews.
This article was updated on the day of publication to include comment from ILPA and Freedom from Torture.