Measures taken to combat the spread of coronavirus and COVID-19 disease have changed almost every aspect of society both here in the UK and around the world. The immigration system is no exception. This post gathers together various updates on changes to immigration law and practice caused by coronavirus.
For now, in contrast with our normal practice, we'll be keeping this post continually up to date rather than covering new coronavirus developments as separate blog posts that may become rapidly out of date. Use the page contents to navigate. Material that has been added or updated from one version of this post to the next is labelled NEW or UPDATED.
Free Movement members with a specific question not addressed here may wish to check the forum in case it has been asked and answered there.
For lawyers overwhelmed by the number of new guidance documents, Lucy Reed's take over on Pink Tape may provide some light relief.
Visa extensions and other concessions
General policy
The situation is particularly pressing for people who are in the UK on an expiring visa and unable to leave because of travel restrictions.
The Home Office previously granted visa extensions on request to those with leave expiring after 24 January 2020 and before 31 May 2020 who could not leave the UK due to coronavirus. Note that a request had to be made (see below on how to do so) so this was not automatic.
On 22 May the Home Office announced that those with visas already extended would automatically have them extended further, to the end of July. There is no need for this group of people to take any action. But those who have not already asked for an extension will need to make a request for the extension to apply to them.
Government guidance says:
If you're in the UK and your leave expires between 24 January 2020 and 31 July 2020

Your visa will be extended to 31 July 2020 if you cannot leave the UK because of travel restrictions or self-isolation related to coronavirus (COVID-19).
To request the extension for the first time, those affected must fill in an online form. The information asked for in the form is shown below.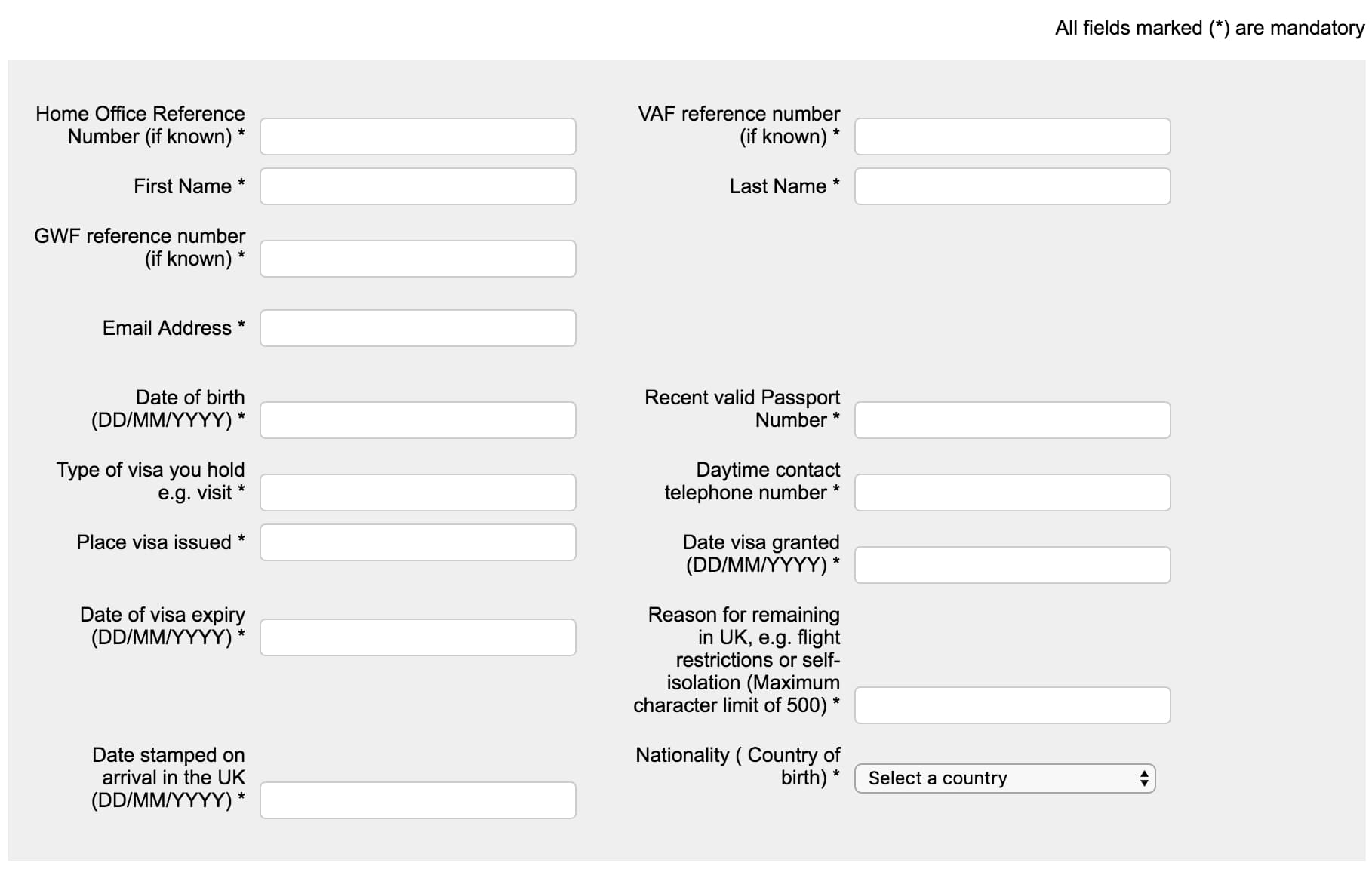 The blurb on the online form says that "we'll respond to you within 5 working days". Replies to successful extension requests are worded as follows:
Your leave has been extended under existing conditions until 31 May [we think this will now read July] 2020. You will not be regarded as an overstayer or suffer any detriment in any future applications. However, you must make plans to leave as soon as you are able to do so. This will only apply where you hold an existing valid visa which has already expired or is due to do between 24 January and 31 May [July].
This latest guidance overrides previous versions at the same webpage. The original version unilaterally conferred leave to remain until 31 March to Chinese citizens whose visas expired between 24 January 2020 and 30 March 2020. It also allowed non-Chinese, non-EEA nationals in the UK who are normally resident in China to get an extension of leave on application to the coronavirus hotline, in a similar process to the one now in force for all nationalities.
The guidance was updated to cover all nationalities on 24 March and then updated again on 22 May.
Between 24 March and 6 April, the Home Office wanted applications for an extension under this policy to be submitted by email to the Coronavirus Immigration Help Centre (see below). That set-up has since been replaced by the online form.
Someone obviously realised that setting up a free text email address for hundreds of thousands of people was a really bad plan https://t.co/3xza7nKOCw

— Edgewater Legal (@EdgewaterLegal) April 6, 2020
The legal basis for all this is unclear, to put it mildly.
A note of caution
Please take a cautious approach to the new coronavirus extension policy. If your client has time to give it a try or their leave has already expired, there's probably no downside, but if your client's leave is about to expire it is important to note that providing the details requested by the Home Office does not extend leave under section 3C of the Immigration Act 1971 according to the information we currently have. If your client's reasons are not accepted, they will become an overstayer. If there is a way to protect 3C leave, and that will be a potentially complex matter to decide, that may be the best route.
Also note that this route isn't likely to help people who need to make an application for longer-term leave if they do not already meet the requirements. For example, Tier 4 to Tier 2 where you are waiting for a sponsor licence to be approved may not benefit from this route as there is no Certificate of Sponsorship, so the requirements cannot be met. Proceed with caution.
– Nichola Carter, 25 March
The Home Office has said that almost 65,000 COVID-19 related extensions had been granted by the end of April.
Switching
The guidance also includes information on switching visas. It allows people to "apply from the UK to switch to a long-term UK visa until 31 July 2020 if your leave expires between 24 January 2020 and 31 July 2020. This includes applications where you would usually need to apply for a visa from your home country".
From what we gather, this would be an in-country application rather than an application for entry clearance. The concession was initially limited to people whose visa is due to expire by 31 May 2020. On 22 May, it was extended to cover those with visas expiring by 31 July, in line with the general policy outlined above.
NHS workers
As we've established, most people who need their leave extended must contact the coronavirus helpline to ask for the extension. Some NHS workers and their families, however, are to get a one-year extension "automatically".
The Home Office announced on 31 March that around 2,800 doctors, nurses and paramedics with leave due to expire by 1 October would get a free one-year extension. Family members are included and there are no fees involved.
On 29 April, the department announced that it was extending the scheme to cover other frontline workers, including midwives, radiographers, social workers and pharmacists" with visas due to expire before 1 October.
A letter to the Home Affairs Committee on the same date confirmed that the extensions are available to anyone on the list of professions covered who is subject to immigration control, "not just sponsored migrant workers on a Tier 2 (General) or Tier 5 visa".
The full list of eligible professions appears in a gov.uk guidance page:
biochemist
biological scientist
dental practitioner
health professional
medical practitioner
medical radiographer
midwife
nurse
occupational therapist
ophthalmologist
paramedic
pharmacist
physiotherapist
podiatrist
psychologist
social worker
speech and language therapist
therapy professional
The guidance page was updated on 8 June to add some details about family members. It clarifies that family members of NHS workers who already have indefinite leave to remain cannot avail of this scheme. There is also a section saying that people who have already applied for an extension can withdraw it and get a refund, relying on the free one-year extension instead, although not if they've got as far as submitting their fingerprints and photo.
Doesn't sound very "automatic" to me. This needs to be done in a legally effective manner. I'm not convinced the Home Office knows what it is doing or, more importantly, how. https://t.co/E2SQFFfFf6

— Colin Yeo (@ColinYeo1) April 22, 2020
Family members of NHS workers who die from COVID-19 can get indefinite leave to remain for free. On 20 May, the Home Secretary said that this was being extended to cover "NHS support staff & social care workers" as well. This should be automatic, but those affected can contact UKVINHSTeam@homeoffice.gov.uk. 
Spouses and minimum income
Another group of people under particular pressure during the crisis is families where one partner is on, or about to apply for, a spouse visa. Loss of earnings as a result of the coronavirus-induced economic crash may mean that the family fall foul of the financial requirements.
Until early June there was no published concession for people in this situation. There is now a new section of the guidance on Changes to the minimum income and adequate maintenance requirement. It says:
If you have experienced a loss of income due to coronavirus, we will consider employment income for the period immediately before the loss of income due to coronavirus, provided the requirement was met for at least 6 months up to March 2020.

If your salary has reduced because you're furloughed, we will take account of your income as though you're earning 100% of your salary.

If you're self-employed, a loss of annual income due to coronavirus between 1 March 2020 and 31 July 2020 will generally be disregarded, along with the impact on employment income from the same period for future applications.
This text first appeared on 8 June, disappeared from the guidance again on the morning of 9 June, and reappeared later that day. The original version included the sentence "If you have experienced a loss of income due to Coronavirus you will not be disadvantaged". That has been removed from the amended version posted back up on 9 June.
Students (UPDATED 23 June)
The Home Office released a separate guidance document about coronavirus and student visas on 20 April. It covers a number of temporary immigration concessions for those on Tier 4 and short-term student visas which "will be withdrawn once the situation returns to normal".
The section of the document aimed at individual students covers:
Distance learning: now permitted. This both for existing students and, since a 16 June update, for new students "as soon as circumstances allow".
Extending a Tier 4 visa: can be done in line with the general policy described above. "Students who need to repeat a year, retake a module, or resit an exam are exempt from demonstrating academic progression as would normally be the case for those applying in the UK".
Police registration: suspended until social distancing measures are lifted.
Working hours: 20-hour a week restriction lifted for doctors, nurses, paramedics and those whose sponsor has suspended all study.
Volunteering: permitted for NHS Volunteer Responders.
Social distancing: applies to overseas students just like everybody else.
Time limits: "discretion may be applied" if someone applies for an extension that would take them over the normal maximum period allowed on a Tier 4 (General) visa.
Right to rent checks: can be done remotely.
Graduate route: "still scheduled to be launched in summer 2021″. Students who begin their course through distance learning can still switch into it so long as they " enter the UK before 6 April 2021 and complete the final semester of their studies in the UK".
For short-term students:
In-country switching: into Tier 4 from short-term routes "will be allowed on an exceptional basis" until at least 31 July 2020.
Permitted study: "Short-term students who have been given an exceptional extension of leave in this category as a result of Covid-19 will be permitted to study on a further course other than that which they originally entered the UK to undertake".
Extending short-term study leave: not catered for, would need to be an application for leave outside the Rules.
This guidance also makes some concessions for sponsors, discussed below.
Sponsor duties
On 27 March, the Home Office published a coronavirus guidance page for organisations that sponsor overseas workers or students under Tiers 2, 4 and 5 of the Points Based System. It promises:
We will not take enforcement action against sponsors who continue to sponsor students or employees despite absences due to coronavirus.
Sponsors are not currently required to report any absences from students or employees sponsored under Tier 2, Tier 4, or Tier 5, where those absences have been the result of the consequences of the coronavirus outbreak. 
Need affordable legal advice?
Arrange a video chat at a time that suits you.
Use your own smartphone, pc/mac or tablet.
No commitment, no risk.
Sponsors are also not required to withdraw sponsorship for affected students who have been unable to attend for more than 60 days or for employees who have exceeded four weeks of absence without pay.
As mentioned above, Tier 4 students can now do distance learning, although if they quit the course altogether this must be reported as usual.
Similarly, Tier 2 and 5 sponsors do not need to update the Home Office if workers are now working from home provided that the switch to home working is because of the pandemic.
In an update to the guidance on 3 April, the Home Office added that employers temporarily can cut the pay of sponsored employees to 80% of salary or £2,500 a month (whichever is lower). Although it is not spelled out, the implication is that if the salary drops below the minimum, sponsorship will not have to be withdrawn as it usually would be.
There is also a short section on what happens if a sponsor has issued a certificate of sponsorship (CoS) or confirmation of acceptance for studies (CAS) and the person sponsored hasn't used it to apply for a visa yet. It says, in full:
The employee or student will still be able to apply for a visa.

The start date for the course or employment stated on the CoS or CAS may have changed. We will not automatically refuse such cases.

For example, we may accept a CoS or CAS if they have become invalid because the employee or student was unable to travel as a result of coronavirus. We will consider this on a case by case basis.
An important addition on 14 April allows students to start their studies / employees to start working even if they are still waiting for a Tier 2, 4 or 5 application to be decided. 
These concessions are reiterated in another Home Office guidance document issued on 20 April, Coronavirus (COVID-19): Tier 4 sponsors, migrants and short-term students. That document also adds some new concessions for sponsors. It covers:
Educational oversight: can be done remotely; "flexible approach to unavoidable delays in inspection".
Student absences: as above, do not need to be reported if due to COVID-19.
Distance learning: as above, now permitted, even for new students.
Attendance monitoring: no need to report students for missing expected contact points.
Basic compliance assessments: students who drop out because of COVID-19 don't count.
Validity of CAS which have already been issued: "The Home Office will take a pragmatic approach to considering applications to study courses with significantly different start dates to those stated on CAS or expired CAS".
Original documents: Appendix D record-keeping can be digital.
English language: "higher education providers with a track record of compliance will be able to self-assess students as having a B1 level of English".
Commencing studies: as above, can be done even if the visa application is still pending, subject to certain conditions.
Right to work checks: can be done remotely.
Child students: duty of care and safeguarding duties continue to apply.
There is coronavirus advice for Tier 2 and Tier 4 sponsors on the Carter Thomas website. Lewis Silkin has some advice for Tier 2 sponsors, as well as a page on the immigration implications of the government's crisis employment policies.
Special hotline
As mentioned above, the Home Office has set up a coronavirus helpline:
You will usually get a reply within 5 working days. Do not send follow up emails – they may delay you getting a reply.

You can also call the Coronavirus Immigration Help Centre. If you've emailed the help centre already, please do not contact them by phone.

Telephone: 0800 678 1767 (Monday to Friday, 9am to 5pm)
This seems to be intended for queries specifically about the concessions discussed above. The Home Office emphasises that "if your query doesn't relate to immigration provisions associated with coronavirus (COVID-19) please contact the general immigration helpline".
THREAD. I finally managed to get through to the coronavirus team and to say that it did not go well would be a gross understatement. pic.twitter.com/xv0jrJhdRx

— Alex Piletska (@alexinlaw) March 18, 2020
Travel to the UK
Compulsory quarantine
International travellers arriving in the UK on or after 8 June 2020 are being told to go into quarantine for two weeks:
To limit the spread of infection, arrivals must self-isolate for 14 days.
There is a separate list of exceptions, including for arrivals from within the Common Travel Area covering the UK, Ireland, the Isle of Man and the Channel Islands. This is so long as the person hasn't arrived in the Common Travel area within the past two weeks and then travelled on to the UK. If, say, someone travels from the Netherlands to Ireland on 10 June and then on to the UK on 20 June, they will need to spend a further four days self-isolating here to bring themselves up to two weeks.
Those without accommodation lined up "will be required to self-isolate in facilities arranged by the government". The quarantine is very full-on: those subject to it "should not leave their accommodation for 14 days".
The detailed legal rules, for England, are in the Health Protection (Coronavirus, International Travel) (England) Regulations 2020. 
The quarantine will be reviewed every few weeks, meaning that the earliest it will be dropped or adjusted is the week commencing 28 June. It has already proved controversial and airlines have launched a judicial review. Tom Hickman QC of Blackstone Chambers has written a useful Twitter thread highlighting some of the issues with the regulations
There are also fresh legal obligations on transport operators to provide coronavirus information to inbound passengers. 
Expiring entry clearance
Until close to the end of April, the Home Office did not advertise any concessions for people who have secured entry clearance to the UK but can't use it before it expires after 30 days. But on 28 April the guidance was changed. A new section now says:
If your 30 day visa to travel to the UK for work, study or to join family has expired, or is about to expire, you can request a replacement visa with revised validity dates free of charge until the end of this year.
Note that this does not cover visit visas. To get the free replacement, email the coronavirus helpline (see above) with "your name, nationality, date of birth and your GWF reference number" and put REPLACEMENT 30 DAY VISA as the subject line.
Visa centres overseas (UPDATED 23 June)
All UK visa application centres overseas were closed for some time but some are now re-opening in stages. The latest batch reportedly pulled up the shutters on 22 June.
To check whether the visa application centre for a particular country is open, go to the website of either TLScontact (for Europe, Africa and the Middle East) or VFS Global (for the rest of the world) and select that country from the dropdown menu.
Applications from within the UK (UPDATED 23 June)
All visa application centres within the UK closed in late March. Some are now reopening.
Sopra Steria, which runs the network of Visa and Citizenship Application Centres on behalf of the Home Office, says "we are working hard to open up more Service Points over the next few weeks to increase our capacity".
It should now be possible to make appointments again, with the system returning to "normal booking processes" as of 22 June. In practice, however, it may not be possible to get a free appointment. The Immigration Law Practitioners' Association is encouraging members to email in if that is the case.
The list of centres that have reopened as of 22 June is as follows:
| | |
| --- | --- |
| Belfast |     22 June |
| Birmingham (Core) |     1 June |
| Birmingham Premium Lounge |     1 June |
| Cardiff Bay (Temporary Core) |     22 June |
| Chelmsford |     1 June |
| Edinburgh |     22 June |
| Exeter |     1 June |
| Glasgow (Core) |     22 June |
| Leeds |     1 June |
| London – Croydon (Core) |     1 June |
| London – Premium Lounge |     1 June |
| London – Mark Lane ESP |     1 June |
| London – Victoria |     1 June |
| Manchester Fountain Street ESP |     1 June |
| Manchester (Temporary Core) |     22 June |
| Sheffield |     1 June |
| Southampton |     1 June |
Others will follow from next month:
| | |
| --- | --- |
| Aberdeen |     w/c 20 July |
| Bournemouth |     w/c 20 July |
| Canterbury |     w/c 20 July |
| Cardiff (Core) |     w/c 6 July |
| Coventry |     w/c 3 August |
| Gloucester |     w/c 27 July |
| Hemel Hempstead (Library) |     w/c 6 July |
| Hull |     w/c 6 July |
| Ipswich |     w/c 6 July |
| Llandudno |     w/c 20 July |
| London – Edmonton Green |     w/c 6 July |
| London – Enfield |     w/c 6 July |
| London – Stratford |     w/c 3 August |
| Manchester (Core) |     w/c 6 July |
| Newcastle |     w/c 27 July |
| Newport |     w/c 20 July |
| Peterborough |     w/c 6 July |
| Reading |     w/c 20 July |
| Swindon |     w/c 20 July |
| Taunton |     w/c 6 July |
| Wolverhampton |     w/c 3 August |
The non-outsourced Service and Support Centres have also re-opened but are offering a reduced number of appointments.
Immigration tribunal hearings
Overview (UPDATED 23 June)
HM Courts and Tribunals Service is now issuing a weekly operational update. There are specific status reports for First-tier and Upper Tribunal immigration and asylum cases. They provide a useful summary of the state of play (as of the week commencing 22 June):
If you have lodged an appeal with the tribunal a notice containing instructions on the next steps in your case will be sent to you. We are working through the cases in priority and date order and you should wait until we contact you. Where a face to face hearing is necessary appeals will be listed when it is safe to do so in line with risk assessments carried out at each hearing centre. Bail applications will be prioritised and where a hearing is required, these will be listed to take place by telephone or video. Please do not call us unless your enquiry is urgent. Users are advised to contact the relevant hearing centre on the email addresses below until further notice.
There is also a slightly more detailed "help for users" document, dated 15 April.
For the Upper Tribunal:
There may be some delays in processing non-urgent work. Please see below different ways in which we are dealing with appeals and judicial reviews.

Appeals and Permission to Appeal applications to UTIAC:

Appeals that were listed for hearing have been postponed. All appeals to UTIAC are being judicially case managed. There is also limited monitoring of the appeals email inbox currently taking place.

Judicial Reviews in UTIAC:

A updated notice was issued on 30th April 2020 on handling non-urgent applications.
As of 1 June 2020, the Fees counter will be open between 10am and 12pm Monday to Friday. Please note you may be required to queue outside the building to support social distancing.
Calls to the Judicial Review enquires line will be answered between 9am and 4.30pm.
The "updated note" on non-urgent applications says: 
Beginning on 30th April 2020 and until further notice, Judicial Review applications made to the Upper Tribunal (Immigration and Asylum Chamber) that do not require urgent or immediate consideration can be filed as follows:

1. By email to UTIACJudicialReviewApplications@justice.gov.uk, by post or at the fees counter when the counter re-opens.

2. Attachments to emails sent to UTIACJudicialReviewApplications@justice.gov.uk must not, in total, exceed 25 MB per email. If they exceed this limit the email will not be delivered.
Sir Ernest Ryder, the Senior President of Tribunals, has written to his judges saying that "The normal arrangement in all tribunals is now remote hearings and decision making online or by telephone conferencing, video or Skype". Some tribunal hearing centres will remain open, but only for "hearings that cannot be heard by video or telephone and which cannot be delayed".
That said, not many full hearings appear to be taking place remotely as of mid-June. It may be that some will be listed to take place by phone or video later in the summer, on the assumption that some pandemic restrictions will still be in place. The processes for remote hearings are outlined below.
Remote hearings
The Senior President issued an emergency practice direction on 19 March. It covers all chambers of the Upper and First-tier Tribunals (i.e. including immigration).
The practice direction says that:
Where it is reasonably practicable and in accordance with the overriding objective to hear the case remotely (that is in any way that is not face-to-face, but which complies with the definition of 'hearing' in the relevant Chamber's procedure rules), it should be heard remotely.
Judges will make allowances for the pandemic when considering applications for extensions of time and postponement of hearings.
New Practice Direction on all tribunal cases, including immigration. Judges encouraged to decide cases on the papers where possible (with consent of parties), failing that video link, failing that in person. Cases should therefore be prepped ASAP I guess. https://t.co/9Cy6ChrDjE

— Colin Yeo (@ColinYeo1) March 20, 2020
The practice direction also allows for:
Decisions to be made on the papers without a hearing where possible
Chamber Presidents to "triage" cases
Hearings to go ahead in a party's absence, so long as this can be done in accordance with the overriding objective to deal with cases fairly and justly
This has been supplemented by more detailed arrangements for each of the First-tier and Upper immigration tribunals.
First-tier Tribunal
On 21 March, President of the First-tier Tribunal (Immigration & Asylum Chamber) Michael Clements wrote to the Immigration Law Practitioners' Association to say that hearings are to go remote:
From Wednesday, 25th March onwards, there will be no face to face hearings listed in any centre. Applications for bail and emergency work will continue to be given priority but, save in exceptional circumstance, applications and hearings will be conducted remotely.
The President also issued Practice Statement Note No 1 2020: Arrangements during the COVID-19 pandemic, commanding a shift to online appeals. From 22 June, this is overridden by Practice Statement No 2 of 2020. It states that all appeals to the First-tier Tribunal must be lodged online using the MyHMCTS portal, unless it is not reasonably practicable or the case falls within a list of exceptions. Practitioners lodging an appeal will obviously want to read the practice statement in full.
There are three annexes to the new practice statement:
Directions on cases lodged using MyHMCTS
Different directions on cases not lodged using MyHMCTS
Directions for appellants with no lawyer
The online process has generated considerable controversy among immigration lawyers, including an ongoing dispute over new rules on legal aid.
The Tribunal Procedure (Coronavirus) (Amendment) Rules 2020 came into force on 10 April. Section 10 inserts two temporary coronavirus rules into the main First-tier Tribunal (Immigration and Asylum Chamber) rules. One allows judges to make a decision on the papers without the parties' consent, so long as it is urgent and a hearing is not reasonably practicable. The other allows the tribunal to conduct remote hearings in private when the technology to allow the public to dial in is not available.
Upper Tribunal
The Operations Manager at the Upper Tribunal (Immigration & Asylum Chamber) circulated the following note by email on 20 March:
A decision has been taken to cancel all listed UTIAC cases, these now include JR, Age Assessments, appeals and regional cases with the odd exception due to alternative arrangements having already been made.  All parties in all cases will be formally notified.
This was followed on 23 March by a presidential guidance note on Arrangements during the COVID-19 pandemic. This puts flesh on the bones of the emergency practice direction so far as the Immigration and Asylum Chamber of the Upper Tribunal is concerned. The bottom line is:
If a hearing is necessary, the "default" option during the pandemic is, therefore, that the hearing should be conducted remotely.
The guidance note outlines processes for:
Making certain appeal decisions without a hearing
Conducting remote hearings
Arranging interpreters
Filing urgent judicial reviews (ie those "using or including form T 483 or T 484"). More on this issue in a separate note (pdf).
The note concludes: "it needs to be appreciated that unfolding events during the pandemic may affect the extent to which UTIAC can operate by reference to this Guidance. In any event, the need to adopt new ways of working may well lead to challenges on the ground, which will need to be approached sympathetically by parties and the UTIAC alike".
Section 5 of the Tribunal Procedure (Coronavirus) (Amendment) Rules 2020 allows remote hearings to be designated as private rather than public, and for urgent decisions to be made without a hearing. The rules came into force on 10 April.
SIAC
A notice from the Chairman of the Special Immigration Appeals Commission, Mrs Justice Elizabeth Laing, says that there are no court staff in the Field House office but emails are being answered. It adds that "appellants must continue to comply with the relevant time limits for lodging an appeal. Appeals must be lodged by email until further notice".
Asylum
Intake and interviews (UPDATED 23 June)
Registering an initial asylum claim must still be done in person, but no longer has to be at Lunar House in Croydon. The Home Office announced on 22 April that "the AIU in Croydon will continue to function as normal but will additionally be supported by limited operations in Glasgow, Belfast, Liverpool, Leeds, Solihull and Cardiff".
Asylum seekers in Great Britain can make an appointment to register their asylum claim by calling 0300 123 4193. (In Northern Ireland, they are advised to turn up at Stockman House between 9am and 5pm.) Walking in without first making an appointment is discouraged but possible if the person "has nowhere to live" and needs to get into the asylum system to get accommodation.
The Home Office has published the Preliminary information questionnaire for asylum claims on its website.
However, those making further submissions with a view to have their case considered as a fresh claim have since 18 March been able to lodge them by email (CSUEC@homeoffice.gov.uk) or post instead of turning up in Liverpool in person.
It took a global pandemic to suspend a foolish and harsh policy, but at last @ukhomeoffice suspending punitive requirement to make further submissions in person.

— alison harvey (@aliromah) March 18, 2020
Substantive asylum interviews were cancelled from 19 March but are set to resume remotely at the end of June. Applicants will be asked to attend in person but ushered into an interview room where they will talk to the caseworker and interpreter over video link. A second phase will eventually see face-to-face interviews resume, while the final set of interviews to return to normal will be those involving children. More details on the Refugee Council website.
Asylum support (UPDATED 23 June)
On 15 June, asylum support rates increased from £37.75 a week to £39.60 a week. In addition, asylum seekers and refugees were temporarily allowed to stay in government accommodation for longer than usual. Junior Home Office minister Chris Philp wrote to the British Red Cross on 27 March:
… I have taken the decision that, for the next three months, we will not be requiring people to leave our accommodation because their asylum claim or appeal has been finally decided (as would normally be the case). This decision will be reviewed ahead of the end of June 2020.
But Inside Housing reports that the review has already taken place and the government has "opted against an extension" of the concession. The "move on" process  is now resuming.
Travel documents
The Home Office team that deals with refugee travel document applications says that coronavirus restrictions are slowing down its work, and has set up a process for urgent applications:
If any customer is in a particularly difficult situation and needs their application to be considered as a matter of priority, we would ask that this request, along with scanned recent, acceptable evidence of the circumstances and confirmation that the customer is able to travel i.e. confirmation from the airline or ferry company, is sent to traveldocumentenquiries@homeoffice.gov.uk.

Following this, if it is agreed that the case meets the criteria for being expedited and an application has not yet been submitted online, then the customer will need to complete an online application.  If an application has already been submitted then the customer should not apply again as this is likely to cause confusion and may delay their application.
This should be done "only in the most urgent of cases".
Other resources
The Refugee Council and Refugee Action are keeping detailed tabs on coronavirus-induced changes to the asylum system. If you have a question not covered in this section, it may be answered there. If you prefer video, Right to Remain has put its update on YouTube.
Enforcement
Immigration detention
The top line, as a senior official told the Home Affairs committee of MPs on 18 March, is that:
there is no plan to have a wholesale systematic release from our immigration removal centres.
An urgent legal challenge by the charity Detention Action aimed at securing the release of all immigration detainees was rejected by the High Court on 25 March. The court recorded various Home Office commitments to "reduce the number of persons in immigration detention". These measures, plus grants of bail, have had the effect of reducing the number of detainees held under immigration powers, from over 1,500 at the start of January to 700 in late April.
The High Court also accepted that "measures are being put in place to address the specific risks arising for those in closed communities such as detention centres". Details are available in the judgment (released towards the end of April) and in a Detention Action press release. 
Nonetheless, with many countries closing their borders and flights widely unavailable, judges have been looking favourably on individual bail applications. The Home Office has even tried to lean on judges to stem the flow of bail grants.
95%. Since going into lockdown on 23 March, we've had 55 hearings, 52 grants & 3 refusals. Shameful that the Home Office continues to waste resources & cause unnecessary suffering during a pandemic. Thanks to our staff & probono barristers for all their hard work. https://t.co/NcIBuasMpY

— BID (@BIDdetention) April 30, 2020
Practitioners may wish to stress that removal is not imminent if flights are not available; that re-offending risk is low due to proactive police enforcement of movement restrictions; and the COVID-19 risk to detainees themselves. There is new statutory guidance, Detention considerations: COVID-19, on how coronavirus is factored into the existing Adults at Risk policy.
As of 26 March, visits to immigration removal centres were no longer possible.
Removals
As with immigration detention, there is no general policy of suspending removals. In late April, the Home Office said that "it is not the case that all removals have stopped" and confirmed that it had recently arranged a removal flight to Poland.
Other removals are taking place via indirect flights. In a judgment of 20 April, the High Court noted that the man in question was scheduled for removal to Nigeria on 25 May, on a flight going via France. The removal directions were set during the pandemic.
The BBC reported on 7 May that around 50 people had been deported during the pandemic.
Assisted returns have been unavailable since around 20 March, according to a note from the Voluntary Returns Service Communications and Engagement Team circulated on that date.
Bail reporting
The Home Office website says that "reporting as a condition of immigration bail is temporarily paused". This took effect on 17 March, according to the head of Immigration Enforcement at the Home Office, after lobbying by NGOs supported by the Public Law Project.
People out on immigration bail should have received a text message telling them not to report for now. Anyone worried about missing an appointment when reporting resumes should "let us have an up to date telephone number then we will be able to maintain contact with them to update them on any developments". This can be done by emailing the relevant reporting centre.
Other resources
Garden Court Chambers and Landmark Chambers have published briefings on COVID-19 and immigration detention. One Pump Court has some advice on immigration bail applications.
Hostile environment
Right to work checks
As the labour market collapses under the weight of pandemic restrictions, the Home Office emphasises that employers must still carry out checks on the immigration status of employees to see if they have the legal right to work in the UK.
But those checks can now be carried out remotely. Guidance published on 30 March says that employees can submit a copy of their passport or ID rather than the original, and verify it by showing the employer the original on a video call.
An accompanying press release says that the changes are "effective immediately".
The Home Office has made right to rent/work checks digital – so landlords and employers can use scanned docs to check if workers/tenants are allowed to work or rent in UK.

It's still an offence to employ or let to people who don't have legal immigration status. pic.twitter.com/pRij39i8Nc

— Bethan Staton (@bethanstaton) March 30, 2020
The process for conducting a right to work check during the pandemic is as follows:
Ask the worker to submit a scanned copy or a photo of their original documents via email or using a mobile app
Arrange a video call with the worker – ask them to hold up the original documents to the camera and check them against the digital copy of the documents
Record the date you made the check and mark it as "adjusted check undertaken on [insert date] due to COVID-19"
If the worker has a current Biometric Residence Permit or Biometric Residence Card or status under the EU Settlement Scheme you can use the online right to work checking service while doing a video call – the applicant must give you permission to view their details.
If the above is not possible, use the Home Office Employer Checking Service.
When the emergency is over, employers will have to re-check people hired under the temporary procedure.
Right to rent checks
Much the same procedure applies for landlords checking the immigration status of new tenants:
Ask the tenant to submit a scanned copy or a photo of their original documents via email or using a mobile app.

Arrange a video call with the tenant – ask them to hold up the original documents to the camera and check them against the digital copy of the documents.

Record the date you made the check and mark it as "an adjusted check has been undertaken on [insert date] due to COVID-19".
Chai Patel of the Joint Council for the Welfare of Immigrants says that "this will probably increase further the racial discrimination faced by ethnic minority Brits and migrants under right to rent. Landlords are iffy enough about non-British passports in person, likely to be even more cautious on Skype". The Home Office says that employers should "take extra care to ensure no-one is discriminated against".
Regulations have been passed adding "Wuhan novel coronavirus (2019-nCoV)" to the list of diseases for which no charge is to be made for NHS treatment, regardless of the patient's immigration status. This change will have most significance for short term visitors and for migrants without lawful status, who normally have to pay for NHS care. Those lawfully resident are already entitled to use the NHS.
There are separate regulations for England, Scotland, Wales and Northern Ireland, since healthcare is a devolved matter.
Government guidance makes clear that a coronavirus test that comes back negative is still free under this exemption:
This exemption from charge will apply to the diagnosis of the condition, even if the outcome is a negative result. It will also apply to any treatment provided for a suspected specified condition, up to the point that it is negatively diagnosed.
This guidance covers the NHS in England, but it would be surprising if the position in the other jurisdictions were any different. 
No recourse to public funds
Migrants whose visa stipulates that they can have "no recourse to public funds" are in a difficult position. Without access to benefits to make up for loss of work, many face destitution.
Government guidance issued on 23 April says that there is some support available to migrants with no recourse to public funds, including:
Coronavirus testing and treatment
Deliveries of food and medicine if "shielding" as a particularly vulnerable person
Statutory sick pay
Contributory Employment and Support Allowance
The Coronavirus Job Retention Scheme and Coronavirus Self-employment Income Support Scheme
The Home Office also says that it has launched a £1.5 million pilot fund to accommodate victims of domestic violence who have no resource to public funds.
But as the House of Commons Library says, "the Government hasn't announced a blanket policy to change NRPF restrictions". Those subject to the no recourse condition must still apply to have it lifted in order to access to the wider welfare system.
From an immigration perspective, that is not an application to be taken lightly:
Not only does removing NRPF punt you off a 5-year route to settlement and on to the 10-year route, but the Home Office has also made it clear that if you manage to change back, it will not count any of your previously accrued residence and your clock starts back at 0. https://t.co/QL7WTzlj6j

— John Vassiliou (@john_vassiliou1) April 16, 2020
The High Court found on 7 May that aspects of the no recourse policy are unlawful. As a result, the Home Office updated its policy on applying to have the condition lifted where the person is only "at risk of becoming destitute", as opposed to already destitute. 
Asked about no recourse to public funds on 27 May, the Prime Minister said that "clearly people who have worked hard for this country, who live and work here should have support of one kind or another… I will find out how many there are in that position and we will see what we can do to help". It now appears that no help will be forthcoming.
Other
Legal aid
The government announced a "support package" for legal aid providers on 3 March, which included a promise to "align legal aid fees for First Tier Tribunal immigration and asylum appeals with HMCTS' move to an online system for these cases".
The rest of the support package is outlined in emergency guidance that will remain in force until at least 30 June 2020. 
On cashflow, the guidance says:
We recognise the current situation will have cashflow implications for firms, and as a priority we are processing bills and other payments as rapidly as possible.

We are working with Ministry of Justice (MoJ) and provider representative bodies to investigate what other immediate actions we can take to support firms. 
Time limits for delegated function applications, substantive amendments and appeals against Legal Aid Agency decisions have been suspended. Admin requirements are being reduced: 
Routine contract manager visits to provider offices will not take place at this time and we will not be undertaking new contract audit or peer review work unless there is an excepitonal [sic] need.
Similarly, the Legal Aid Agency says that "we understand the current context may mean you are unable to meet the office and supervisory requirements set out in your contract… we will not take any action in this situation".
The guidance also says that digital client signatures are just as valid as handwritten signatures  for Legal Aid Agency contract purposes.
EU Settlement Scheme
The telephone helpline for EU settled status enquiries was closed for some time, and documents were not being accepted by post. But both services are now back up and running, according to a Home Office email bulletin of 22 May:
We are pleased to confirm that Home Office support services and application routes have now all fully reopened in line with public health guidance. This includes the reopening of the postal route for submitting identity documents for applicants who are unable to use the EU Exit: ID Document Check app to verify their identity.
However, for those who prefer to scan their own ID document if unable to use the app, rather than posting it away, scanning service locations remain closed.
Although the number of applications fell sharply, in March and April there are at present no plans to extend the application deadline. The Home Secretary said on 29 April that "we see no reason to extend the deadline when there's still over a year to apply".
Citizenship
On 16 April, the Home Office added the following message to around 20 gov.uk nationality application pages:
It is taking longer than usual to process applications because of coronavirus (COVID-19). This will not affect the decision.
The department also says that would-be citizens now have six months to book their citizenship ceremony instead of the usual three. These may still be unavailable.
The process of becoming a British citizen is not legally complete until the person has attended a citizenship ceremony: section 42 of the British Nationality Act 1981. As Westminster Council puts it, "there is, unfortunately, no legal provision in place to allow you to do this electronically instead".
Subject Access Requests
The Subject Access Request Unit has told ILPA that it is only processing requests made online, and only providing data held electronically, until further notice. The unit can be contacted at subjectaccessrequest@homeoffice.gov.uk.
OISC
The Office of the Immigration Services Commissioner has postponed all exams out to the end of November 2020.
There is also a Q&A for OISC advisers.
The OISC office itself is closed as of 24 March. All correspondence should be by email rather than post.
This article was originally published on 20 February 2020 and is being continually updated with the latest information.