Eight months and a warning from the Information Commissioner later, the Home Office has finally replied to my Freedom of Information request on waiting times for EU residence documents. The figures only go to the end of 2016 and it seems likely that waiting times have increased yet further since then. The number of applications for documents is soaring and the capacity of the Home Office to cope is highly questionable.
The figures show that the average wait for all such documents has risen considerably since 2015, with an EEA permanent residence certificate taking 116 days to arrive by the end of last year – almost triple the time it took in 2015.
| | | | | | |
| --- | --- | --- | --- | --- | --- |
| Document/waiting time in days | 2015 | Q1 2016 | Q2 2016 | Q3 2016 | Q4 2016 |
| EEA residence cards | 125 | 154 | 161 | 166 | 161 |
| EEA residence certificates | 55 | 93 | 100 | 80 | 69 |
| EEA permanent residence cards | 125 | 157 | 165 | 170 | 170 |
| EEA permanent residence certificates | 43 | 64 | 82 | 108 | 116 |
Residence and permanent residence certificates show that an EU citizen is entitled to live in the UK, whether initially or permanently. The cards serve the same function for members of their family. Neither are compulsory but they do provide valuable proof of the underlying right and are needed to apply for naturalisation as a British citizen.
A Home Office spokesperson acknowledged that there has been "increased demand since the referendum" but pointed out that the department is still hitting its "service standard" of six months to process these applications.
This service standard is also EU law. The Home Office is obliged to issue residence documents within six months of an application being made (Directive 2004/38/EC Article 10(1) or 20(1)). A failure to comply with this requirement can conceivably give rise to a claim for damages.
At five and a half months for a permanent residence card, the average waiting time in the second half of 2016 was already dangerously close to unlawfully long.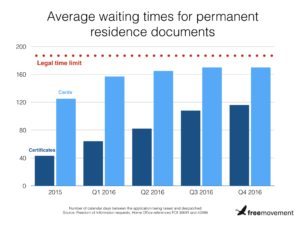 The Home Affairs Select Committee took evidence last week on the challenges facing the Home Office. At that session David Wood, a former Director General of immigration enforcement, told the MPs present that:
Right across the immigration system, I do not think it was every greatly well resourced and it is becoming tighter and tighter with budgets getting reduced and reduced. So I don't think under current resources that the challenge of Brexit can be met and certainly not met smoothly. There is no doubt in my mind of that.
The figures demonstrate that the system is already under strain from the pressures of an event that has not happened and has not even begun to happen.
I also spoke to the Home Affairs committee last week, following Mr Wood. I suggested that the Home Office is "just about coping". Today's figures show that the words "just about" are doing a lot of work in that assessment.
eBook
EU free movement: guide to making an application in the UK
This clear and accessible guide covers the legal requirements for EU residence documents and the practicalities of making an application including advice on documents and forms.
View Now
One of my suggestions to the committee is that EU citizens with permanent residence status could be transferred over to a new settlement status without having to apply for it. Just yesterday, the Home Secretary told the same committee that 1,200 staff are to be recruited to deal with such applications. Why are we doing this?
I have yet to hear of a convincing reason for this unnecessary fit of bureaucracy when the Home Office can scarcely cope with the workload it already has.
Scrapping a burdensome application process would save Home Office time and money, as well as mitigate the inevitable hardship for what is likely to be a considerable number of EU nationals who, for whatever reason, fail to make an application and become unlawfully resident after Brexit.