This week we finally got to see more detail about the 2021 points based immigration system.
The government's announcement confirms that every organisation in the UK — from businesses to charities, schools to local shops — will need to become an "approved sponsor" to employ EU citizens who are new to the UK from 2021.
Hiring European workers will cost money
There's a lot of detail missing at this stage – not surprising given the size of the task ahead — and we should see more when the Immigration Bill is published shortly.
Among the omissions in the relatively brief announcement was any detail on how much it will cost employers to become an approved sponsor and go through the process of sponsoring someone for a work visa.
Being an approved sponsor is already necessary to hire non-EU citizens, or at any rate, those who do not already have permission to work via another type of visa.
But for employers who are new to the system, a short explanation about the potential costs of sponsoring migrant workers would have been helpful.
Yesterday the government released data showing no changes planned to UK immigration and sponsorship fees for 2020/21. They are nevertheless notoriously high, both in absolute terms and compared to similar countries (the chart below is from the Institute for Government think tank).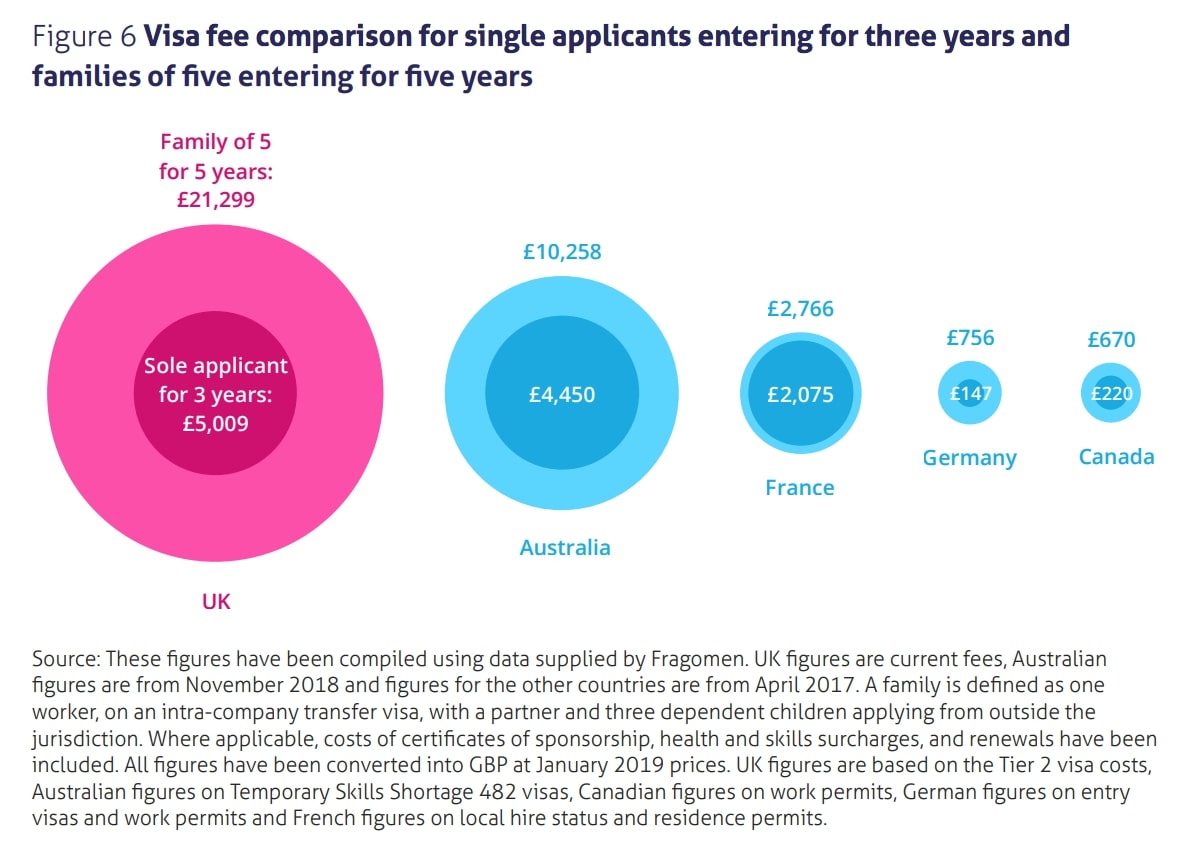 I've set out below the basic costs involved in sponsoring someone under the current work visa system, known as "Tier 2".
Some of the fees are levied directly on the employer, while others fall on the worker. Many employers cover all immigration fees — otherwise the worker has to pay potentially thousands of pounds out of their own pocket.
Subject to the final design of the new system, it looks as though employers sponsoring newly arrived Europeans from 2021  (who do not have any other visa that allows work)  can expect to pay fees at this level.
Cost of a sponsor licence
Right now, when an organisation applies for a sponsor licence, the Home Office charges either:
£536 if the organisation is a charity or defined as a small entity; or
£1,476 for medium or large sponsors.
Page 10 of the Home Office guidance on sponsor licence applications shows how size and charitable status is determined. In general, the definitions in Chapter 1 of the Companies Act 2006 are used to determine size. 
If the application is granted, the organisation gets a licence to sponsor migrant workers valid for four years. A further fee at the same level is paid when it's renewed.
Cost of sponsoring a worker
For every worker who needs to be sponsored under Tier 2 (General) — that's the main work visa route — I've set out the costs below. There are some exceptions to some of the fees (for example, those who are switching, Tier 4 students, etc.) but these are the main ones that will apply to most workers.
Certificate of sponsorship
A certificate of sponsorship, or CoS, is issued by approved sponsors to workers they wish to hire. The worker then uses the CoS to apply for their Tier 2 visa.
The cost of issuing each certificate of sponsorship is £199.
Immigration Skills Charge
This is essentially a tax levied on businesses for employing foreign workers.
For a small or charitable sponsor, the Immigration Skills Charge is £364 for the first year and £182 for each additional six months. So the cost of sponsoring someone for five years would be £1,820.
For a medium or large sponsor, the charge is £1,000 for the first year and £500 for each additional six months. The cost of sponsoring someone for five years would be £5,000.
Visa application fee
Someone applying from outside the UK for a work visa right now is charged an application fee:
visa up to three years in a non-shortage occupation: £610
visa up to three years in a shortage occupation: £464
visa for more than three years in non-shortage occupation: £1,220
visa for more than years in a shortage occupation: £928
The exact fee can vary based on a range of factors; full details are here.
Immigration Health Surcharge
The Immigration Health Surcharge is on top of the application fee outlined above. It is £400 for each year of leave. So the Immigration Health Surcharge adds £2,000 to the cost of a five-year visa, £1,200 to a three-year visa and £400 for a one-year visa.
Like the application fee, it is nominally down to the worker to pay.
Optional add-ons
There is also a whole range of potential administration fees for things like faster visa processing, being able to keep your passport throughout the process, having a courier drop it off to you, being able to sit in a fancy lounge whilst waiting for the visa to be processed etc. Many of these won't apply to EU citizens as they will be applying for an e-visa.
Premium service
The Home Office also operates a premium service for sponsors. For a fee of £25,000 per year for a medium/large business, or £8,000 for a small business, a range of extras is promised — you can read about these here. 
Who pays?
This is just for the worker alone — family members accompanying them to the UK also have to pay for their visas.
Before sponsorship goes ahead, I would always urge employers to check with the individual whether they have family and to reach an agreement at the onset on who will bear relevant costs.
The sponsor can, for example, agree that the worker will pay their own application fee and Immigration Health Surcharge. Note that sponsors cannot lawfully pass the Immigration Skill Charge on to individuals. The licence fee is also paid by the sponsor. 
Case study
Single worker
Ben runs a small mail order business with lots of clients in Japan. He needs to sponsor a Japanese speaker to oversee the growth of sales to that country.   
Ben eventually interviews Aki who is perfect for the role (and meets the requirements). They agree that he'll sponsor Aki for five years. The cost will be:
Sponsor licence : £536
Certificate of sponsorship: £199
Immigration Skills Charge: £1,820
Immigration Health Surcharge: £2,000
Application fee: £1,200
Total = £5,755.
Ben decides that a recruitment agent's fee to find someone in the UK with the necessary skills would be around the same amount, so the cost is just about viable.
Worker with family
Aki calls Ben a couple of days later and explains that, in addition to paying for the costs of sponsoring her, she can only accept the offer if Ben also pays for visas for her husband and daughter.
That would be an extra £6,400. This represents the visa application fee plus Immigration Health Surcharge, which are the same for family members as they are for the sponsored worker.
That brings the total to £12,155. Ben just can't afford that, so sponsorship of Aki can't proceed.