Immigration lawyers have until Thursday 6 December to publish their rates under price transparency rules issued by the Solicitors Regulation Authority. The SRA says that firms must put information about what they charge individual clients for immigration applications and tribunal appeals, except for asylum work, in a prominent place on their website.
Firms are expected to advertise the total cost of help with immigration applications, or an average/range if not a fixed rate, being clear about whether VAT and disbursements are included. Clients should also be told what exactly they're getting for their money.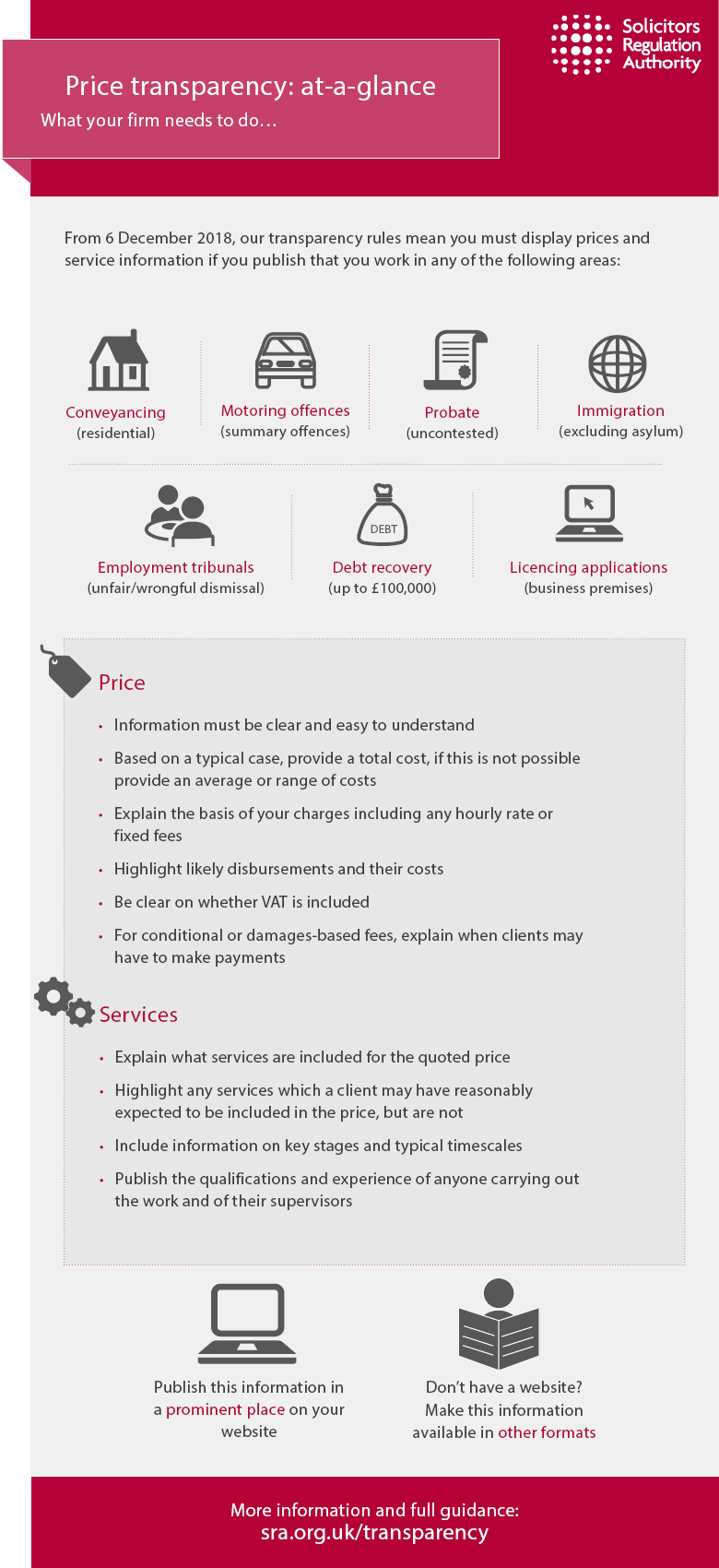 The actual Transparency Rules specify that the immigration services for which pricing information is now required are:
(c) the preparation and submission of immigration applications, excluding asylum applications;

(d) the provision of advice and representation at the First-tier Tribunal (Immigration and Asylum Chamber) in relation to appeals against Home Office visa or immigration decisions, excluding asylum appeals
That said, SRA guidance gives a more expansive list of services which do and do not need to come with a price tag. Excluded from the transparency regime are:
Asylum applications
Statelessness applications
Human rights / private life applications
Applications for Secretary of State immigration bail
Reconsideration and legacy requests
Judicial review, such as claims for unlawful detention
Immigration services to businesses (e.g. applications for certificates of sponsorship or confirmation of acceptance for studies).
The guidance also includes a template and reminds practitioners to avoid jargon such as "ILR" and "Registration Certificate", preferring terms like "settling in the UK" and "proof of residence for EU citizens". This is good advice in general.
From a quick Free Movement scan of leading immigration firms' websites this morning, nobody is particularly keen to get a head start on price transparency. None of the firms recently listed by the Times as the best in the field according to a survey of fellow solicitors seem to have put prices online yet.
Firms who haven't got their shop in order yet do not need to panic immediately. John Hyde over at the Law Society Gazette says that "enforcement is likely to be 'soft touch' in the short term, with non-compliant firms starting to be contacted after Christmas".