Every immigration lawyer in the UK will, at least once in their career, be sat in front of a nonchalant non-visa national (usually American, Canadian or Australian) who is blissfully unaware that they have either overstayed their leave as a visitor, breached the conditions of their leave as a visitor, or a bit of both. The conversations tend to go like this:
"My employer said I need a national insurance number. I tried to get one and the Jobcentre told me I needed a visa. How do I get one?"
"Let's wind back a bit here, when did you arrive in the UK and what's your basis for residing here?"
"I arrived about seven months ago. I was travelling and found this really cute cottage in the Scottish Highlands. I loved it and decided to stay."
"Right… you know you were only allowed to stay here for six months?"
"I'm a US citizen, I'm allowed to come to the UK without a visa."
"Yes — as a visitor. A visitor who is granted leave for a maximum of six months at the border and not allowed to work."
"But the border officer just chatted to me and let me in, I didn't need to apply for anything. He was really nice, he suggested I try some Laphroaig Scotch whisky."

"Did he also stamp your passport?"
"I think so."
"Does the stamp say LEAVE TO ENTER FOR SIX MONTHS: EMPLOYMENT AND RECOURSE TO PUBLIC FUNDS PROHIBITED?"
"Oh, yes it does. OK so if I just go to France for three days and fly back in to the UK I can get another stamp and continue living in my cottage in the Highlands?"
"Well, if the Immigration Officer at the border believes you are a genuine visitor and not somebody using a series of frequent and successive visits to make the UK your main home, then maybe. But I'd imagine your overstaying and breach of conditions might be a bit of a sticky issue for you when you come try and come back."
And so it goes on. And this is where the person has a big ALL CAPS BLACK STAMP in their passport. Some people miss it, or forget about it, or don't read it at all; such is human nature.
But for every confused but well-meaning non-visa national who has not paid heed to the strict six-month time limit and "no employment" condition banged into their passport, there are many more who have paid very careful attention to that stamp and ensured a timely departure from the UK without breach of visa conditions. At the end of the day, nobody wants to fall foul of the law and "get kicked out of the country", as many clients put it.
How do these people ensure they don't get kicked out? There's no arcane wizardry involved. They look at the big black stamp in their passport, note that they must not work or claim public funds, and then calculate six months from the date stamped on the passport and ensure they leave the country by that date. Simple, yes?
eBook
Visit visa refusals: how to challenge decisions
Full guide to visit visa applications, appeals and judicial reviews for family and general visits to the UK, including how to prepare and what to expect on the day.
View Now
To reinforce the content of that stamp, the majority of visitors will have had a short (or sometimes long) interaction with a UK Border Force official at passport control.
That official may have questioned them on their motives and intentions in coming to the UK and reminded them of the conditions of their stay, providing stern and officious (but sometimes necessary) human reinforcement of the very simple visitor conditions: don't work, don't claim benefits, leave within six months.
But what happens when you remove the human interaction and remove the stamp? That experiment began on 20 May 2019 and we likely won't find out the results until after 20 November 2019.
Passport eGates mean no reminder of visa conditions
From 20 May 2019 onwards, citizens of Australia, Canada, Japan, New Zealand, Singapore, South Korea, and the United States of America have been able to simply swipe their passports in the electronic passport gates on arrival to the UK. One successful swipe and they are automatically granted deemed leave as a visitor under the provisions of the Immigration (Leave to Enter and Remain) Order 2000 (as amended by the Immigration (Leave to Enter and Remain) (Amendment) Order 2019).
8B.—(1) A person to whom this article applies may obtain leave to enter the United Kingdom by passing through an automated gate.

(2) This article applies to a person who–

(a) is a national of Australia, Canada, Japan, New Zealand, Singapore, South Korea or the United States of America;

(b) is travelling on a passport issued by one of the countries listed in sub-paragraph (a);

(c) is aged 12 or above; and

(d) is seeking to enter the United Kingdom as a visitor (standard) under Appendix V to the immigration rules.

(3) Leave under paragraph (1) is given for a period of six months.

(4) Such leave is subject to conditions prohibiting employment and recourse to public funds (within the meaning of the immigration rules).
Online guidance confirms that eGate users "will automatically be granted Leave to Enter as you pass through the ePassport gate, and will not receive a stamp in your passport or a written notice".  
It also appears from the guidance that if the entrant holds leave to remain in another category already, Border Force tech can somehow realise this and note their entry not as a visitor but as, say, a spouse or a worker.
One million people from those seven countries used eGates in their first six weeks of operation alone, according to the Home Office.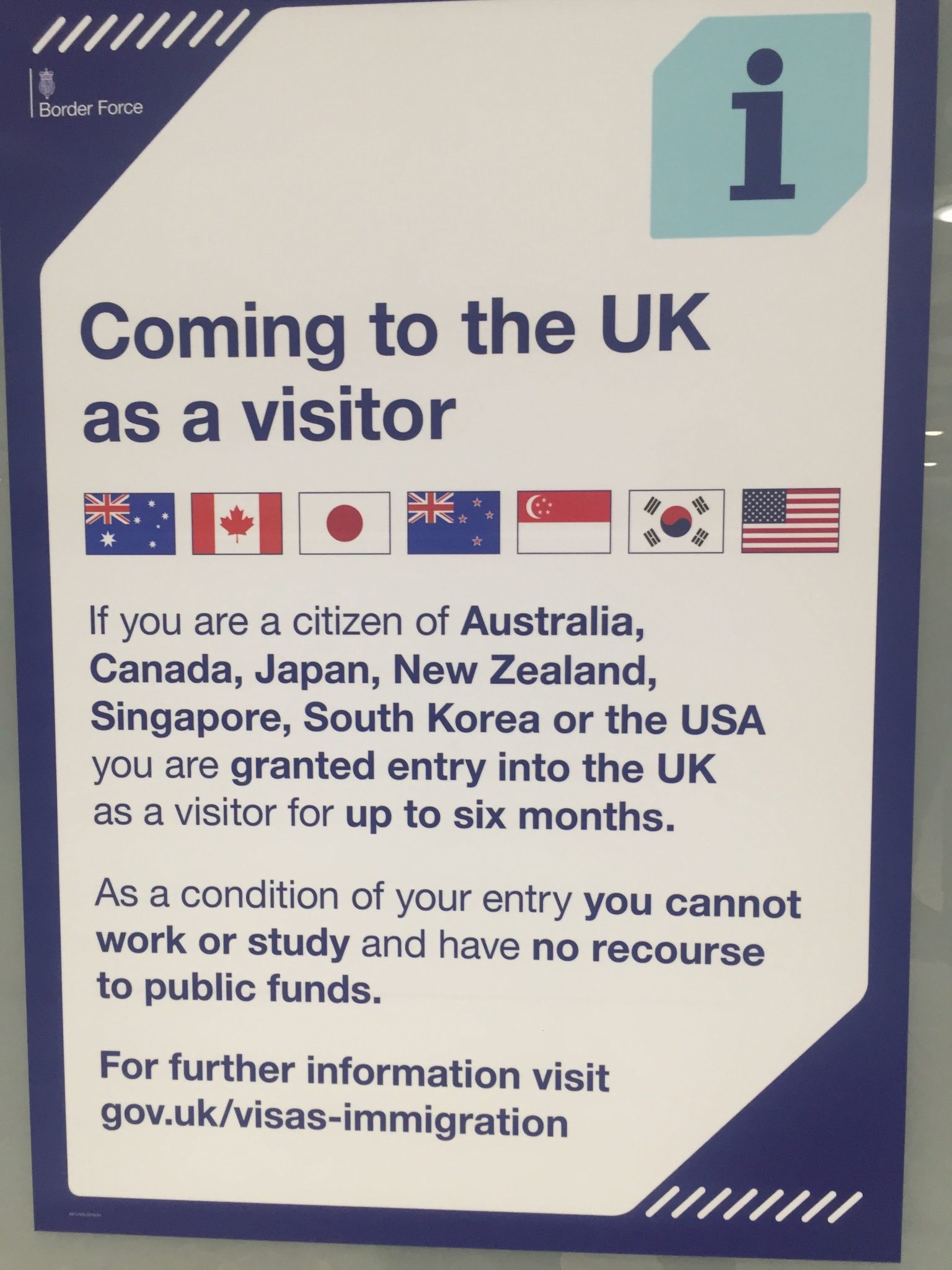 Has enough been done to stop visitors becoming overstayers?
Whilst the new eGates will undoubtedly make arrival to the UK quicker and smoother for most, the system raises many questions in my mind. I'd love to speak to someone at the Home Office about these questions, but they're pretty hard to get on the phone these days so instead I've just imagined how the conversation would go:
"So how are these eGate-eligible visitors reminded of their visa conditions?"
"They're not."
"Huh?"
"We even said as much in the Order making this happen: 'Where such leave is given [at the eGate], no notice of leave is given to the person.'"
"I can't help but notice it also says that no impact assessment for the change was necessary because 'no, or no significant, impact' on anyone was likely."
"Common sense will probably tell most visitors that they cannot work. They won't be allowed benefits by the Jobcentre because they don't have a national insurance number. And anyway, they all have homes, families and jobs to go back to in their own, 'low-risk', countries."
"If that fails, we have a compliant environment up and running to protect us."
"But how are they to know what date they have to leave on?"
"The onus is on them to find that out. They can search the gov.uk website for information about permitted duration of stay or call our fantastic customer service line."
"Very reassuring. We all love that website. It's so intuitive to navigate. Does it tell visitors that if they don't leave within six months, they will become overstayers and jeopardise future prospects of re-entry?"
"Overstaying only becomes a criminal offence under section 24 of the Immigration Act 1971 where it has been done knowingly. The same goes for breaching a condition of leave. If these visitors don't know what period their leave is valid for or what their conditions are, they can't commit any offences, right? So we're all good!"
"Now you're just being facetious."
"Anyway, even if they do overstay or breach a condition and seek to re-enter as a visitor, Home Office tech will be smart enough to know their date of departure and calculate that the person overstayed their visa. Tech is great."
"Oh right, are the details of that published somewhere?"
"No, but the technological solution is there, you just have to believe in it. It's going to make border control great again."
In fact we did ask the Home Office about all this in real life. A spokesperson said that extra signs have gone up in airports, but confirmed that inadvertent overstayers face the full force of immigration enforcement if they miss the warnings:
As part of the expansion of ePassport gate eligibility, we have introduced new signage at ports to inform travellers of their conditions of entry.

It remains the responsibility of visitors to the UK to comply with the conditions of their entry, and enforcement action can be taken against those who do not.
Am I making a fuss about nothing? We won't find out for some time: the first fresh-faced visitors from these countries will have arrived via the eGates on 20 May 2019, so the Home Office won't know until after 20 November 2019 if they all understood that they had to leave within six months. Even then, I'm not sure how detailed Border Force's exit data capture is, so it may take a while beyond that to find out if problems have started to bubble up.
If you've read this far, you'll be forgiven for thinking that I'm firmly against the introduction of the eGate system. I'm not. I'm actually very much in favour of it in broad terms. I just harbour serious doubts as to how thoroughly the repercussions of all of this have been thought through and whether sufficient safeguards are in place to ensure that people know the severe repercussions of overstaying.