Today the Home Office has belatedly allowed publication of an investigation by the Chief Inspector of Borders and Immigration, John Vine, into the assessment of asylum claims based on sexual identity. The report was handed to Theresa May on 31 July 2014 and it is today published alongside a document from the Home Office responding to and in large part accepting the recommendations in the report.
The immediate trigger of the investigation and report was an article by Mark Townsend and Diane Taylor in The Observer on 9 February 2014 which included details of some sexually explicit questions asked of a bisexual asylum seeker. The unacknowledged source for The Observer article was this blog. To protect the client's identity I had selected only some questions and redacted them, but it was sufficient for the Home Office to recognise that the interview material was genuine.
The gist of the report is that the intentions of senior management at the Home Office are good and the guidance offered to staff is also largely good, but problems remain with implementation by Home Office officials. It is worth bearing in mind that the material examined by the Chief Inspector was only that which was selected by the Home Office in a process that is known to be highly incomplete.
Around 20% of the interviews sampled displayed signs of stereotyping and 10% included "unsatisfactory" questions. For example, one interviewer asked an interviewee who stated he could not remember how many sexual partners he had had whether it was over 100. Other examples included "what do you believe a relationship with a man may provide that is absent from a heterosexual partner/ partnership?" and "why did you feel the need to have sex every day when you were on vacation when you knew at the time it was a taboo in Ghana?" and "how often would you kiss and masturbate approximately over a week?".
One particularly appalling example of an interview is given that led to a grant of asylum. The refugee had been raped in prison. Questions included:
Q. I don't think you understand my question, when the officers started to rape you, do you remember how long this lasted for from beginning to end?
Q. Were you able to put up any resistance to these officers?
Q. Did these men wear protection when they forced you to have sex?
Q. You say that you have been a lesbian since the age of 12 years, you have never had a relationship with a man and on one drunken evening you decide to go against everything you believe in and have sex with a man, surely you could not have been that drunk that you did not realise what you were doing?
It is highly concerning that these sorts of demeaning rape myths can be put as questions by a Home Office employee. One bit of good practice highlighted in the report is for new Home Office trainees to be asked to imagine telling their doctor about an embarrassing medical problem as a way of giving at least some insight into disclosure issues. That level of human understanding clearly escaped this particularly interviewer, though. Our society expects refugees to be grateful for the sanctuary we offer them but the fact is that many migrants never recover from the insults and indignity they suffer at the hands of bureaucrats like this one.
It was also extremely concerning that there were differences between the training given to and approach of the Detained Fast Track officials and other asylum officials. Those in detention are particularly vulnerable and staff should be better trained, not worse. The case that gave rise to The Observer article came from the Detained Fast Track.
A potentially very positive outcome from the report is that the Chief Inspector recommends adoption of S. Chelvan's DSSH model of positive investigation of claims based on sexual identity. Chelvan wrote a piece for Free Movement back in July that I would highly recommend as an introduction to the model: From ABC to DSSH: How to prove that you are a gay refugee? Encouragingly, the Home Office accepts this as well as most of the other recommendations. The fact of the investigation and the progress that the Home Office is making towards better training and supervision of staff is to be welcomed. Perhaps improvements in understanding of subtlety of human behaviour by officials might even have a positive impact in other areas of their immigration work.
---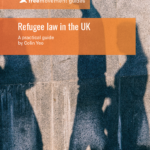 Accessible guide to the law and practice of refugee status determination in the UK including examples, arguments and common scenarios.