To mark Refugee Week, here are some facts and figures on refugees and asylum seekers in the UK.
1. The number of asylum seekers in the UK is falling
Around the world there are 68.5 million people who have been forced to flee their homes, according to the United Nations refugee agency.
Meanwhile, the number of people seeking asylum in the UK is at a historically low level. Around 34,000 people applied for asylum in the UK in 2017, including dependent family members. That is a 15% drop on the previous year and "reflects a return to levels seen before the European migration crisis in 2015", as the Home Office puts it.
It represents an even steeper decline from the turn of the century, when applications were running at around 100,000 per year.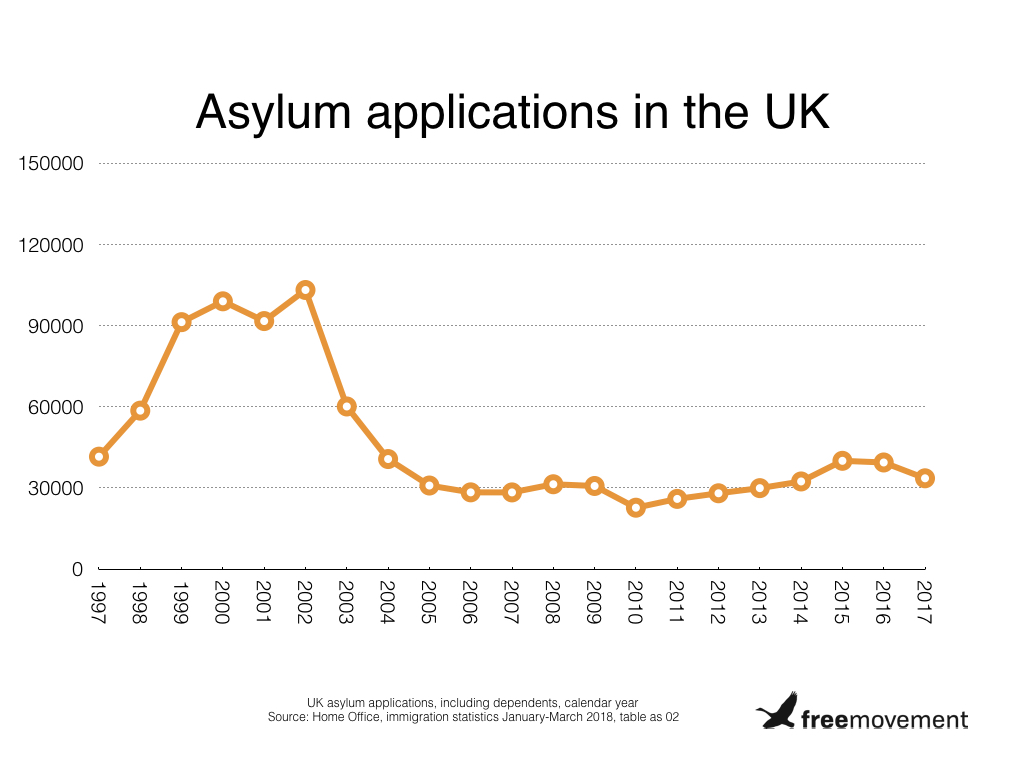 2. Thousands of asylum seekers face delays
The Home Office, which makes the initial decision on whether a person qualifies for asylum, has an internal target of deciding "straightforward" cases within six months. Since the beginning of 2015, the number of cases waiting longer than six months has more than tripled, from 4,300 in January-March 2015 to 13,500 in the last quarter.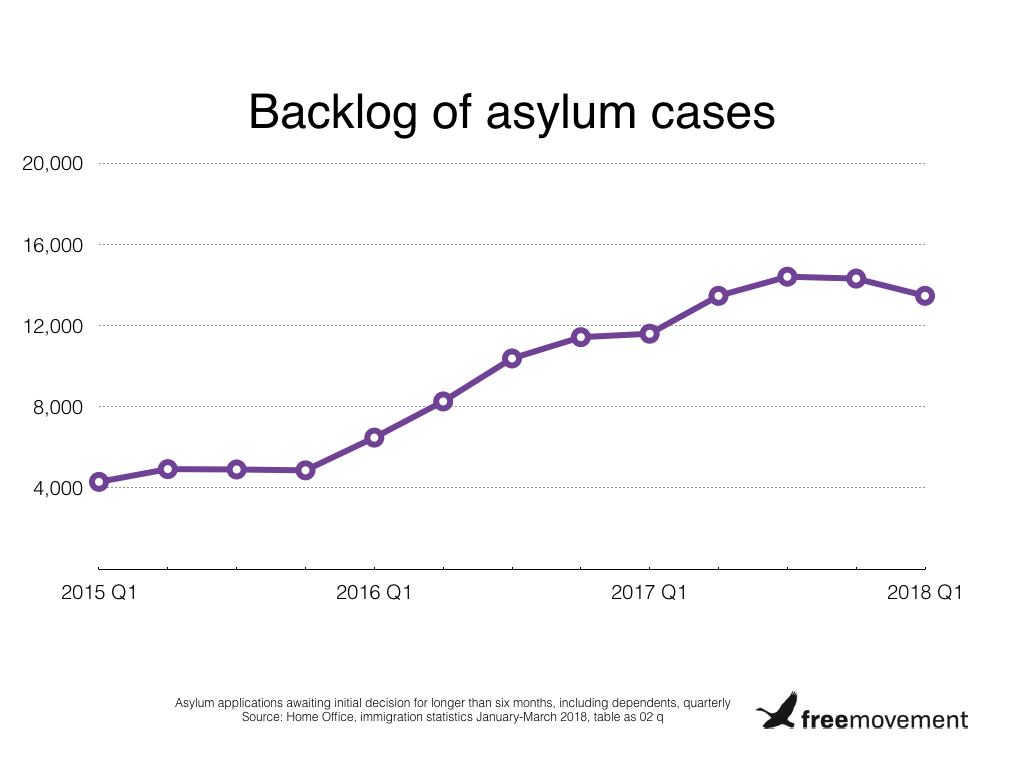 As "non-straightforward" cases do not have to be decided within six months, officials have taken to labelling more and more applications as non-straightforward. This affects children in particular.
eBook
Refugee law in the UK: a practical guide
Accessible guide to the law and practice of refugee status determination in the UK including examples, arguments and common scenarios.
View Now
The immigration inspector found that in 2016/17, unaccompanied children whose cases were put down as non-straightforward waited an average of 458 days for a decision. Recent research into the issue concluded that "delay has become a serious systemic problem for unaccompanied minors in the UK asylum process".
3. More Syrians get asylum in the UK than any other nationality
The table below shows the top ten nationalities granted asylum in the UK in the first three months of 2018, either following a positive Home Office decision on their application or after being resettled from a conflict zone.
Nationality
Asylum grants + resettlements
Syria
1,310
Libya
396
Iran
270
Iraq
210
Eritrea
174
Sudan
156
Congo (Democratic Republic)
137
Nigeria
102
Pakistan
87
Occupied Palestinian Territories
79
Source: Home Office, immigration statistics January-March 2018, tables as 02 q & as 19 q
4. Lots of asylum seekers have to appeal to a judge before being believed
Appeals, decided by judges at the immigration tribunal, play a big role in the the asylum process. Between 35% and 40% of appeals are successful. Last year, 5,000 people successfully appealed against a Home Office decision to refuse them asylum.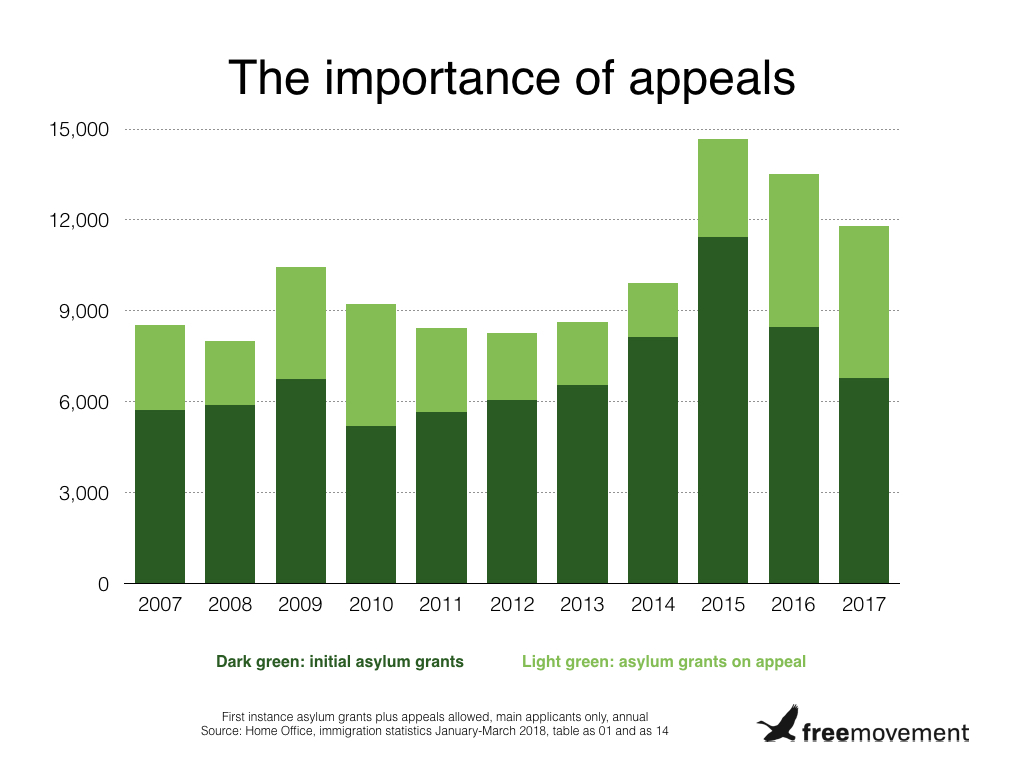 The proportion of asylum applications that are ultimately successful is rising, from consistently under one third a decade ago to over 40% in recent years.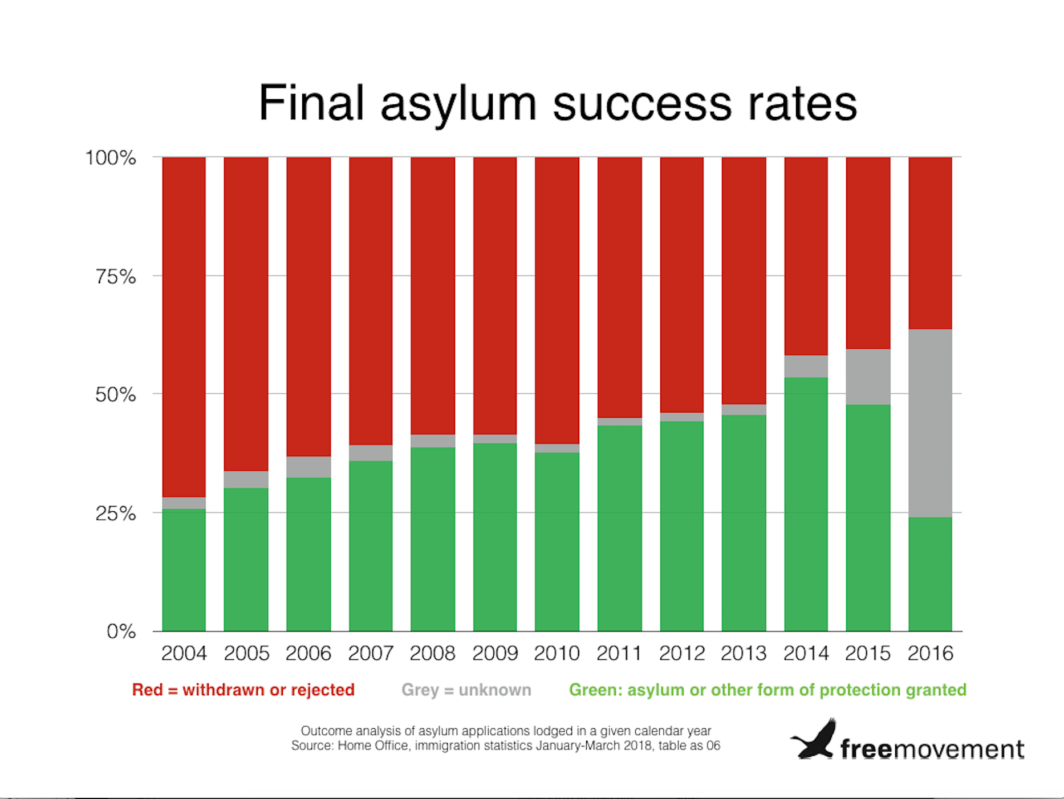 Being vindicated on appeal, while ultimately a good thing for an asylum seeker, is much worse than being successful first time around in terms of worry, instability and lack of resources in the meantime. It takes an asylum appeal an average of 23 weeks to be decided. There is also something of a postcode lottery in the likelihood of success on appeal, with the different tribunal hearing centres around the county varying from between 21% and 47% in the proportion of appeals they grant.
5. The UK grants asylum to fewer people than comparable EU countries
In 2016, the UK granted asylum to roughly 22,000 people, including those resettled directly from conflict zones rather than having to make their own way here. Per head of the existing population, though, the UK comes in much lower than most other western European countries — asylum grants last year were on a par with Bulgaria.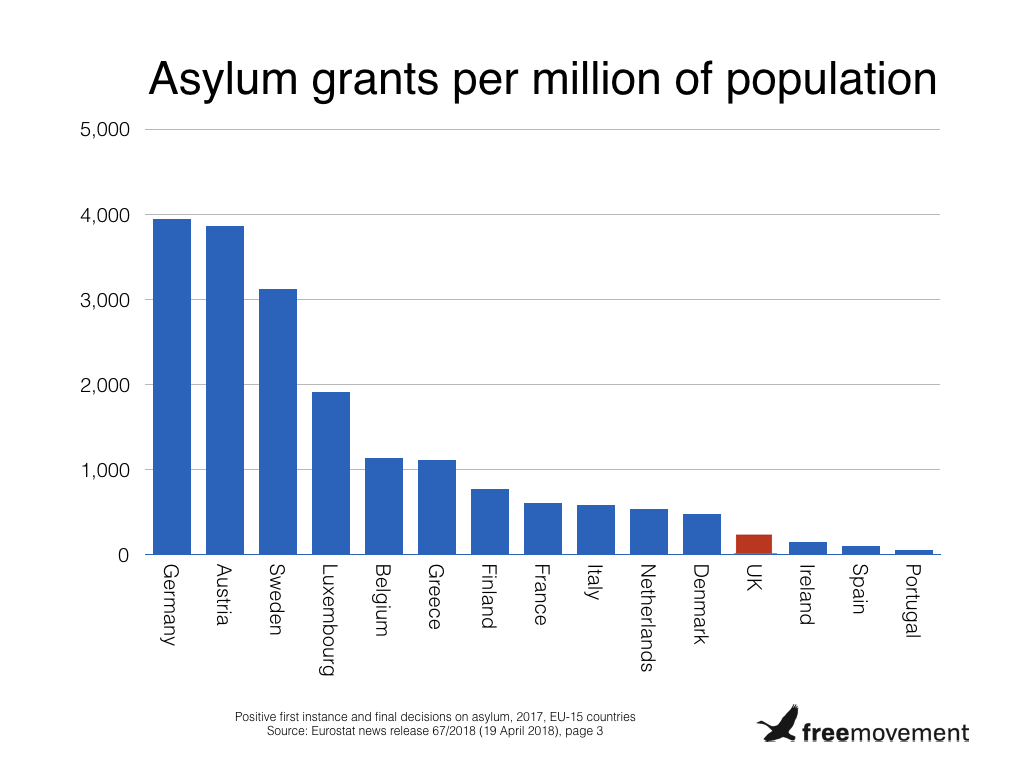 For the latest Free Movement articles and updates on refugees, sign up to our mailing list, selecting the "refugees and asylum" option.