Whilst we are all awaiting new Immigration Rules for the Skilled Worker route, which will replace Tier 2 (General) in the new Points-Based Immigration System, some good news is starting to emerge. The cooling-off period, which has seen many a skilled migrant having to spend a year outside the UK before they can return to work, will not be carried over to the new Skilled Worker route.
The Home Office has been actively engaging with stakeholders in recent weeks to explain some of the finer details of the system. The slide below is from a Home Office presentation this week. It says at the bottom that "there will be no 'Cooling off' periods in the skilled worker route".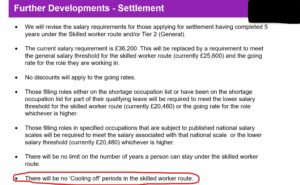 The cooling-off period rule has created havoc for vast numbers of skilled migrants, and their employers, under both Tier 2 (General) and Tier 2 (Intra-company Transfer). Only recently, I was advising a client who is in the UK under Tier 2 ICT and wants to settle here. Because ICT does not lead to settlement, she would need to persuade her employer to pay her at least £159,600 — the current higher salary rate threshold under Tier 2 — if she was to avoid spending a year outside the UK before re-entering under Tier 2 (General).
At the best of times, such a high salary is rare, but in the middle of a pandemic there was no hope. My client was starting to make preparations to have to leave her home in the UK for a year. She literally jumped for joy when I called her to explain that not only was the Home Office finally going to do away with this requirement, but they are also relaxing the rules on switching. (Of course, I did explain that we do need to see all of this in the actual Rules before she should crack open the expensive champagne!)
At present, the switching rules mean that even if she had miraculously been able to persuade her employer to hike up her salary, she would still have faced a long journey back to her home country solely to make a visa application, flying straight back to the UK once it was approved. No more — under the new system, the in-country switching provisions will be accessible to many more applicants. I can hear David and Greta breathing a sigh of relief already.
The Home Office has said that the new Immigration Rules for Skilled Workers would be published in the autumn. Given that they have just published the rules for the new student route, which is due to go live on 5 October, I am hopeful that the Skilled Worker rules are also imminent. It would make sense for publication to coincide with the Immigration Bill completing its passage through Parliament — it's almost there — and the Migration Advisory Committee publishing its report on the new Shortage Occupation List, due before the end of this month. However, it could be held back until December.
What about cooling off for those who intend to stay in the ICT route? The Home Office has already confirmed in its Further Details document published in July that:
We plan to replace the existing rules with a rule that more simply requires that an overseas intra-company transfer must not hold entry clearance or leave to enter or remain as an intra-company transferee for more than five years in any six-year period, except where they qualify to be granted up to nine years on the basis of their salary.
What all this means in practice is that anyone who is currently making plans based on the current cooling-off period rules should, if possible depending on the visa expiry date, wait until the new system goes live. They should then be able to benefit from the new rules.