The Tier 5 (Government Authorised Exchange) category of the Immigration Rules is one of the least known of all the UK's visa options.
Following the recent publication of the government's immigration white paper, much has been said about the proposed new skilled worker route and the new, temporary visa for lower skilled workers.
But the white paper also confirms that the government intends to "promote the wide-ranging opportunities available" under the Government Authorised Exchange (GAE) route.

So what is the GAE route?
Internships and work experience
Tier 5 offers visas for temporary workers and the scope of the GAE route within it is extremely wide. The Immigration Rules describe GAE as follows:
This route is for certain types of temporary worker whose entry helps to satisfy cultural, charitable, religious or international objectives including volunteering and job shadowing, and for meeting seasonal employment needs in the edible horticultural sector.
But the route is only for roles that are "supernumerary". The Tier 2 and 5 sponsor guidance explains what this means:
it is not the purpose of the scheme to facilitate the supply of labour — participants must not fill vacancies and must be over and above any normal staffing requirements (supernumerary).
An internship is a good example of the kind of thing we're talking about here.
Overarching sponsor
The route is different to Tier 2 (for workers) and Tier 4 (for students) because, in general, an overarching sponsor is needed. Under Tiers 2 and 4, the employer or education provider sponsors the individual directly.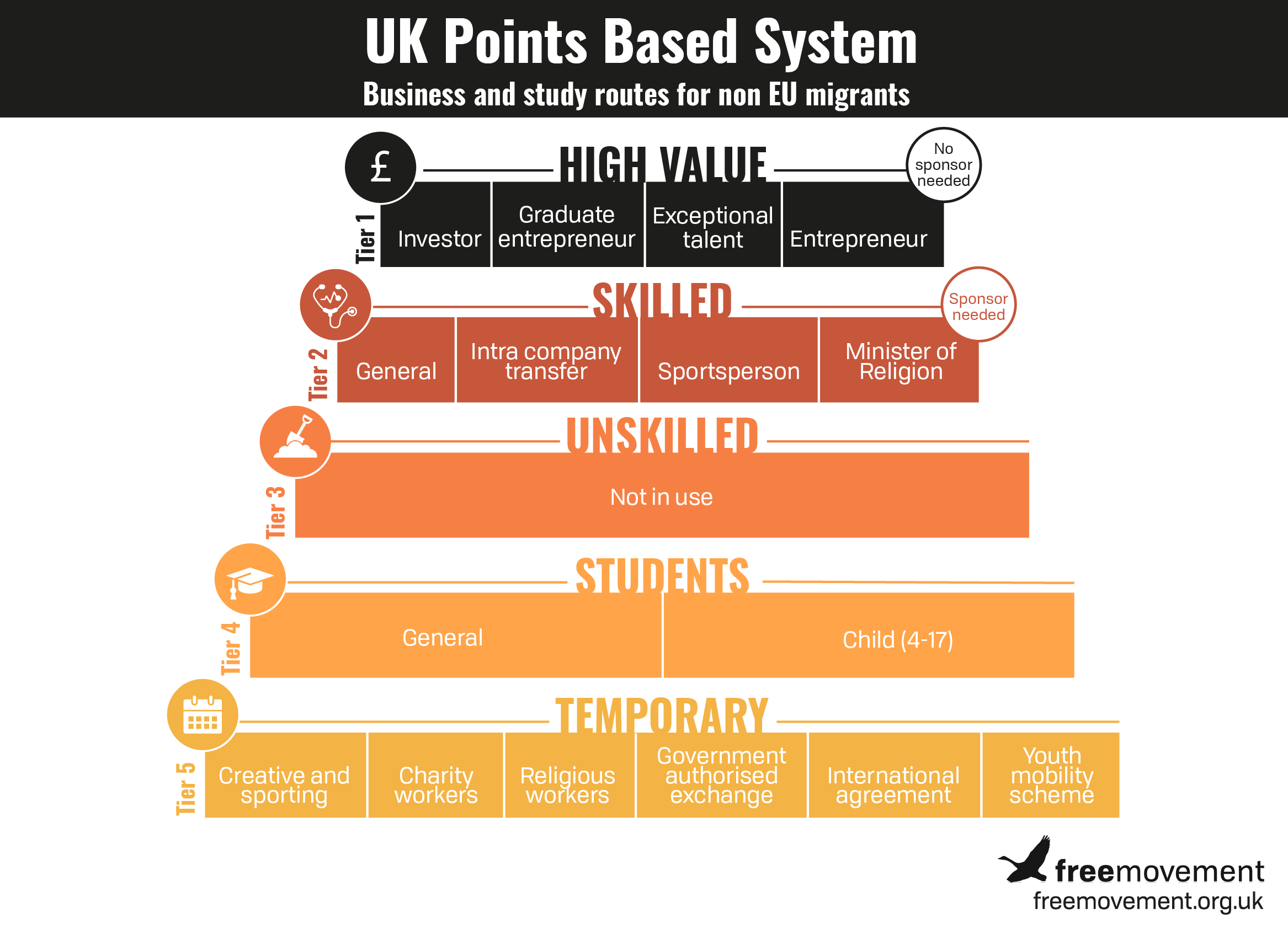 Under the GAE route, those offering or seeking work experience, internship opportunities and other supernumerary work options engage with a third party sponsor instead. This is typically a government agency or umbrella body for a particular profession. The third party assigns the certificate of sponsorship as long as it is satisfied that all of the conditions for doing so are met. The visa applicant then uses this certificate to get their visa from the Home Office.
The list of overarching sponsors is contained in Appendix N of the Immigration Rules. There are around 60 schemes. Examples include:
Bar Council
BAE Systems
British Council
British National Space Centre
BUNAC
Cabinet Office
Ofgem
The Law Society
Serious Fraud Office
UK Research and Innovation
One of the few exceptions to third party sponsors relates to UK universities. They are able to sponsor researchers under the GAE route in certain scenarios. This includes academics, researchers, scientists, research engineers and other skilled research technology specialists who will be hosted at the sponsoring higher education institution in a supernumerary role.
Example
David, a Professor of Social Anthropology at Harvard University, is one of the world's leading experts on anthropological linguistics. Sofia, who is also a leading expert in the field based at the University of Cambridge, has been working on a project that is important to David's own research. Harvard has arranged funding that will enable David to spend 12 months at Cambridge with Sofia and her team. Cambridge will sponsor David under Tier 5.
Requirements for the visa
In order to be authorised by the Home Office to be a GAE sponsor, the provider of each scheme must explain how it will meet the objectives of the route. They must also set out specific requirements that must be met before they will sponsor a candidate and issue a certificate of sponsorship.
For example, the Law Society (which represents solicitors in England and Wales) says its scheme is:
For the legal sector, sharing knowledge, experience and best practice with practitioners from around the world through work experience, secondment and internship programmes is essential to business development.
Law firms seeking to participate in the scheme must:
1. Be an SRA regulated firm.

2. Operate an exchange programme that meets the requirements of the Law Society's Government Authorised Exchange scheme by running suitably robust programmes for secondments, internships or work experience and record-keeping.

3. Hold a current UKVI sponsor licence with an A rating.

4. Enter into a contract with the Law Society undertaking to fulfil the sponsor obligations defined within the PBS.
Some of the other scheme providers work directly with individuals, as opposed to employers.
How long does the visa last and what are the requirements?
Those who obtain a certificate of sponsorship can apply to stay in the UK for up to:
12 months, for work experience;
24 months, where they will be doing research, training or an Overseas Government Language Programme.
Once a certificate of sponsorship had been assigned, all the applicant has to do is apply for a visa. This will be issued as long as:
there are no general grounds of refusal;
they meet the maintenance requirement (meaning that either the sponsor 'certifies maintenance' or the individual must demonstrate that they have held £945 savings for at least 90 days);
they pass a tuberculosis test (required from certain countries); and
the Entry Clearance Officer is satisfied that they genuinely intend to perform the activity on the certificate of sponsorship.
There is no English language requirement (unless this is a specific condition of the scheme operator) and family members can also join the applicant.
Conclusion
In my experience, this route is underused and can often offer solutions when others are out of reach.
The government white paper on immigration states that:
We will continue to offer these opportunities through the existing routes, which cater for a wide group of temporary professional workers. There are currently five main sub-categories for temporary professional workers. We will make improvements to existing routes where necessary, taking account of feedback from specific sectors, particularly around sponsorship arrangements.
When EU citizens fall under the UK's domestic immigration rules from January 2021, we can therefore expect GAE to play a central role.