Nigel Farage, Boris Johnson and Michael Gove have all, at various times, declared that an "Australian-style points based system" is the solution to cutting net migration to the UK. For politicians with an agenda to push and a vote to win, talking up the adoption of an Australian style system has functioned as catchy, quick-fix solution. During the referendum campaign it was a popular trope of the leave campaign, trotted out endlessly, with little explanation as to what it meant, how it would work or more importantly how it differs to the UK's current managed migration system (a clue: we have been here before).  
The latest politician to extol the virtues of an Australian points based system is the former lawyer and newly departed Conservative party leader candidate, Dominic Raab. During his brief campaign Raab set out that as Prime Minister, he would instigate an immigration system that would assess applicants by their "skills, qualifications, education, experience and salary". He suggested that those achieving the required number of points would enter a pool from which employers would select workers.
With Boris Johnson seemingly unstoppable in his march towards Number 10, it has been suggested that Raab's announcement was an attempt to set out his stall as a future Home Secretary. In the frightening political twilight zone we live in where literally anything can happen, Raab's proposal merits some consideration. If the idea were adopted by Johnson, or indeed any future government, what would it mean for the UK's post-Brexit immigration system?
So what is an 'Australian-style point based system?'
The premise of a points based system, whether Australian or otherwise, is to score visa applicants according to a number of objective personal attributes such as age, competency, qualifications and experience. Systems will award various points for each of the criteria. Applicants then add up their score and if they are above the minimum number required, they will be granted a visa and often free access to work in the country concerned.  
Example
Applicants for an Australian Skilled Independent visa do not need a sponsor but do need to be able to score 65 points from a points table. Being aged 18-25 scores 25 points, having "proficient" English scores 10 points, having eight years' work experience scores 15 points and having an undergraduate degree is 20 points — getting above the magic 65.
But there are multiple ways to reach the threshold. Somebody with less than three years' work experience scores zero points, but could make it up with "superior" English (20 points). In the UK, by contrast, you either meet all the criteria for a visa or you don't.
The key is that the visa is granted due to the personal, merit-based attributes of the applicant rather than them having a specific job offer in a country.  It is a way of attracting 'high value' skilled workers who are likely, so the thinking goes, to assimilate to a new social and cultural environment.
If this is all sounding very familiar, that is because it is. As immigration lawyers know (and regularly shout at the TV every time an MP mentions it) the UK has had a 'points based system' for some time.
Wait, we already have a points based system?
In 2007 the then Labour government announced measures to overhaul the immigration system which regulated how non-EU migrants could work in the UK. The country had started to feel the effects of the influx of EU labour from new members like Poland and the government wanted to look responsive to the growing anxiety surrounding immigration by showing it could control the number of migrants arriving in the UK.  
The result was the creation of a points based system which still exists, in name at least, to this day. A section of the Immigration Rules called — you guessed it — "The Points Based System" contains the majority of work and study visas available to people from beyond the EU. It consists of five 'Tiers', each devoted to a general category of migrant.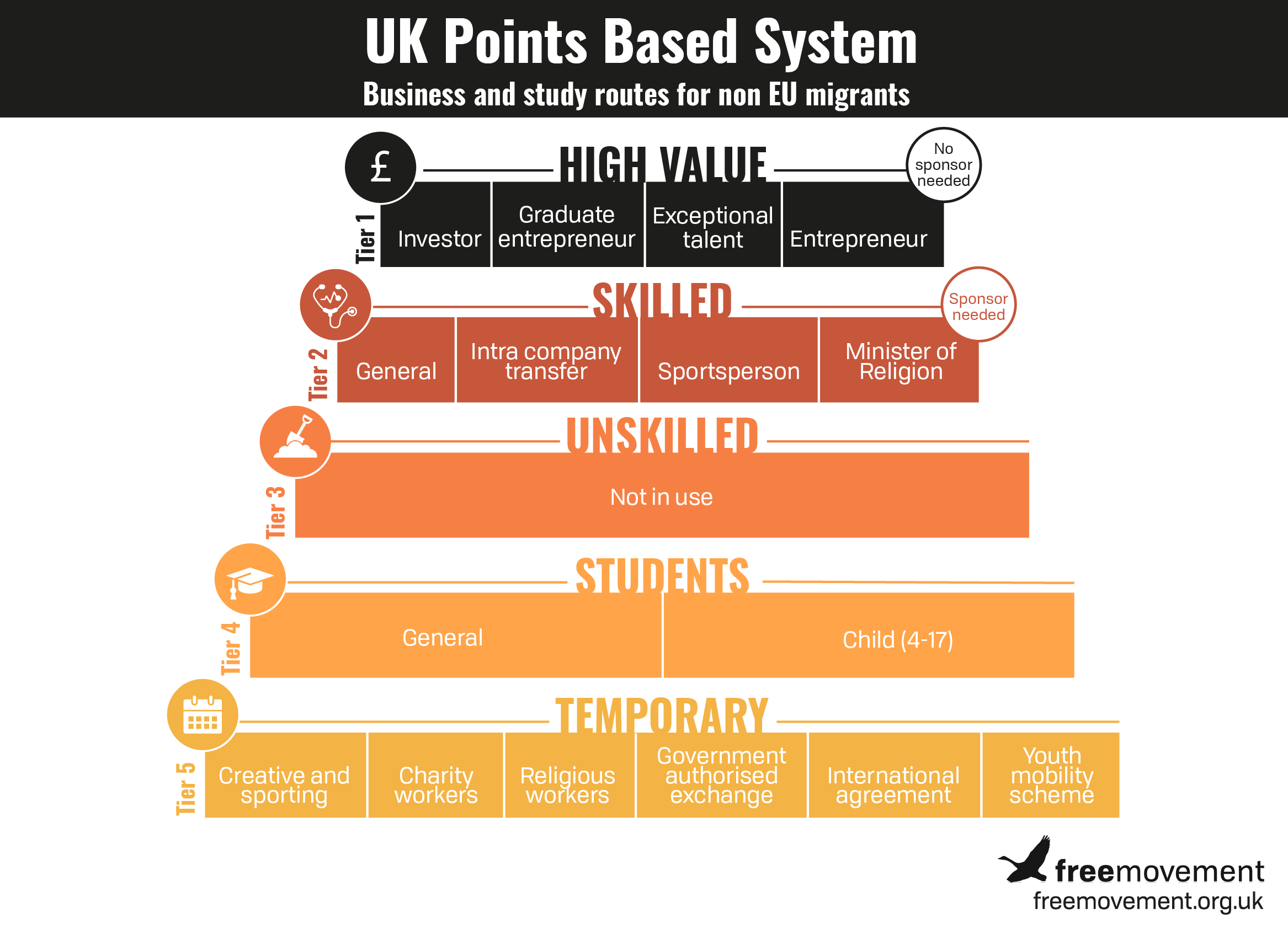 Then why do politicians keep saying we need an Australian-style system?
Once up and running, the UK's version of a points based system never really operated in a truly merit based way, thanks to furious lobbying from industries which watered down the requirements. The sole category which was merit based, the Highly Skilled Migrant Programme which later morphed into Tier 1 (General), was closed in 2011 due to fears that the visa applicants were not highly skilled enough and were instead filling menial roles.
Since then the system has been points based in name only. Each tier has certain mandatory criteria, such as a maintenance requirement or an English language criterion, just like other categories of the Immigration Rules. The specific visa will have its own requirements — investors need a certain amount of hard cash, youth mobility applicants need to be under 31, and many others require sponsorship or endorsement of some sort.
Need affordable legal advice?
Arrange a video chat at a time that suits you.
Use your own smartphone, pc/mac or tablet.
No commitment, no risk.
If an applicant can demonstrate that they meet the criteria they will automatically accrue the relevant amount of points. The scoring is largely symbolic. If, for example, an applicant doesn't meet the maintenance requirement, there is no way to make it up elsewhere.
With the introduction this year of the innovator and start-up categories in Appendix W to the Immigration Rules, there are signs that the government is starting to create work-based visa rules outside of the Points Based System. But it is not on its way out just yet. The government's immigration white paper — a blueprint for migration after Brexit — made clear that the Points Based System will be maintained and extended to include EU citizens.
Post 2021, Europeans will require an employer with a sponsor licence willing to give them a job (Tier 2 of the Points Based System). The white paper suggested relaxing the Tier 2 system by getting rid of annual quotas on Tier 2 (General) visas and scrapping the Resident Labour Market Test. It was clear however that the new immigration system post-Brexit would still operate within the structure of the so-called Points Based System that we have now.
We've tried the Australian way – it doesn't work
Should we be concerned if a future Home Secretary decided to abandon the proposals in the immigration white paper and set up a pure points based system? In short, yes.
Points based systems are flawed on a number of levels. Foremost is that they do not work.
If the aim is to reduce net migration by only allowing access to jobs to the "brightest and the best", then the UK's own recent experiment with Tier 1 (General) shows that they do not always succeed in placing workers in highly skilled roles. The government complained that "at least 30% of Tier 1 migrants work in low-skilled occupations such as stacking shelves, driving taxis or working as security guards and some don't have a job at all".
In other countries, points based systems are not used for reduction in net migration levels. As the Migration Observatory at the University of Oxford puts it:
it is surprising to hear discussion of the points system as a tool to reduce migration. It has traditionally been used by countries with liberal migration policies seeking to admit more people than would come to the country through employer-sponsored migration alone… In Australia and New Zealand, which both have points systems, the share of the population that was born abroad had reached 28% by 2013 – roughly double the UK share.
True points based systems also provide a blunt, subjective and often discriminatory assessment of what merit actually means. The worth of a candidate is distilled down to a tick-box assessment of characteristics and achievements on a CV. They are simplistic — leading to a racial and gender based bias in favour of predominantly male applicants from majority white countries. Any age scoring element would discriminate against talented older candidates who have skills that would benefit the UK.
The aim of an immigration system should not only be about filling jobs. Existing residents are more positive about migration if newcomers put down roots and become part of their local community. For this reason, applicants with family connections to a country also 'merit' entry, as their social capital makes it more likely that they will commit to making a longer term impact to a host country.
We know that politicians have conveniently short memories. But Tier 1 (General) closed less than ten years ago, and the issues with it are hardly distant memories. In truth, politicians talk up points based systems because they are a convenient, vote-winning soundbite, an attempt to persuade the electorate that all the UK's immigration woes could be solved with a simple importation of an immigration system from down under. It demonstrates a lack of understanding of the UK's immigration system, the problems it has and the policy ideas that could solve them.