I first met Zahir when he transferred to the United Kingdom Immigrants Advice Service (UKIAS) office in Manchester in 1974. I often recall sitting in his office discussing cases, seeking his expert advice and telling him of our plans for the development of the offices in the North. Sadly UKIAS and its successor the Immigration Advisory Service (IAS) are no more, but their legacy lives on in the many of us who worked with, were trained and were shaped by Zahir and other unsung heroes in the development of Immigration, European, international and human rights law and practice.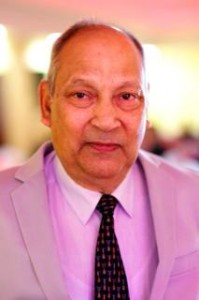 Zahir graduated with a degree in law from the University of Dacca in 1965. He came from a family of lawyers: his father was one of the first practising lawyers in the district of Comilla (Bangladesh) and his elder brother was a barrister and later a leading High Court Justice qualifying from London in the 1950s. Zahir came to the UK to pursue post graduate studies and enrolled at Nottingham University, where he successfully completed an MPhil degree in law.
I remember Zahir as a very quiet and unassuming man who savoured the challenges in every case, always looking for an interesting point of law to bring to the attention of the judges he appeared before. His ability to deal with complex legal points quickly earned him the reputation as a very talented and capable lawyer. His advocacy showed real flare and he paved the way for ground breaking changes in the fields of immigration, human rights and public law. Zahir was one of the first lawyers to use human rights grounds in immigration cases, prior even to the advent of the Human Rights Act, and Prof David Jackson of the 'Green Books' gave him credit for advancing significantly the concept of legitimate expectation in immigration administrative law.
Zahir was committed to working for members of the public who could not afford high legal fees. UKIAS offered him that possibility. The 1970s and 80s saw a huge increase in family reunion appeals, particularly from Bangladesh, and Zahir dealt with hundreds of these cases.
The Community Relations Commission headhunted Zahir and commissioned him to conduct a research project on split families in Bangladesh and the effect of the immigration rules on these cases. He travelled to Bangladesh to interview those wives and children of men settled in the UK whose appeals had failed and to determine whether or not they were related as claimed. The Split Family project led Zahir to visit almost 100 families, many of them living in remote areas of Bangladesh. He purchased a motorbike to help him to travel to these often remote villages. The task was not an easy one but despite difficulties and ill health, Zahir persevered and his final report was used to reunite many of these broken families. His meticulous research was successfully used to campaign for changes to the immigration rules.
His next mammoth task was the Manual he prepared for all UKIAS legal staff and other practitioners, which set out the law, the processes and procedures for those working on immigration applications, appeals and nationality matters. He undertook this task with his usual zeal. His manual was a treasure trove for those working in immigration. Dr Hugo Storey, now a judge of the Upper Tribunal, remembers Zahir's work:
"I was forcibly struck by the great clarity and Aristotelian care with which his notes were prepared and researched. That has always been a hallmark of his work. Whenever he sought to suggest how a legal problem should be solved, he did so by applying principles from leading judgments of the House of Lords or Court of Appeal. That made his suggestions somewhat persuasive. It was quite a few years after getting hold of his manual by chance that I first got to meet Mr Zahir Chowdhury. I was then able to see that he was also a natural teacher – patient, modest, talented, lucid and always ready to give credit to others. The high standards set by UK immigration lawyers owe much to his pioneering work. I know that the author of the leading UK textbook on immigration law, Ian Macdonald, benefited greatly from Mr Chowdhury's research and writings. I hope my example serves to illustrate that Mr Zahir Chowdhury`s influence spread far wider than UKIAS and its successor organisation, Immigration and Advisory Service (IAS)".
When Keith Best became the CEO of UKIAS 1993, changing the name to IAS, he recognised the huge potential in Zahir's wealth of knowledge. The Legal Research Unit was founded with Zahir as the Director of Legal Services, assisted first by Sharon McKenzie and later by Zoe Elton. Zahir felt there was a dearth of up to date and regular commentary in what was even then a very complex and ever changing field of law. The Legal Research Unit would see the production of the long running and popular Case Law Updates and the Immigration Law Digest.
These became essential reading for all involved in these fraught sensitive areas of law, attaining enormous popularity. They were generally acknowledged as a pioneering contribution to the increasing professionalism of immigration law counselling, and as an indispensable case law briefing for practitioners and immigration judges. All immigration judges had a subscription, as did many other practitioners, academics organisations and legal representatives. This not only brought the knowledge set out in these publications to a wider readership but also ensured a secure income for IAS for many years.
Then as now, immigration law covers many fields – commercial, family, human rights, public law, asylum, procedural issues and enforcement, to mention but a few. Zahir was that rare person who could select, report and comment authoritatively across the field. Zahir continued his work even after his formal retirement and indeed he was working almost up to the time of his death in late August 2013.
Zahir Chowdhury was a man of great personal integrity whose example to many people over the years has been inspirational. He was also a gentleman in all the senses of the word. He will be much missed and very fondly remembered.
Zahir leaves behind his wife, three children and a whole host of relative and friends.